NORRISTOWN, Pa. ― Comedian Bill Cosby was taken out of court in handcuffs Tuesday after a suburban Philadelphia judge sentenced him to three to 10 years in prison for sexually assaulting a woman in 2004.
"The day has come. Your time has come," Montgomery County Common Pleas Judge Steven O'Neill told Cosby, 81, before sentencing him on three felony counts of aggravated indecent assault.
After O'Neill announced Cosby's sentence, actress Janice Dickinson, one of dozens of other women who said they were victimized by Cosby, threw her hands onto her head in relief. People around Constand rubbed her back, and her sister, Diana, leaned toward her. Later, when Cosby was about to be taken away, Dickinson laughed slowly and loudly in the courtroom.
"See I got the last laugh, pal," the actress said as she looked at Cosby.
The judge initially denied a defense request to allow Cosby to remain free on bail, but lawyers continued to argue, and the entertainer wasn't immediately hauled out of court to begin his sentence.
"They're asking you to treat him differently than others, and that's not appropriate," District Attorney Kevin Steele told O'Neill in response to the defense case for bail. The judge declared a brief recess while he reconsidered the bail arguments.
Cosby remained seated in the courtroom, surrounded by attorneys and spokespeople, a solemn look on his face. He was told to take off his valuables, and began removing his watch, cufflinks and tie. Spectators were cleared from the courtroom before deputies took him into custody and walked him away in handcuffs as he held his cane.
"There's always special treatment," Therese Serignese, who has also accused Cosby of sexual assault, said under her breath, shaking her head.
The comedian, whose lawyers branded Constand a con artist and liar during his trial, had faced a possible punishment of five to 10 years in prison on each of the three charges. O'Neill announced Monday that the prosecution and defense agreed to merge the three felony counts into one, exposing Cosby to a maximum of five to 10 years.
According to the Pennsylvania Commission on Sentencing, people convicted of aggravated indecent assault with no prior criminal record, like Cosby, received an average minimum of around 2 1/2 years in prison, and an average maximum of around six years.
The judge also ordered Cosby to pay Constand's costs and a fine of $25,000.
"I don't know whether the defendant read your statement," the judge told Constand before announcing the sentence. "But I did. I heard the very clear impact this has had on you."
Kristen Houser, the chief public affairs officer for the National Sexual Violence Resource Center, reflected on the sentencing in a statement to HuffPost.
"This sentence acknowledges the experiences of the dozens of women abused by Cosby and sends a clear message that sexual harassment, misconduct and abuse cannot and will not be tolerated even years after the event," she said.
"The sentence handed down bears particular significance today in the midst of our current national dialogue," Houser said. "We hope there is a renewed sense of purpose for the women who have bravely come forward and faced the shame, blame, and harassment all too commonly faced by survivors. Your experiences matter."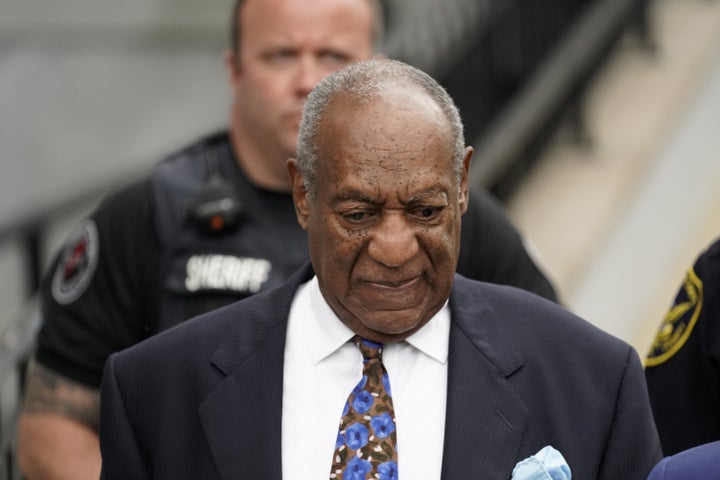 Earlier Tuesday, O'Neill declared Cosby a sexually violent predator ― which state law defines as a person with "a mental abnormality or personality disorder that makes the person likely to engage in predatory sexually violent offenses."
Most of Monday's hearing was devoted to whether Cosby should be declared a sexually violent predator. Defense attorney Joseph Green argued that the law describing the classification was unconstitutional, but O'Neill rejected the claim. The defense also argued that Cosby's age and diminished eyesight preventing him from victimizing anyone else.
The designation means Cosby will have to register as a sex offender for the rest of his life. Additionally, the designation demands a more active notification on the sex offender registry list, including registering upon release from custody, informing state police of changes of residence or employer, monthly therapy sessions, and quarterly in-person interviews with state police.
Psychologist Kristen Dudley, testifying for the prosecution on Monday, said she "came to the conclusion that Mr. Cosby does in fact fit the criteria" of a sexually violent predator.
"Using his power and prestige within the community, he is able to meet people, befriend them, and it is during that friendship that the sexual assault occurs," Dudley testified, adding she believes Cosby's behavior is "likely to reoccur."
"Your honor, I have testified, I have given you my victim impact statement," Constand said. "The jury heard me, Mr. Cosby heard me and now all I am asking for is justice as the court sees fit."
Her mother, Gianna Constand, delivered a heart-wrenching statement, telling the courtroom, "This has been a very difficult situation for me and I have lost the ability to trust or share my feelings with anyone. I do not believe in my heart that Bill Cosby has ever cared or even considered the pain and suffering this mess has caused us, or the family as a unit."
The judge last week rejected a prosecution request to allow additional Cosby accusers to testify during the sentencing. More than 50 women have accused the veteran entertainer of rape or sexual assault, but most of the alleged offenses are too old for criminal prosecution.
Cosby's attorneys sought to remove the judge from the case, with one defense motion asking O'Neill recuse himself because of his wife's work with sexual assault survivors. The judge rejected the request.
The three-week trial in April was the first high-profile sexual assault prosecution in the Me Too era, and tensions were high. Dozens of protesters flocked to the Pennsylvania courtroom outside of Philadelphia, with many rallying in support of women who have accused Cosby of sexual assault or rape.
This article has been updated with comment from the National Sexual Violence Resource Center.
Popular in the Community