If Bill Cosby really thinks he can launch a lecture tour on how to avoid getting charged with sexual assault ― without triggering the wrath of millions of women ― he's clearly eaten one too many Jell-O pudding pops.
The women's movement, gathering strength since President Donald Trump's election, is not having this. Women ― and plenty of men ― aren't having this.
The 79-year-old comic just recently avoided a verdict in a criminal sexual assault trial because the jury couldn't agree on his guilt. Now spokesman Andrew Wyatt says Cosby's considering doing a series of town halls on sexual assault, aimed at "young people," starting this summer.
Cosby's lectures apparently would be about how to avoid getting charged with assault.
The absurdity and horror did not go unnoticed.
"It's like O.J. searching for his ex-wife's killer," Nancy Erika Smith, the lawyer who represented former Fox News host Gretchen Carlson in her sexual harassment case against the network's then-Chairman Roger Ailes, told HuffPost. "He convinces some jurors that he wasn't guilty beyond a reasonable doubt (a high standard) so now he thinks we're all stupid. He's beyond disgusting."
Yes, it's mostly men who still control the levers of power in the United States ― they dominate the entertainment realm in which Cosby was able to maneuver for decades and they make up the overwhelming majority of business leaders and politicians.
But their vice-grip on power is truly weakening.
"It's like O.J. searching for his ex-wife's killer."
Just this week, the CEO of Uber, Travis Kalanick, was forced to step down from his perch because a woman spoke up. Former Uber engineer Susan Fowler's February blog post exposing the ride-sharing company's culture of sexual harassment set in motion Kalanick's demise. Earlier this year, Bill O'Reilly lost his post at Fox News, after women opened up about how he mistreated them. His boss, Ailes, was ousted last year after Carlson and multiple other women came forward with their stories.
In these cases, brave women spoke up and we believed them. Powerful men were held to account.
"We've seen over the last few years more women stand up and fight back against rape culture and sexual assault," Karin Roland, chief campaigns officer at the nonprofit women's advocacy group UltraViolet, told HuffPost.
"When women do stand up and fight back and are successful, misogynists feel their power slipping away," she said.
When that happens, the men get scared and they fight harder, she added. That could help explain how Trump got elected. What's more terrifying to a misogynist than an inexperienced egomaniac in the White House? A woman president.
The backlash and fear of women's power also could be part of the reason Cosby and his camp are trying to get away with this tour idea.
Many of us found it incredibly disheartening that a jury let Cosby off the hook last week, failing to reach a verdict in a sexual assault case brought by Andrea Constand.
But Cosby's hardly home free. The prosecutor in the case said he'll bring the comedian to trial again. His reputation as America's dad is destroyed. And he's already admitted to drugging Constand (and other women) and then having sexual relations with them. (He argues it was all consensual.)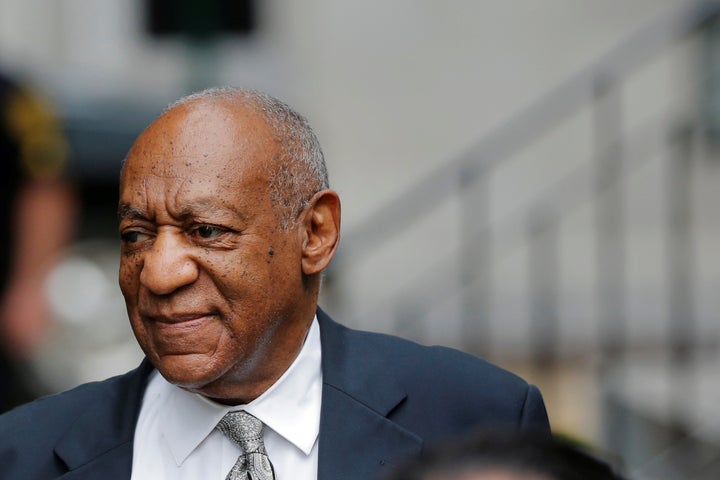 This wouldn't even be Cosby's first controversial lecture tour. He's been widely criticized for a series of talks given to African Americans, in which he blamed them for harassment and discrimination.
The tour could also be an attempt by Cosby's legal team to sway public opinion, influencing the minds of a future jury by attempting to portray himself as the hapless victim of a smear campaign.
"Mr. Cosby's so-called workshops appear to be a transparent and slick effort to attempt to influence the jury pool from which jurors will be selected for his second criminal trial," Gloria Allred said in a statement Thursday.
"Mr. Cosby should understand, however, that this is not about optics," added Allred, who represents many of the women who accuse Cosby of assaulting them ― some have active civil suits against Cosby making their way through the courts ― and who was in the courtroom for this most recent trial.
The optics are, of course, terrible.
"What the hell," Carlson tweeted, after learning about the tour.
It's not even clear that Cosby really means to go through with it. In a statement to HuffPost, his spokesman Wyatt tried to clarify the plan, but didn't really. Instead he just said that thousands of organizations had asked Cosby to speak about the judicial system ― and the comedian would do so for free.
What is clear: If Cosby tries to actually do this, women are ready. Roland's UltraViolet ― which was instrumental in organizing protests around O'Reilly ― said it intends to protest any kind of Cosby event.
"Cosby's 'how to get away with rape' tour is a disgusting display of rape culture," Roland said. If he goes through with it, she added: "He should certainly expect women all over the country to hold him accountable."
Related
Popular in the Community