NORRISTOWN, Pa. ― Judge Steven O'Neill ruled Bill Cosby a "sexually violent predator" during Tuesday's sentencing hearing for the comedian.
Cosby, 81, was convicted in April of three counts of aggravated indecent assault for drugging and sexually assaulting former Temple University women's basketball coach Andrea Constand at his home in 2004. O'Neill's ruling came amid a two-day sentencing hearing for the disgraced comedian.
Prosecution "met the clear and convincing standard, therefore this defendant is designated a sexually violent predator," O'Neill said in court on Tuesday morning.
Prior to O'Neill's decision, Cosby's defense had fought against the designation, calling it a "modern-day scarlet letter." They said Cosby shouldn't be classified a sexually violent predator because of his old age and sight issues, claiming that because of those two factors the comedian will likely not repeat his sex offenses.
Defense attorney Joseph Green argued that the use of the classification was "unconstitutional." O'Neill denied the defense's motion to dismiss early Monday morning.
A sexually violent predator is defined as a person with "a mental abnormality or personality disorder that makes the person likely to engage in predatory sexually violent offenses," according to Pennsylvania state law. The classification means Cosby will have to register as a sex offender for the rest of his life. Additionally, the sexually violent predator designation demands a more active notification on the sex offender registry list, including registering upon release, informing state police of changes of residence or employer, monthly therapy sessions and quarterly in-person interviews with state police.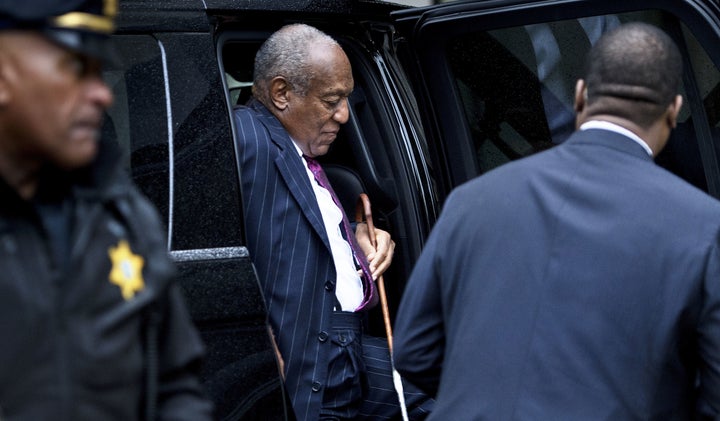 A large portion of the sentencing hearing on Monday and Tuesday was dedicated to debating the "sexually violent predator" classification, which the prosecution argued was fitting because Cosby exhibited predatory behavior and, as expert witness Dr. Kristen Dudley explained, it's possible he could repeat his offenses in the future.
Dudley, a psychologist and member of the Pennsylvania Sex Offenders Assessment Board who assessed Cosby on the sexually violent predator classification, gave prosecution's first expert testimony on Monday. She told the courtroom that she "came to the conclusion that Mr. Cosby does in fact fit the criteria" of a sexually violent predator.
"Using his power and prestige within the community, [Cosby] is able to meet people, befriend them, and it is during that friendship that the sexual assault occurs," she said, adding she believes his offenses are "likely to reoccur."
When O'Neill made the ruling on Tuesday, Cosby had not yet been sentenced. O'Neill announced on Monday that the prosecution and defense agreed to merge the three felony counts into one, adding that the average total confinement for perpetrators of the same crime is anywhere between 22 to 36 months.
Hilary Hanson contributed reporting.
Popular in the Community