Growing up, our family would pile into my parents' bed to watch "The Cosby Show" on Thursday evenings. What wasn't to love about a comedy that the whole fam could watch (without fearing cringe-worthy sex scenes)? Even better than the Cosbys' warm, witty rapport was the patriarch's signature style. Cosby's sweaters became a bonafide thing: We made fun of them in the '90s, and, like most trends, they are back in style with a vengeance. Case in point: Entire blogs are dedicated to Bill's sweaters, they even have their own Facebook page and Twitter account.
Cosby started wearing the patterned sweaters as a fluke. The knitwear, designed by Dutch designer Koos Van Den Akker, was given to the famed comedian on the set of his eponymous show. The collaged, patterned sweaters became synonymous with Cosby, and recently, we've seen everyone from Kanye West to Drake wearing the quirky knits. Whether they're an homage to the 75-year-old funny man, or it's just an effect of the colorblocking and pattern blending trends that have been so popular of late, we are psyched to warm up in the cozy garments.
Here, ten Cosby sweaters to mix into your knit rotation this fall.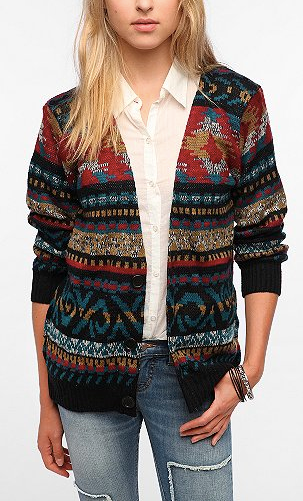 Cosby Sweaters
Related