Empowered by a new California law temporarily lifting the statute of limitations on civil sexual assault cases, a woman who came forward nearly a decade ago accusing Bill Cosby of raping and drugging her filed a lawsuit against the entertainer on Thursday.
Cosby, now 85, "exploited me when I was at my lowest point and was consumed by grief. Not only did he assault me, but the trauma caused my career in the performing arts to completely derail," Victoria Valentino, now 80, said in a statement Thursday. "The trauma he inflicted upon me affects not only me, but my children and grandchildren."
In her lawsuit, the onetime Playboy centerfold model recounts meeting Cosby in 1969. The two later ran into each other at a Los Angeles restaurant where Valentino says she told Cosby she was grieving the loss of her 6-year-old son. The lawsuit alleges that Cosby then laid out pills in front of Valentino and her friend, saying the drugs would "make them ALL feel better" and pretending to ingest a pill himself.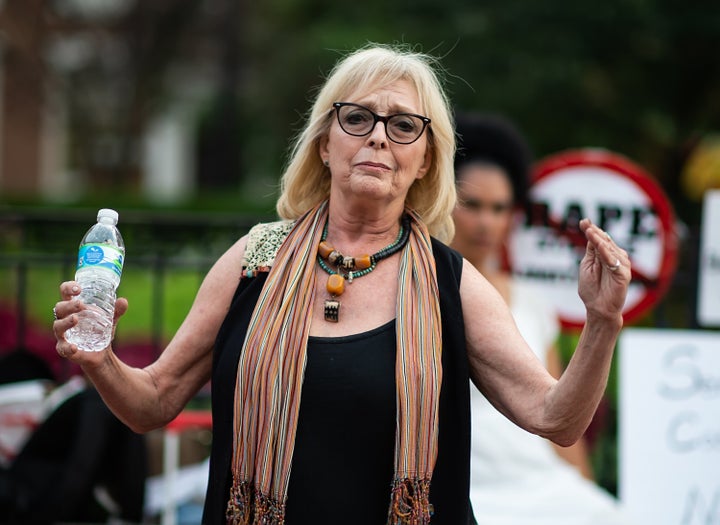 Cosby then allegedly brought Valentino and her friend back to his office, where both women were disoriented by the drugs. When it became apparent to Valentino that Cosby was going to sexually assault her friend, she stepped in to stop him, upsetting the comedian, according to the lawsuit.
"Cosby finally became angry and exasperated by Plaintiff's efforts to thwart his
assault on her friend, and Cosby stood up and walked towards Plaintiff with a terrifying expression on his face," the lawsuit outlines. "Plaintiff attempted to stand up, but her legs wobbled and buckled beneath her, and she reached out to Cosby to prevent herself from falling to the floor."
Cosby responded by forcing his penis into Valentino's mouth, she alleges, and then "engaged in forced sexual intercourse" with her before zipping up his pants and telling the two friends: "Call a cab!"
Valentino's attorney, Jeff Anderson, slammed Cosby for his alleged actions.
"He has left an immeasurable trail of pain, trauma and suffering in his wake, but today we are holding him accountable for his actions. To say Cosby's behavior is appalling and grotesque would be an understatement," said Anderson, who also represented a woman who sued Cosby in New York.
More than 60 women have accused Cosby of sexual assault or misconduct, though the statute of limitations has passed on many of those cases. In a 2005 deposition, Cosby admitted to using quaaludes on young women in order to have sex with them.
He was convicted in 2018 of aggravated indecent assault and sentenced to 10 years in prison, but in 2021 the court overturned his conviction, citing a previous deal not to charge him, and released him. Then, in 2022, a court ruled in favor of a woman who accused Cosby of sexually assaulting her when she was 16 years old and ordered him to pay her $500,000 in damages.
A representative for Cosby told The Washington Post on Thursday that Valentino's lawsuit was a sham.
"In my opinion, these women are not victims of sexual assault, they are victims of greed," Cosby spokesman Andrew Wyatt said.
"They don't want this Black man to leave this earth as America's dad," he continued. "They don't want white kids looking up to him as America's dad and wanting their fathers to be like him."
Popular in the Community