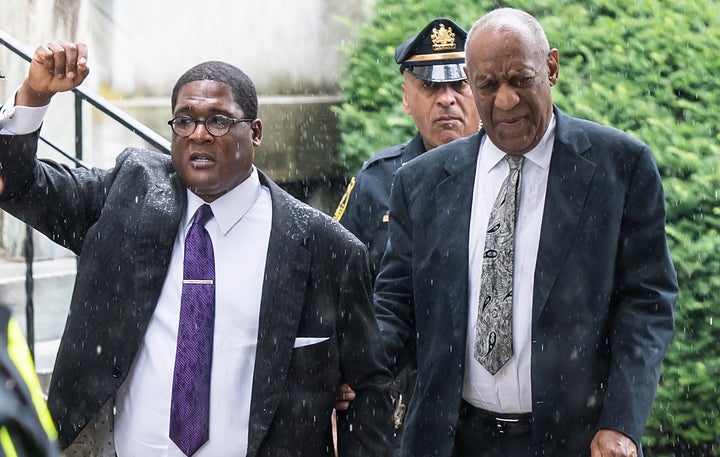 "We are now planning town halls and we're gonna be coming to this city sometime in July," Wyatt said. "To talk to young people because this is bigger than Bill Cosby. This issue can affect any young person, especially young athletes of today. And they need to know what they're facing when they're hanging out and partying, when they're doing certain things that they shouldn't be doing — and it also affects married men."
Ebonee added: "Laws are changing. The statute of limitations for victims of sexual assault are being extended. So, this is why people need to be educated on a brush against the shoulder, you know anything at this point can be considered sexual assault and it's a good thing to be educated about the laws."
Hmmm.... that sure sounds like a discussion of sexual assault and sexual assault legislation to us! 
On June 22, Wyatt expanded on the purpose of these town halls in a statement to HuffPost. He wrote that he and Benson had "received hundreds of calls from civic organizations and churches requesting for Mr. Cosby to speak to young men and women about the judicial system."
He further explained: "These groups would like for Mr. Cosby to share that people in the judicial system can use their powers to annul deals for personal agenda and political ambitions."
"I just want to be clear. The town hall meetings are not about sexual assault. I will repeat. These town hall meetings are not about sexual assault," she said.
Benson then blamed the media for "sensationalizing" the initial story.
"When we initially talked about the town hall meetings it was about restoration of legacy. Much to what Mrs. Cosby spoke on in her statement is the sensationalism brought on by the media," Benson said. "This is another example of that. To take something that was meant to talk about the restoration of this man's legacy that was destroyed by the media before he even had a chance to step into the courtroom. That's what this is about."
Calling all HuffPost superfans!
Sign up for membership to become a founding member and help shape HuffPost's next chapter
BEFORE YOU GO