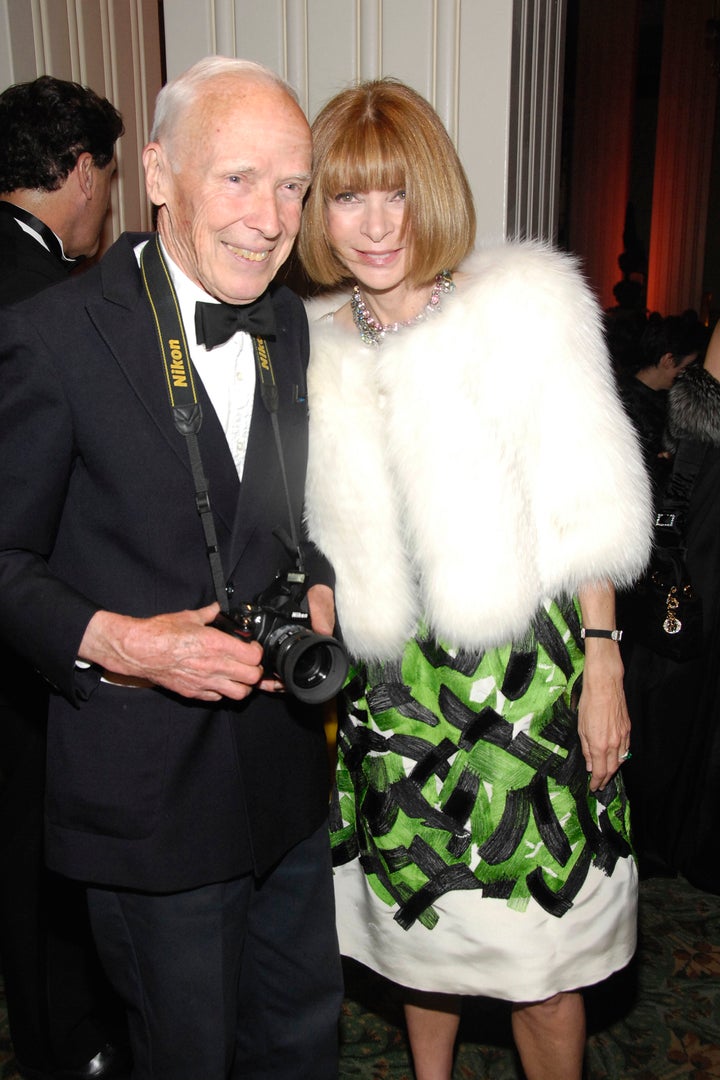 The invitation read "Come Dressed for Bill." And, boy, did they.
It was one of those quintessential -- and unforgivable -- New York moments Monday night when Bill Cunningham received the Carnegie Hall Medal of Excellence. There, at the Waldorf Astoria, the iconic New York Times shutterbug, despite being the night's dubious guest of honor, scurried from one social swan to another, eager to capture the ravishing train upon her arrival or the delicate bauble hanging from her earlobes. It was Bill doing what Bill does best: shoot yet another event. Except this time, he did it clad in a shiny black tuxedo.
Indeed, only a cut out cardboard version of Cunningham showed any sign of his signature blue French workwear jacket. Tonight, Bill's night, saw the beloved gent continue to tickle the fancies of gala chairs Annette and Oscar de la Renta and Sarah Jessica Parker. The evening, which brought out more than 450 of Manhattan's finest -- Anna Wintour, Mercedes Bass, Sanford Weill, Tina and Terry J. Lundgren, Julia and David Koch, Agnes Gund, Linda Fargo and Christine and Stephen Schwarzman -- not only raised $1.5 million for music education and community programs at Carnegie Hall's Weill Music Institute, but reinvigorated guests' hearts with fond memories of yesteryear.
Cunningham, with his trusty Nikon around his neck during the cocktail hour, bound to the stage, grinning ear-to-ear and proudly displaying the gold medal on the edge of the podium for all to see. He gushed over Mrs. de la Renta, whose poignant remarks preceded Weill's. "He's one of the few men I would ever get up on stage for," she gushed. "He and his bike flourish in adversity." Weill, for his part, described Cunningham as someone whose "talent and humility keep him behind the lens." Parker was equally reticent. "He brings the wisdom of years with him," she said. "He is the ultimate gentleman."
During his 20 minutes of thanks (a lifetime by Cunningham standards), the legend laughed, praised, joked and, tearfully, at times stopped himself to regain his composure. Welcomed with a standing ovation, he began with, in his signature Bostonian accent, "What can one possibly say? I mean, I've been struggling with it and I have made a few notes," as he displayed a printout that would make Santa Claus envious. "Everyone in this room, I mean, that's why I'm here. It's because of you."Cunningham couldn't resist a few zingers, though. "What I admire most about you is what you do for charities in New York. Nowhere else in the world do they know this. They're going to get to know this in Europe with this financial crisis. They're going to have to get off their butts and raise money," he said. "There are cynics who say, 'All you people go out to show off your fancy dresses and have parties.' First off, I am not fond of photographing women who borrow dresses. I prefer parties where women spend their own money and wear their own dresses.... When you spend your own money, you make a different choice," he said. Noting how the Times had "opened the doors of the world to him," the Schwinn-riding, fast-shooting octogenarian said, "I'm just the fluff. I fill around the ads, if we have any."
Sixty years later, Cunningham, a longtime resident of an apartment above Carnegie Hall, described how he still rushes down to Fifth Avenue every morning to shoot stylish women on their way to work. "Between 8:30 and 9:30 is fabulous," he said. "Today women are dressing the insides of their heads as well as the outside. I come away thinking, 'This is unbelievable. It could not happen anywhere else in the world.'"
Before turning the stage over to tenor Vittorio Grigolo, who delivered series of stirring operatic performances, Cunningham said, "There are cynics, who think the parties are just for ladies who want to dress up. That's a lie. It's not that way at all," pulling himself together. "It is an American tradition of giving back to a country that has given us everything."
And with that, his grin was back -- and so was his humor.
"I should stop talking now," he deadpanned. "You all have another party to go to tomorrow night."