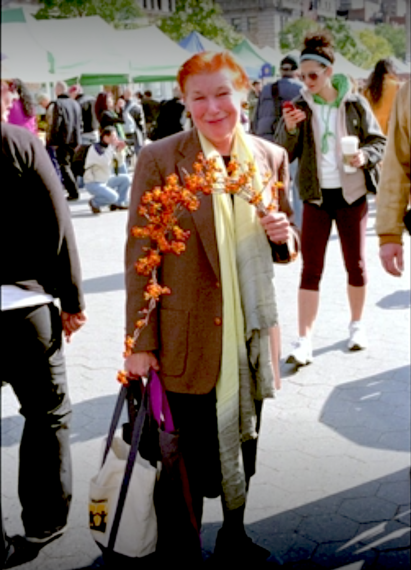 That Bill Cunningham's funeral service was held at St. Thomas More's Church put a wistful smile on my face. For to my late mother at least, of the several classy East side Roman Catholic churches in New York City, Thomas More was the classiest.
When I was a child my mother was maid to the Broadway producer, Jean Dalrymple who lived in an equally classy townhouse right off Park Avenue and 55th Street. Occasionally, when her work finished for the day she and I would walk up town to Thomas More to drop in, walk around, inspect the altar flowers, see how the rich worship and say the occasional prayer.

We'd bypass several near by classy churches: St. Vincent Ferrer on Lexington, St. Jean Baptiste (my mother called it St. Jean the Baptist) also on Lexington and the grandest of all St. Ignatius Loyola on Park, in favor of the modestly built, and somewhat dark St. Thomas More, at Madison and 89th Street.
Why my mother bypassed the others in favor of Thomas More remains a mystery. One is lovelier than the next. Now many years later I think it was because she mistook St Thomas for Episcopalian, a religion she deemed classy.

I thought it Episcopalian myself for years. It was only when Jackie O died and the papers said she was a parishioner, did I realize my Mother's mistake.
As every other woman whom he photographed, I have a soft spot in my heart for Bill Cunningham who, as it turns out was a Catholic. Several years ago on a glorious Autumn Saturday, he 'caught' me at the Union Square Greenmarket.
But what has truly moved me is that Bill was a Catholic, and not by name only. In the beautiful documentary Bill Cunningham New York he reveals that he attends Mass every Sunday. This surprised me and the old adage "once a Catholic..." sprang to mind. He needed more than his 'art' to sustain him.
In an article in The Guardian July 3rd, New York Times style section editor, Stuart Emmrich said that the priest officiating at Bill's service (it was not a Requiem Mass) said that when Bill picked up a camera 50 years ago his life changed: "For Bill photography was not a job or career, it was a vocation, almost like he had been called by God to it."
A few hours ago I went up to St. Thomas More to light a candle for Bill and I can see why my mother thought it Episcopal. The church, though Catholic since the 50's, has a serenity I find in Episcopal churches.
There was no one there, and as I looked around I called to mind what Bill said in the documentary - that as a child he loved to go to mass to look at women's hats.
As photography was not allowed at his service I can only imagine the array of hats and head ornaments worn by Bill's women to honor him one more last time. And I think of my mother who always wore a hat. Always...even at home.