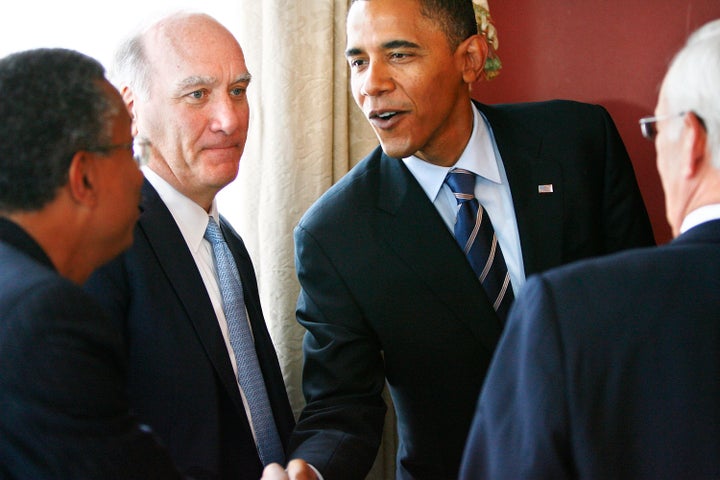 HuffPost's Howard Fineman reports that President Barack Obama is choosing Bill Daley to replace interim chief of staff Pete Rouse. Daley confirmed to the Huffington Post that he will fill the position.
Daley will step into one of the most important and influential jobs in American government as an adviser and gatekeeper to Obama. He will replace Pete Rouse, the interim chief of the last three months, a behind-the-scenes Obama adviser who did not want the position permanently and recommended Daley for it.
Rouse will remain as a counselor to the president, an elevated position from his former job as senior adviser. Daley is expected to start within the next couple of weeks.
Although Daley carries the name of a dynastic family of politics in Chicago, which is Obama's hometown, he and the president haven't been personally close. He offers criteria Obama wants: an outsider's perspective, credibility with the business community, familiarity with the ways of the Cabinet and experience in navigating divided government.
Daley also wants the job. At 62, the move will thrust him into the heart of national politics just as Obama adapts to a new reality in Washington, with Republicans controlling the House, working to gut his signature health care law and pushing for major cuts in spending.
The White House shake up offered eye-catching symmetry to Washington's first busy week of the new year, change at both ends of Pennsylvania Avenue a day after a reconstituted Congress was convened with Republicans in charge in the House and in a position of greater empowerment in the Senate, albeit still in the minority there.
Obama informed his senior advisers of the change in a meeting on Thursday morning.
He made clear that no one is more valuable to him than Rouse, according to one of the officials in the room. The set-up means Obama gets both officials: Daley to run the grueling operation, Rouse to offer a range of advice and his years of experience with the Senate.
Daley, currently the Midwest chairman of JPMorgan Chase and brother of Chicago Mayor Richard Daley, raised some eyebrows this week when prior comments were uncovered suggesting he didn't support two landmark Obama administration initiatives -- health care reform and consumer protection.
"[Democrats] miscalculated on health care," Daley once told The New York Times in an interview. "The election of '08 sent a message that after 30 years of center-right governing, we had moved to center left -- not left."
As for Obama's creation of a consumer protection agency, Daley appeared equally resistant. The Wall Street Journal reported last year:
But when White House Chief of Staff Rahm Emanuel called a top J.P. Morgan executive to ask for the bank's support in creating a new consumer-protection agency, the executive--former Commerce Secretary William Daley--said no, according to people familiar with the conversation. His boss believed that sufficient consumer safeguards were already on the books.
While such views are likely to put him in the bad graces of some on the left, former DNC chairman Howard Dean recently painted the potential shakeup as a positive development. HuffPost's Sam Stein reported Wednesday:
Dean said that his ascendancy to the chief of staff role would be a positive development, in the process giving Daley the type of progressive validater that he has so far lacked.

"I don't agree with [him] on a lot of stuff politically, but I do think -- A, he is a grownup and B, he gets that you don't treat people like you know everything and they don't," said Dean. "If Bill Daley becomes the chief of staff, that is going to be a huge plus because he is outside of Washington, he sees things the way people outside Washington do. It is not a left or right issue."
Stein also noted earlier this week that Daley's Chicago standing and knowledge of the administration and election politics could be useful as Obama looks forward to reelection.
The move comes as Obama ushers in change across his senior leadership - the result of internal staff fatigue, a need to shift energy and people to Obama's re-election campaign, and an adaptation to the fresh limits on Obama's power. Although many of the names of the players may not be familiar to the electorate, the collective personnel changes will influence not just Obama but the national agenda.
Considered the most consuming job in the White House, the chief of staff shapes nearly everything that Obama deals with - how the president spends his time, how he pursues his strategies on foreign and domestic policy, how he deals with a politically deadlocked Congress and a skeptical electorate.
Rouse has been leading a review of how to restructure the White House since even before Rahm Emanuel quit the chief of staff's job in October to run for Chicago mayor.
Now the changes are coming quickly.
White House press secretary Robert Gibbs announced Wednesday he was resigning by early February, senior adviser David Axelrod will be leaving soon, and both of Obama's deputy chiefs of staff, Jim Messina and Mona Sutphen, are exiting soon, too. David Plouffe, a key member of Obama's inner circle as his former presidential campaign manager, will be joining the senior staff of the White House on Monday.
Daley emerged as a natural candidate, particularly after other internal candidates ended up in other positions. He is close to some of those in Obama's orbit, including Axelrod, Emanuel and senior presidential adviser Valerie Jarrett.
Daley's brother, Richard Daley, is the mayor of Chicago. William Daley has not sought office himself, but has long been immersed in politics.
He helped President Bill Clinton pass the North American Free Trade Agreement and later served as Clinton's commerce secretary. Later, he ran Al Gore's 2000 presidential campaign and the historic recount effort that ended with Gore conceding the race to George W. Bush.
When Obama launched his presidential campaign, the Daley family put aside its deep connections to Bill and Hillary Clinton and endorsed the young Illinois senator. Until then, Obama and the Daleys had largely operated separately in Illinois politics - not helping each other much but not attacking either. After Obama's victory, Daley helped oversee the presidential transition.
Calling all HuffPost superfans!
Sign up for membership to become a founding member and help shape HuffPost's next chapter