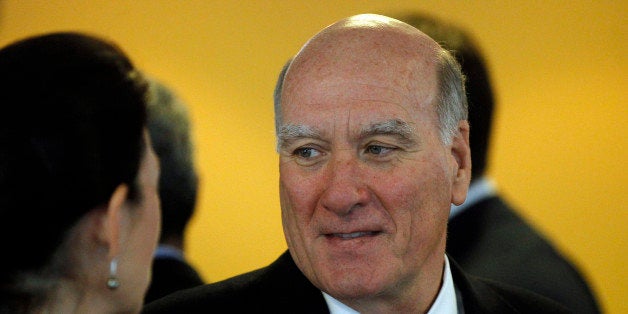 WASHINGTON -- In a significant shakeup at the White House, President Barack Obama announced Monday that William Daley is resigning as his chief of staff and being replaced by budget director Jacob Lew.
"Last week, my chief of staff Bill Daley informed me that, after spending time reflecting with his family over the holidays, he decided it was time to leave Washington and return to our beloved hometown of Chicago," Obama said during remarks at the White House, standing alongside Daley and Lew.
Senior administration officials said even the president was caught off guard by Daley's sudden decision. He just walked into the Oval Office on Jan. 3 and handed in his letter of resignation. During Monday's remarks, Obama said that Daley's decision "was not easy news to hear" and that he tried, unsuccessfully, to persuade Daley not to go.
"I didn't accept Bill's decision right away. In fact, I asked him to take a couple of days to make sure that he was sure about this," said Obama. "But in the end, the pull of the hometown we both love -- a city that's been synonymous with the Daley family for generations -- was too great. Bill told me that he wanted to spend more time with his family, especially his grandchildren, and he felt it was the right decision."
In his letter to the president, Daley said he has been "honored to be a small part of your administration," but that it is "time for me to go back to the city I love."
A senior administration official dismissed the idea that something specific was driving Daley out now, whether it be burnout or pressure from Democratic critics on Capitol Hill. Instead, this official suggested, there was a natural window for departure here. Daley took the job almost exactly a year ago and originally said he planned to stay for two years, but his decision to leave this month means that he'll have been on the job for just over a year and that he leaves at the start of the 2012 election season.
"It obviously make sense that if you want to leave before the reelection, you want to do it as soon as possible," said this official. "It's absolutely the case that when Bill came back from vacation, he told the president he wanted to return to Chicago and spend more time with his family."
The president was understanding about Daley's decision, the official added, but "yes, he was surprised. He's sorry to see Bill go."
Not everyone is sad to see him go, however. A former senior congressional Democratic aide said it is time for Daley to step down since he never really accomplished his goals.
"Bill Daley was brought in for two things: He has a good connection to the business community and a record of working with Republicans," said the former staffer. But Republicans "don't want to be worked with" right now, and Obama's relationship with business "isn't any better. Take away the two things he was supposed do and ... he becomes an ineffective chief of staff."
The onetime commerce secretary under President Bill Clinton won't stray too far from the president. A Democratic campaign official said Daley will serve as one of Obama's campaign co-chairs.
"He's got a ton of political experience, knowledge and contacts, and we look forward to leveraging those assets and working closely together to reelect the president this year," said the campaign official.
Daley will remain the White House chief of staff until the end of the month. The extra few weeks on the job means he will be around to help craft Obama's State of the Union address later this month, while Lew can focus on wrapping up the administration's fiscal 2013 budget plan.
While the news of Daley's resignation came as a surprise, there have been signs that he may not have been a good fit at the White House. In November, Obama reassigned some of Daley's day-to-day responsibilities to senior adviser Pete Rouse. The move was described by some sources as a response to the worsening of White House-congressional relations over the past year. Administration officials said privately that the move was driven at least in part by the reality that Rouse, unlike Daley, is well-liked and has solid ties on the Hill.
Despite his political pedigree, Daley was always a curious pick for the Obama administration. He had been the top lobbyist for JPMorgan Chase, the nation's second-largest bank, which issued at least $30 billion in subprime mortgages during the housing bubble. During his tenure at JPMorgan, Daley actively lobbied against the creation of a Consumer Financial Protection Bureau. He lost that fight, and his history of resistance to the agency's very existence has always been in conflict with the administration's efforts, particularly in light of Obama's aggressive recess appointment of Richard Cordray as CFPB director.
Daley also has longstanding ties to the pharmaceutical industry, serving as a director of Abbott Laboratories for several years after leaving the Clinton administration. In 2007, during Daley's tenure on the board, the company attempted to cut off the supply of certain live-saving HIV medication to Thailand, after the nation sought to exercise its rights under World Trade Organization treaties to provide other HIV drugs at generic prices, rather than the far more expensive prices set by Abbott.
Lew does not carry the same Big Pharma baggage, but he has similar ties to Wall Street. And the tension between Lew's past as a major mover and shaker at too-big-to-fail Citibank is no less startling than the contrasts between Daley's private-sector efforts and the public policy achievements of the Obama administration.
"It's unfortunate that [Daley] is being replaced by someone who oversaw a Citigroup unit that profited off the housing collapse and financial crisis," said Adam Green, co-founder of the Progressive Change Campaign Committee, in a statement.
The Volcker Rule -- named for former Federal Reserve Chairman Paul Volcker, who also advised Obama -- sought to ban banks that accept federally insured deposits from taking proprietary bets in the securities markets, restricting them to safer, traditional lending. The rule appears destined to be undermined by scores of loopholes thanks to aggressive Wall Street lobbying at regulatory agencies, but was once considered a crowning achievement of the 2010 Dodd-Frank bill, pushed through at Obama's behest.
Lew's tenure as head of Citi's alternative investments unit was disastrous. Although he personally scored $1.1 million for his efforts, the division lost $501 million in a single quarter of 2008. Citigroup stopped publicly disclosing the performance of Lew's division soon after.
While there is little liberal love for Daley, many progressives are less than enthusiastic about his replacement. By picking Lew, Obama has effectively replaced one opponent of Dodd-Frank with another.
"It would be good to see someone at chief of staff who hadn't gotten rich on Wall Street," said economist Dean Baker, co-director of the Center on Economic and Policy Research, a liberal think tank.
"I don't believe that deregulation was the proximate cause," Lew said in 2010.
Still, some top Hill Democrats will likely be thrilled by the news of Lew taking over for Daley. Many have privately complained about Daley's lack of attention to them and lack of understanding of Congress itself, to the point where some were even clamoring for the return of Obama's prior chief of staff, Rahm Emanuel, a former House lawmaker known for his bombastic, hands-on relations with the Hill. The Huffington Post reported in September that the Daley-Congress relationship had grown so bad that, according to one top Democratic aide, Democratic leaders had "come to the conclusion that he's not up to the job and doesn't really get how Congress works. At all."
Jim Manley, a former longtime spokesman for Senate Majority Leader Harry Reid (D-Nev.) and now handling public affairs with Quinn Gillespie, said he expects House and Senate Democratic leaders to be "overjoyed" that Daley is out.
"It became evident in recent months that he had strained relationships with many Democrats on the Hill," Manley said. By contrast, Lew has "a rock solid reputation on the Hill, with both Democrats and Republicans. He's a straight shooter who is very sharp and very savvy."
Manley gave credit to Daley for the timing of his departure. "As the president heads toward a tough reelection year, if you're going to do something like this ... now is the right time to do it," he said.
Reid put out a statement on Monday saying he has "deep respect" for Daley's work and wished him well in the future. He also praised Lew as "a consummate professional with intimate knowledge of Congress" and someone whose "decades of experience ranging from working in Congress, to managing our country's budget, to facilitating our foreign policy, make him uniquely qualified to handle this challenging job."
A senior Senate Democratic aide summed up Democrats' feelings on the chief of staff changeover more plainly.
"Folks up here will view Lew as a big improvement," said the aide. "It's hard to see Lew making the same mistakes his predecessor did."
Popular in the Community