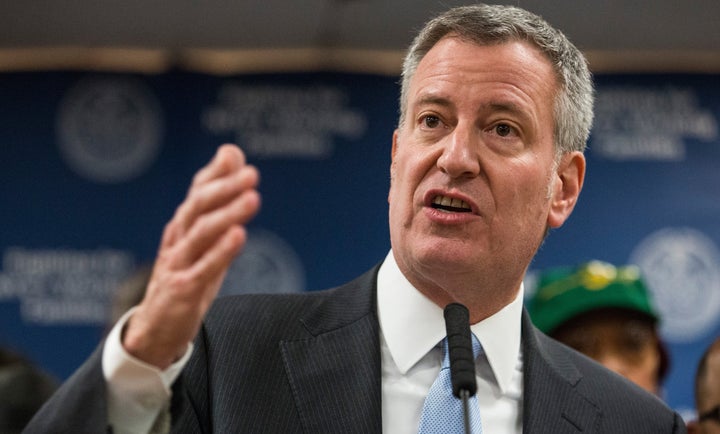 New York City Mayor Bill de Blasio and Police Commissioner Bill Bratton are receiving criticism for their recent comments about rape and sexual assault prevention.
In a radio interview with WNYC on Jan. 5, Bratton had some arguably outdated recommendations for women who want to stay safe: 
They're by themselves and intoxicated getting into a cab... and we've seen an increase in assaults in those instances. So we're encouraging women to adopt the buddy system.
At an unrelated press conference on Monday, where Mayor de Blasio was discussing the success of an affordable housing plan, he was asked about sexual violence in New York City in the wake of a horrific gang rape in Brownsville. He defended Bratton's comments, saying, "I think it falls under the broad rubric -- and I believe this is what the police commissioner was saying -- of people being vigilant, being careful in what they do." 
However, he was also quick to qualify the limitations of "being careful." "I don't want there to be any mistake, we are responsible of the safety of the women in this city," de Blasio said.
Members of the City Council criticized both Bratton's "buddy system" suggestions and the overall way the NYPD keeps women safe from sexual violence, specifically when these incidents are occurring in city taxis and cars that are hailed through apps like Uber and Lyft.   
Bronx Councilwoman Vanessa Gibson, said: "We want to ensure that when we're working with our police department, we're not encouraging women to implement buddy systems, but rather saying, 'You have a right to be safe.'"
Brooklyn Councilwoman Laurie Cumbo echoed Gibson's sentiments, calling on the NYPD to "come forward and not tell me to get a 'buddy system,' but to work with us."
PHOTO GALLERY
Surviving In Numbers: Stories Of Sexual Assault Survivors
REAL LIFE. REAL NEWS. REAL VOICES.
Help us tell more of the stories that matter from voices that too often remain unheard.