NEW YORK -- Mayor Bill de Blasio is pulling back the space-sharing arrangements for nine schools, including three charter schools that are part of Success Academy, a high-profile school chain whose leader has been a frequent de Blasio target, the administration announced Tuesday.
De Blasio made the announcement official through a Department of Education memo after The Huffington Post first reported the news. According to the memo, de Blasio green-lighted most of the 49 space-sharing proposals for the new school year, including those for four Success Academy schools. The administration said it would provide alternative locations for those schools whose plans were withdrawn, and it plans to hold community meetings in the neighborhoods where space-sharing arrangements will proceed. The administration deferred on deciding of the fates of four schools that are supposed to open in fall 2015.
Success Academy was founded as Harlem Success Academy by former city council member Eva Moskowitz in 2006, and has since grown to 22 schools. The chain, which was favored by former Mayor Michael Bloomberg, has been criticized for its disciplinary policies, although its students tend to perform well on standardized tests.
Organizers are already mobilizing parents to fight back. Moskowitz said she plans to address the announcement at a late Thursday press conference outside one of her schools.
Two of the three Success Academy schools whose arrangements were rolled back have not yet opened their doors: Success Academy City Hall and Success Academy Jamaica in Queens. The other, Success Academy Harlem 4, is operational, and the move would leave 210 fourth and fifth graders without school for the 2014-15 academic year.
Kerry Lyons, a SKDKnickerbocker consultant who works for Moskowitz's schools, sent reporters a snapshot of the three schools, saying the displaced students are "left homeless next year." The loss of space for the two new schools, she said, will mean 420 kids in the kindergarten and first grades lose their enrollment.
According to the administration memo, the decisions were intended to cause minimal disruption to families, and to keep elementary schools off of high school campuses, due to concerns from both elementary and high schools that mixing those levels would be problematic.
"The previous administration handed over these proposals -- and we have had to review all of them under inflexible deadlines," Schools Chancellor Carmen Farina said in a statement. "While the circumstances for each proposal are unique, we identified clear criteria and we followed it. But more importantly, as enrollment deadlines approach, we considered the thousands of families that could be affected. We were deliberate in our decisions and, under the circumstances we inherited, believe this is the best approach."
"If there is one thing school communities should know, it's this: we're going to do things differently. Today, we are turning the page on the approach of the past," she added.
The schools reviewed by the administration had already been approved by Bloomberg, putting the city in what de Blasio called a hard spot. "We are turning the page on the divisive policies of the past, even as we work with the difficult hand we've been dealt," he said in a statement. "We made clear from the outset we would carefully review all of the proposals rushed through in the waning days of the past administration. ... And today, we are taking the best possible path forward, rejecting those proposals that do not meet our values, and working with school communities on those proposals that can be implemented responsibly."
"With these decisions, we are doing right by the most students and the most families," he said. "Moving forward we will have a new approach in place that truly engages parents and the communities to ensure their voices are heard."
Some charter advocates immediately responded with outrage. "Kicking one of the state's top-performing schools out of its building and leaving three other schools without a building is nothing short of outrageous," said Nina Rees, who heads the National Alliance for Public Charter Schools. "At the school already serving children, Success Academy's Harlem 4, 83 percent of the students passed the state math exam last year, putting it in the top 1 percent of all schools in the state. Why would anyone want to stop that kind of student achievement? ... This is an unjustified attack on the city's most vulnerable youth -- 93 percent of students in charter schools in NYC are minorities and 73 percent are low-income.""
But public school advocates who have been critical of the Bloomberg administration's education agenda rejoiced.
"Thank you Mayor de Blasio for sticking to your word. This is good education policy and an uplifting start to bring fairness and equity to our schools," said Zakiyah Ansari, advocacy director for the union-backed Alliance for Quality Education in a statement. "Although there are arguments to be made for having reversed many more inherited co-locations on the table, it is clear that the administration used fair and objective criteria to make this decision.
The United Federation of Teachers union also saw the move as positive. "I'm glad the DOE has taken an important first step in vetoing some particularly troublesome pending co-locations," said Michael Mulgrew, UFT president, in a statement.
Charter schools are publicly funded but can be privately run. Such schools proliferated during the Bloomberg administration, with former Schools Chancellor Joel Klein encouraging their growth by offering them rent-free space in public school buildings. That space-sharing arrangement, known as co-location, spurred public outrage, as some parents argued that it has created a two-tiered system of education and has forced schools to fight over facilities like cafeterias.
During his campaign, De Blasio called for a moratorium on co-location, although he recently lifted that moratorium in favor of a community-based approval process for allocating space to charter schools. De Blasio also questioned whether charters shouldn't be charged rent. His rhetorical target in arguing for these changes was Moskowitz: At a June forum, he said, "There is no way in hell that Eva Moskowitz should get free rent, okay?"
De Blasio has moved quickly to implement his less charter-friendly policies, diverting resources to his universal pre-kindergarten initiative instead. In early February, de Blasio released a budget that pulled $210 million from charter schools, in the form of cuts to building plans already approved by his predecessor, despite an $800 million increase in overall education spending.
Over the weekend, Farina met with a coalition of charter school leaders over the weekend. According to the Wall Street Journal, the meeting was friendly and no decisions on policy were made.
Moskowitz was reportedly not encouraged by the meeting. Instead, she announced a public relations campaign to fight de Blasio on charters at the state level, as Chalkbeat reported. The first step in her plan is a 2,000-parent rally in Albany next week, scheduled at the same time as a rally in support of de Blasio's preschool plan.
In November 2013, some local parents filed a lawsuit arguing that charter school co-location violates state law. Public Advocate Letitia James had also filed a similar suit, but said in late January that she would adjourn it pending further action from the administration.
This post has been updated with the administration's official announcement and additional responses.
Before You Go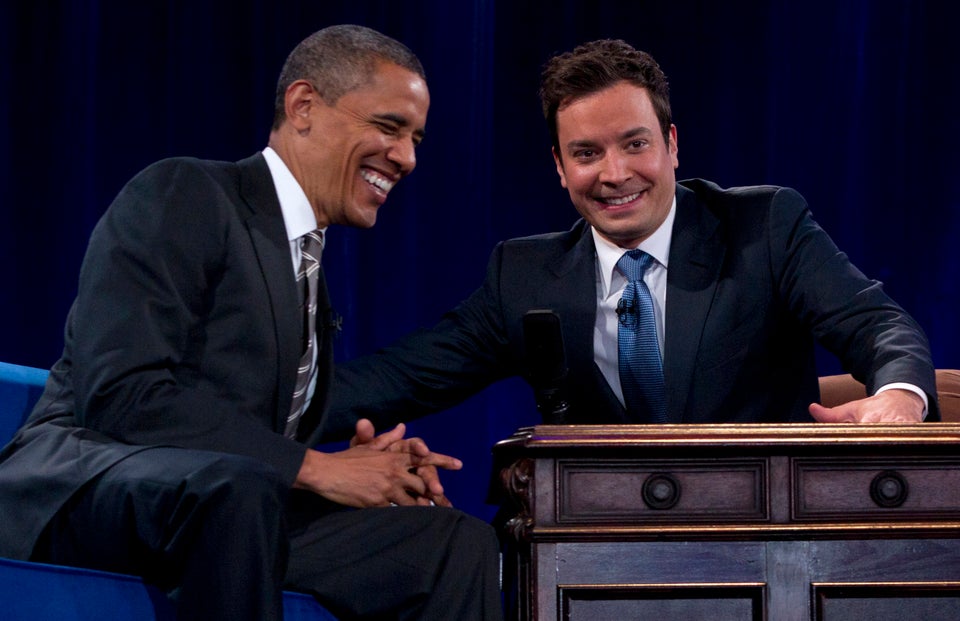 Obama On Late-Night TV
Popular in the Community