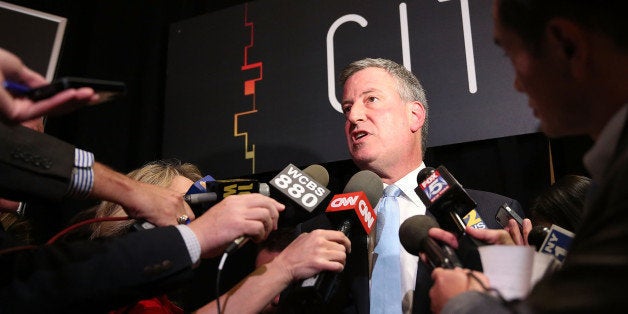 Bill de Blasio, the Democratic candidate for New York City mayor with a huge lead in opinion polls, is expected to be a no-show at tonight's first debate with candidates from other parties.
There's nothing on de Blasio's public schedule that conflicts with the time slot for Wednesday's 7 p.m. debate. But viewers who tune into NY1 will probably find only Republican Joe Lhota and Independent Party candidate Adolfo Carrion Jr. verbally jousting and presumably taking shots at de Blasio for his absence.
Shortly after winning their respective parties' primaries last month, Lhota challenged de Blasio to a series of five debates with one to be held in each borough.
De Blasio, the city's public advocate, waved off Lhota's proposition and instead settled on a matchup of one debate per week in the final three weeks before election day on Nov. 5. The city's campaign finance law stipulates that candidates must participate in a minimum of two debates to receive public matching funds.
"There will be three general election debates this fall, more than in any New York City mayoral campaign in nearly 30 years," said de Blasio's spokesman Dan Levitan in an email. "There are real differences between the candidates and Bill looks forward to presenting his vision for progressive reform directly to New Yorkers."
The first debate with de Blasio will be held on Oct. 15 and all will take place in Manhattan.
Lhota's campaign has criticized de Blasio, who had a 50-point lead in a Quinnipiac University poll last week, for rejecting a schedule of five debates.
"It is incredibly disappointing that Mr. de Blasio does not appreciate the need to hold debates outside Manhattan when New Yorkers in all five boroughs deserve the chance to learn more about the next mayor," said Lhota's spokeswoman Jessica Proud in a statement last month. "Trumpeting their agreement to a single debate beyond what is required by the campaign finance law as historic is a joke. Their strategy of ducking the press and public since winning the nomination will grow weary on New Yorkers who want to see leadership from their next mayor."
If de Blasio changes his mind, he could still participate tonight.
BEFORE YOU GO
PHOTO GALLERY
NYC Primary Day 2013