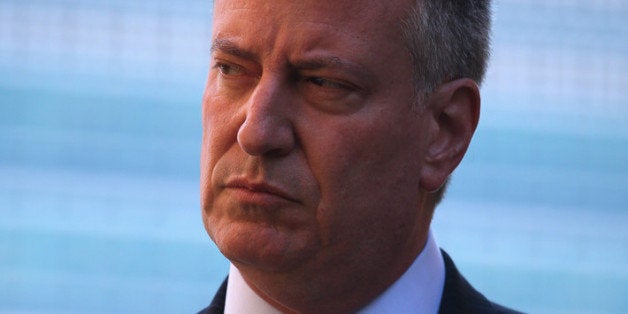 New York City mayoral candidate Bill de Blasio revealed on Monday that his estranged father, Warren Wilhelm, died by suicide while suffering from terminal cancer more than 30 years ago.
De Blasio, 52, announced the circumstances of his father's death in a short statement to the press minutes before the New York Post published a story about Wilhelm dying from a self-inflicted gunshot wound in a parked car.
"While this has been a private part of my family's life, it is now clear a media story will soon emerge," the statement from de Blasio said. "My father tragically ended his life while battling terminal cancer in 1979."
The Post reported that Wilhelm, then 61, killed himself outside of a hotel in New Milford, Conn., in July of that year. A death certificate indicated the medical examiner discovered Wilhelm had lung cancer.
De Blasio, the city's public advocate, has long acknowledged a strained relationship with his father. He has described Wilhelm, who served in the military during World War II, as a heavy drinker who left de Blasio's mother and their three sons when de Blasio was 7 years old. A year later, the couple divorced.
De Blasio legally changed his name from Warren Wilhelm Jr. to Warren de Blasio-Wilhelm in 1983 by incorporating his mother's maiden name, the New York Daily News reported last week.
In 2001, he changed his name again and dropped all connection to his father's side of his family, officially becoming Bill de Blasio, the Daily News reported.
"Bill de Blasio took his mother's family name because his father was largely absent from his life, a fact he has been open about throughout his time in public service," a campaign spokesman told the paper.
Calling all HuffPost superfans!
Sign up for membership to become a founding member and help shape HuffPost's next chapter