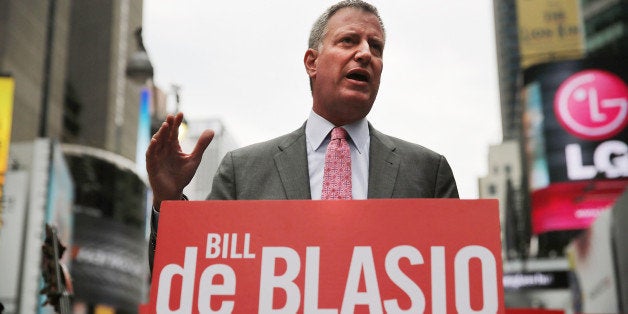 Throughout American history, when Washington has stumbled, New York has led with progressive reforms. It goes with the territory. Teddy Roosevelt ushered in major progressive era reforms first as police commissioner and NY governor. Franklin Roosevelt ushered in the New Deal first as governor of NY. In an economy rife with inequality and inaction in D.C., NY's vocation of reform is again at hand. The progressive mayoral candidate Bill de Blasio is a very strong candidate to lead the city and the new reform agenda.
He gets it. In a city with more millionaires and billionaires than any other place on the planet; with a surging stock market; with high-end restaurants bursting with activity; and with tourists by the millions from around the world, the city has the ways, means, and need to address its poor and working class. De Blasio has made a basic proposal: the rich should pay just a tiny bit more in taxes, a surcharge of 0.4 of 1 percent on incomes above $500,000 to ensure a decent start for every kid in the city.
This is smart and it is right. Universal preschool support should be national policy, indeed a global policy. Giving our children the best early start is not only common decency and common sense; it's backed by years of rigorous studies showing (not surprisingly) that investing in young children is society's best investment of all. If New York City starts it, it might well become global soon enough. De Blasio will be a strong force to make it happen.
The fact of the matter is that New York City can put all of the pieces together to be not only the world's most global and dynamic city, which it already is, but also America's new leading beacon of reform and social justice, its natural calling and historic role. De Blasio not only has staked out the most progressive platform but has consistently led the fight for progressive reforms in recent years, most recently to ensure NYC workers are entitled to paid sick leave, a nearly universal right in high-income countries that shockingly hasn't yet become a right in America. Now NYC has set the pace, notably despite the lobbying of the business community.
A reform Mayor with attention to those left behind will have unparalleled opportunities for innovation. We are ripe to deploy new information technologies to raise the quality and to lower the costs of health care, education, and other public services. These cost-saving reforms are within our reach (and I'm delighted that my colleagues at Columbia University are piloting and championing some real breakthroughs), yet they won't happen, and certainly not at scale, without real reform-minded leadership.
NYC is also well placed to help lead the nation and world on climate change and environmental sustainability. De Blasio will build boldly on Mayor Michael Bloomberg's pioneering PlaNYC. De Blasio has set out the right priorities: renewable energy, energy efficiency, green buildings, recycling, and resilience. And he knows that action is urgent. Climate change has already raised ocean levels substantially, with more to come. NYC and major cities around the world are increasingly hit by storm surges and floods causing mega-damage as occurred in Super-Storm Sandy.
Bill de Blasio has rightly described NYC as a tale of two cities. The rich city is booming; the poor one is holding on for dear life. This is not only unfair but also deeply unwise. One united city, with quality schools and health care, with a safe physical environment, and with a path for all its kids -- rich and poor -- to gain skills and decent jobs, will be an even more vibrant city than the one we know and love. To get there, we need a mayor who knows and cares about the truth at both ends of the income distribution, and about the need to respect and protect the natural environment. De Blasio is the one.
Related
Popular in the Community