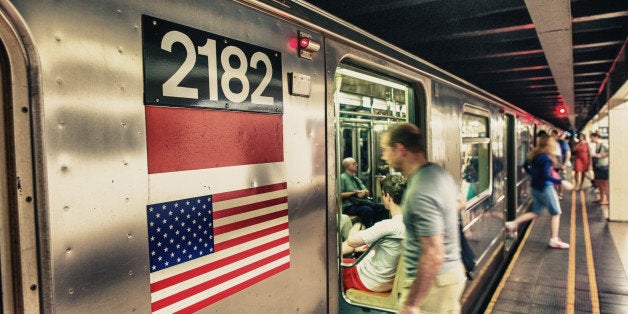 Like many New Yorkers, I was counting the days until Bill de Blasio became the leader of my city. I discovered the new mayor's progressive vision for myself when he was still the underdog in the campaign, polling behind Christine Quinn, Bill Thompson, and even Anthony Weiner. Today I remain confident that if anyone can restore equity to our divided city, it is Bill de Blasio. Even so, I must express my trepidation about his vision for the future of public transit. Citing "bus rapid transit" as a universal solution for severe service shortcomings is a cop-out -- a convenient substitute for the bold agenda necessary to ensure that New York's network remains strong.
Public transit also defies the urban dichotomy that de Blasio has committed to end. The experience is universal, fostering a rare communal bond between fellow New Yorkers. While improvements cannot single-handedly resolve the deep structural issues at inequality's core, they can make a difference. It is no coincidence that the poor, priced out of neighborhoods within a reasonable commute of good jobs, are struggling. Dependable transportation levels the playing field, providing access to career or educational opportunities. Investing in "transit-poor" neighborhoods, particularly in the outer boroughs, is essential to filling the wealth gap. If Bill de Blasio is serious about fostering an equitable New York, his agenda must prioritize transit.
Here are some ideas he should consider:
Regain control over the MTA
The city government currently has limited authority over the MTA, despite the agency's almost dictatorial control over city transit. Regaining influence will be a major challenge. But as Mayor Bloomberg's 2009 re-establishment of city authority over public schools shows, it can be done. While complete city oversight of the MTA (including extensive commuter rail to Long Island, upstate and Connecticut suburbs) may not be possible or even desirable, control of the New York City Transit division is essential.
Find a third way to reconnect Brooklyn and Queens
Since the once vast trolley network connecting Brooklyn and Queens was dismantled in favor of buses, travel between the two most populous boroughs has proved nearly impossible. The Subway was designed for Manhattan-bound commuters -- the G train is the only route exclusively serving Brooklyn and Queens. Unreliable, traffic-bound buses cannot take the place of streetcar lines. More problematic bus rapid transit can be a temporary solution, but should not be relied on long-term. Light rail occupies a middle ground, featuring semi-separated grades (often filling existing medians), mitigating traffic issues faced by buses, paired with significantly lower per-mile construction costs than the Subway. Light rail is a resounding success where implemented, most recently in Los Angeles; why not in New York?
Reconsider commuter rail
Expanding commuter rail to distant, underserved locations in the outer boroughs builds equity for marginalized communities. Metro-North's plan to expand Bronx service should be fast-tracked, giving Parkchester, Co-Op City, Morris Park and Hunts Point residents reliable transportation to jobs in Manhattan. Restoration of Long Island Railroad's abandoned Rockaway Beach Branch (presumably endorsed by community leaders after they rejected a High-Line-style park along the right-of-way) should also be prioritized. Such projects present an opportunity to give overlooked neighborhoods access to better jobs and education. Many communities slated for rail expansion like Co-op City in the Bronx suffer from incredibly limited access to existing public transportation. Hunts Point, another Bronx neighborhood that could benefit from Metro-North service, is among the city's poorest.
Build a crosstown connection and improve LaGuardia access
As a Columbia University student and uptown resident, I am acutely aware of the lack of an expedient northern crosstown route. Recently, Harlem leaders rejected select bus service on 125th Street with only the possibility of bus lanes east of Lenox Avenue still on the table. The status quo of the slow M60 bus prevails. A more concrete solution must be considered; this could take the form of cross-Harlem light rail or perhaps even a new Subway line, connecting with existing north-south routes and Metro-North. A Harlem crosstown Subway could also cross the river, serving Queens while funneling LaGuardia passengers into Manhattan more efficiently than existing buses. A more conservative approach to LaGuardia access might extend the N and Q (perhaps elevated above Grand Central Parkway like the JFK AirTrain) to serve the terminals.
Achieve better integration
A map publicized ahead of the Super Bowl provides a tantalizing taste of the possibilities for integrating existing connections. Administration of PATH trains should be transferred to the MTA so physical integration with the Subway already existing within stations like 14th Street can be exploited. PATH lines should become additions to the subway system with free transfers. Better coordination with NJ Transit could also result in through-running services with the Metro-North and Long Island Railroads via Penn Station, something Metro-North already does for New York Giants home games. Such integration could create seamless commutes for millions while building economies across New York, Connecticut and New Jersey.
Stormproof the network
Events like Hurricane Sandy will likely become more common. To prevent further catastrophes requiring service-disrupting repairs like the 14-month shutdown of the Montague Tube, the city needs to take a new approach. Infrastructure should be improved, not just repaired. At the very least, officials must give weight to proposals to prevent flooding in tunnels and low-lying stations, minimizing the cost and inconvenience of future storms.
Obviously these ideas represent an ambitious agenda requiring considerable political capital. But at the same time, they represent a necessary agenda. While changes will take years or decades to materialize, now is the time to act. Public works projects that improve access to transit will not only become a physical monument to a mayor's legacy, but also a social monument to the creation of equity. With this advice in mind, Mayor de Blasio will make great strides towards rebuilding a unified New York City.
Popular in the Community