Mayor Bill de Blasio expressed his condolences to the family of two murdered NYPD officers while asking the public to put aside protests and political demonstrations during a period of grief.
"It was an attack on our democracy, our values, and an attack on every New Yorker, and we have to see it as such," de Blasio said at a police charity event on Monday.
De Blasio urged the public to stand by the families of officers Rafael Ramos and Wenjian Liu, both fatally shot execution-style on Saturday in Brooklyn by gunman Ismaaiyl Brinsley.
"We all see the world through the prism of our own families," he said. "It's time for people to take stock of this moment."
The mayor did little to address burgeoning criticism from politicians and NYPD officers accusing him of not supporting police, but did ask that protests be put on hold.
"It's a time to step back and just focus on these families," he said. "I think it's a time for everyone to put aside political debates, put aside protests, put aside all of the things that we will talk about in due time. In the coming days, as two families prepare for funerals and figure out how to piece their lives back together, that should be our only concern: How do we support them?"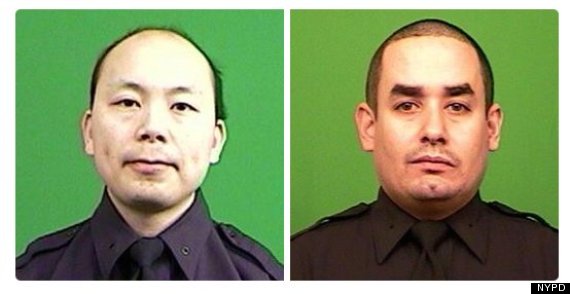 Officer Wenjian Liu (L), Officer Rafael Ramos (R)
The statements come just hours after Police Commissioner Bill Bratton told Matt Lauer that the mayor has lost the trust of some officers, who recently turned their backs on de Blasio after a visit to Woodhull Hospital, where the two officers were pronounced dead Saturday.
"I think he has lost it with some officers," Bratton said of de Blasio. "I was at the hospital when that event occurred.... I don't support that particular activity, I don't think it was appropriate, particularly in that setting, but it's reflective of the anger of some of them."
NYC Patrolmen's Benevolent Association President Patrick Lynch also placed blame on the mayor and protestors.
"That blood on the hands starts on the steps of City Hall, in the office of the mayor," Lynch said.

Recent demonstrations have been largely non-violent, despite de Blasio's call to stop protests until after the funeral of the officers.
"Organizations planning events or gatherings about politics or protests, that could be for another day," the mayor said. "Let's see them through the funerals, then debate can begin again. But until that time, it is our obligation to respect [the families]."
"An eye for an eye is not our vision of justice," the group said in a statement. "We who have taken to the streets seeking justice and liberation know that we need deep transformation to correct the larger institutional problems of racial profiling, abuse, and violence."
This isn't the first time a politician has faced criticism over not doing enough to support police during tense periods. In 1997, officers passed out fliers asking that Mayor Rudolph Giuliani "be denied attendance of any memorial service in my honor" should they die, as his "attendance would only bring disgrace to my memory."
As the holidays hit full stride, de Blasio asked the public to support two families who won't be celebrating with their loved ones.
"We still have to find that goodness," he said. "I think it's important that regardless of people's view points, it's time to step back and just focus on these families."
Like Us On Facebook |

Follow Us On Twitter |

Contact The Author
Related
Popular in the Community