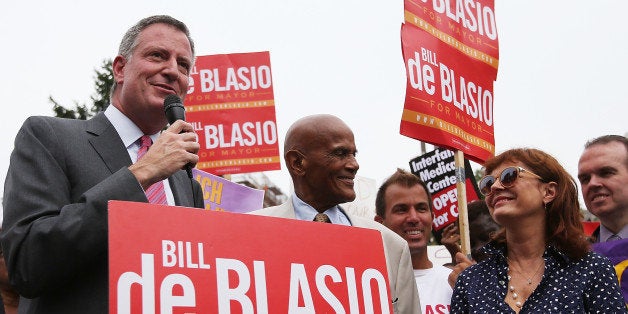 NEW YORK -- Bill de Blasio's plan to tackle inequality by taxing high-income New Yorkers, a centerpiece of his mayoral campaign, came under attack from a fellow Democrat Monday who alleged the public advocate was "pandering" to win votes.
De Blasio, who calls New York's wealth gap the "tale of two cities," has argued for funding prekindergarten for all New York City kids. To fund an extra 48,000 4-year-olds' enrollment in pre-K, he proposes collecting $532 million a year in new taxes from city residents earning more than $500,000.
But a close ally of another Democratic mayoral candidate, Bill Thompson, said Monday that de Blasio's proposal would never fly and amounted to a hollow populist plea for support from voters.
"Either Bill [de Blasio] doesn't know how we fund universal pre-K or he's just pandering," state Sen. Diane Savino (D-Brooklyn/Staten Island) said on a conference call with reporters. "What we have is enough money. What we don't have is flexibility in the state's regulations about how we spend the money we already get.
"We don't need to add more to the pot."
New York state government funds pre-K for about 58,000 city children per year, but those funds cover only a half day of instruction. Because half days don't fit with some working parents' schedules, about 7,500 city children who are eligible for these classes don't attend.
Those unfilled spots leave $31 million on the table that gets sent back to the state coffers. Thompson, a former president of the city's Board of Education, proposes using that money to create approximately 3,100 full-day pre-K slots, a change that would necessitate state approval, but not new taxes.
The limited scope of Thompson's proposal to expand pre-K drew derision from de Blasio's camp.
"[E]ven if Albany agreed, it would come nowhere near providing enough funding to make full-day pre-K available to every child who needs it," De Blasio spokesman Dan Levitan said in a statement to The Huffington Post. "Bill Thompson has refused to call for asking the wealthy to pay anything more so that every child can get the head start they deserve. De Blasio's plan would fully fund universal pre-K by asking those making over $500,000 a year to help make this critical investment in our future."
Funding for education has played a key role in the race for New York's mayor this year. As City Council Speaker, Democrat Christine Quinn -- one of the mayoral race's frontrunners -- has touted the creation of an additional 10,000 pre-k seats during her tenure.
Hiking income taxes, which is rarely a palatable choice for legislators, requires approval of the state government (not just the city). So de Blasio's proposal hinges on the support of both Gov. Andrew Cuomo (D) and lawmakers in Albany.
De Blasio's proposal calls for a five-year tax hike, from 3.86 percent to 4.3 percent, for New York's top-earners.
It can be done, however. In his first term, Mayor Michael Bloomberg rammed through an 18.5-percent property tax hike. In 2011, Cuomo, who once opposed a so-called millionaire's tax, relented and ultimately agreed to a higher rate on wealthy New Yorkers.
It may seem like an eternity ago in terms of the campaign season, but a July 24 Quinnipiac University poll of registered Democrats found 12 percent said de Blasio would do the "best job of handling taxes." (That same question saw Anthony Weiner garner 30 percent.)
The same poll found that education is the most important issue of the campaign, with 53 percent of poll takers calling it "extremely important." Taxes -- at 35 percent -- ranked fifth, following crime, economic development and housing.
"However you get there on raising the revenue, we're on board," said Center for Children's Initiatives Policy Director Betty Holcomb. "The fact that virtually all of them [the candidates] call for universal pre-K makes us really happy."
REAL LIFE. REAL NEWS. REAL VOICES.
Help us tell more of the stories that matter from voices that too often remain unheard.