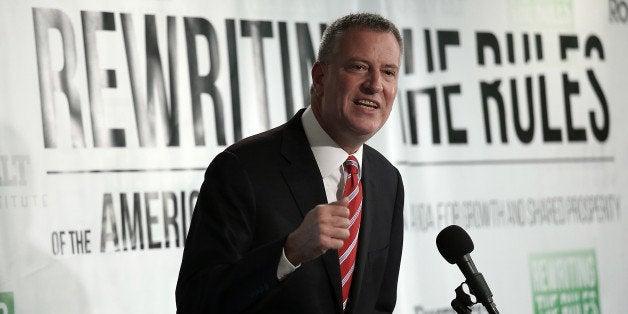 "We need a stronger coalition," de Blasio told The Huffington Post in an interview Tuesday afternoon. "I think this has often been the case with progressives over the years. We need a stronger coalition. We need the ability to work together on a core set of issues."
"We've got to, in a sense, get ourselves concentrated on a set of things that will have the highest impact, and get the biggest, broadest coalition of progressives to gather their forces and maximize their impact," he added. "I can help to gather people in common cause, and then help to build it out around the country. If we do it right, it's going to magnify what's already starting to happen locally."
De Blasio officially introduced his plan, called The Progressive Agenda to Combat Inequality, during a Tuesday press conference on Capitol Hill. Earlier in the day, he joined Nobel Prize-winning economist Joseph Stiglitz and Sen. Elizabeth Warren (D-Mass.) for an event hosted by the progressive Roosevelt Institute.
The agenda calls for 13 specific policy changes, including approving universal pre-K, raising the federal minimum wage to $15 an hour, closing the carried interest loophole and passing national paid family leave and paid sick leave. De Blasio has already enacted some of these policies in New York since taking office last year.
"Obviously the Washington dynamics are broken for all intents and purposes, and history has shown us that a lot of the greatest success I think we've ever seen in the history of American government, in terms of dealing with economic crisis, is the New Deal," he said. "That arrived largely from actions that were already started at the state and local level and were developed into national policies. I think we're in a similar paradigm right now. The local level is way ahead of the federal level in terms of addressing these issues."
De Blasio's endeavor has been compared to the Republican Contract with America, which the GOP released during the 1994 elections. The document was an agenda that Republicans promised to carry out if they retook control of the House for the first time in 40 years, which they did end up doing that fall.
"The original Contract with America had big ideas that were real, backed up by real legislation that led to real change," said former House Speaker Newt Gingrich (R-Ga.), one of the authors of the 1994 agenda, in an interview with NPR Tuesday. "So I look forward to seeing if [de Blasio] can produce an equally effective Contract with America."
De Blasio responded Tuesday afternoon that there are already federal, state and local bills that dovetail with his various proposals.
"You go up and down that agenda, you'll find relevant pieces of legislation before the Congress, and in many cases, before state legislatures around the country," he said. "What has been lacking is political will. And you change the dynamics of political will from the grass roots up."
"In other words, it's very convenient for a lot of folks in the Congress not to act on these issues right now, according to their conventional political assumptions," he added. "We have to change those assumptions. The only way to do that is at the grass roots. It has to become impossible to ignore the voices of the people calling for change on these issues."
De Blasio also credited the conservative movement with recognizing the power of grass-roots efforts to advance its agenda.
"I obviously disagree with their principles, but they were effective at organizing and they went to the grass roots. And they tapped into something," he said. "I don't think it reflects a majority view in this country by any stretch of the imagination, but I think it was effective organizing."
The new progressive agenda is not comprehensive. It doesn't touch upon issues like climate change or criminal justice reform, both of which have an effect on inequality. De Blasio said those issues too need to be part of the conversation.
"I think the idea in the first instance was a plan focused on a set of specifically economic plans," he said. "But we are going to go back to this coalition right away and build out some crucial pieces."
This fall, de Blasio plans to host a presidential forum on income inequality, where he hopes candidates from both parties will come and give specific ideas on how to address the issue.
Before You Go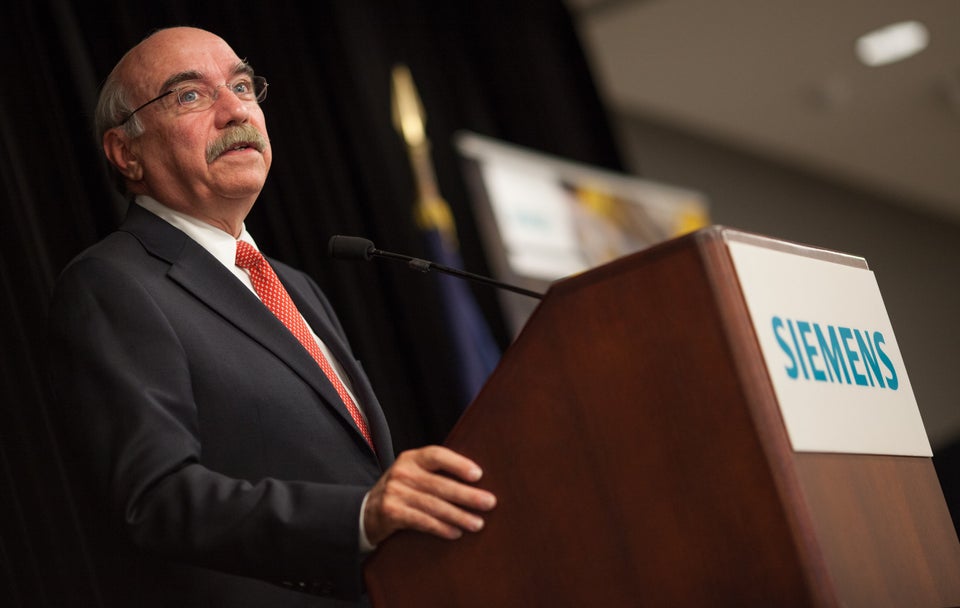 Mayors Of America's Largest Cities
Popular in the Community