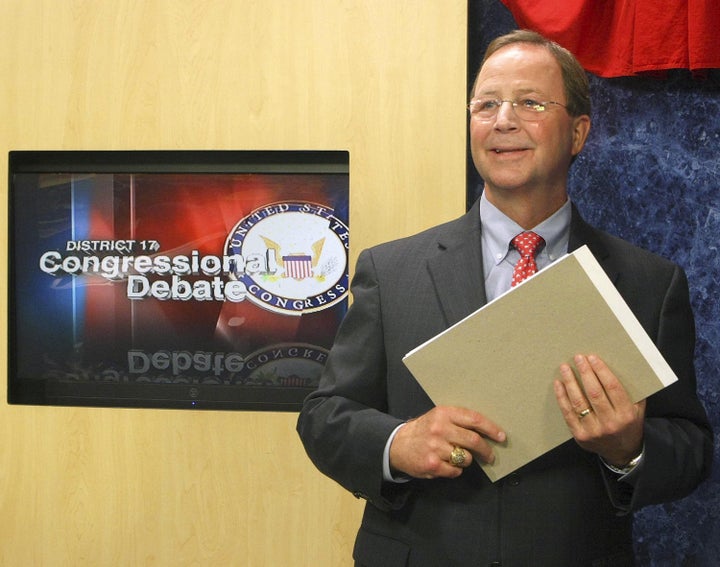 UPDATE: An earlier version of this post misquoted Congressman Flores. The title and his comments have since been updated.
House Republicans haven't been shy about expressing their desire to cripple or sever the government's hand in environmental issues, but an incoming GOP congressman recently upped the ante, claiming that his party's House caucus wants to get the EPA to "shut down on these bunny trails."
Here's what Rep. Bill Flores (R-Texas) said on a recent internet radio program (via ThinkProgress):
FLORES: Absolutely, that's one of the reasons I wanted to get on Natural Resources is it puts me in the position, not my full jurisdiction over the EPA but I do have some jurisdiction there. I can tell you the House as a whole, the Republicans in the House as a whole want to get the EPA shut down on these bunny trails that's going down that are throwing people out of work -- particularly the way it's abusing Texas. And I think that Texas can count on getting some relief from the EPA within the first few months of this Congress because they really have gone overboard.
The GOP's lack of concern for environmental issues, especially as they might restrict polluters' profits or elicit penalties, has been well documented. Early this month, Republicans leaders disbanded the Select Committee on Global Warming, a non-legislative panel that was meant to discuss avenues to address climate change science, something that only a small portion of House Republicans believe in.
While including a pledge to defund the EPA on campaign platforms was not uncommon this election season, those promises to lay siege to the agency over impending climate-change regulations recently became a mainstay for legislators battling for chair of the House Appropriations Committee. A recent federal court ruling, however, ensured that the pollution restrictions will be allowed to continue, for the moment at least.
Environmentalists may have also been somewhat relieved this month when GOP leadership announced that Rep. Fred Upton (R-Mich.) would be the next chairman of the House Energy & Commerce Committee. Though he beat out two vocal climate change opponents in Reps. Joe Barton of Texas and John Shimkus of Illinois, Upton is reportedly shifting to the right on environmental issues in order to fall in line with his party.
Rep. Ralph Hall (R-Texas), incoming chairman of the House Committee on Science and Technology and Rep. Doc Hastings (R-Wash.), who will soon head the House Natural Resources -- soon to be two of the key pilots of environmental policy -- have more pro-energy industry records, however, which are likely to come at the expense of environmental causes.
Calling all HuffPost superfans!
Sign up for membership to become a founding member and help shape HuffPost's next chapter