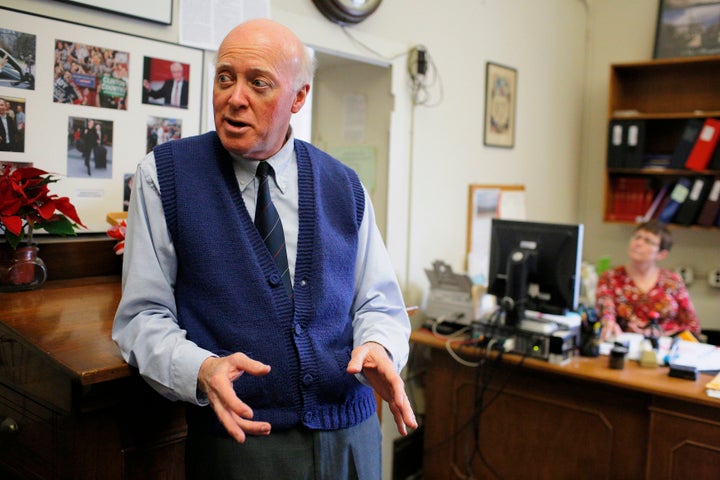 New Hampshire Secretary of State Bill Gardner (D) faced calls from fellow Democrats this week to step down from the Presidential Advisory Commission on Election Integrity after Kansas Secretary of State Kris Kobach (R) wrote an extremely misleading op-ed on Thursday claiming to have evidence of widespread voter fraud in New Hampshire.
Both of the state's Democratic senators, Maggie Hassan and Jeanne Shaheen, urged Gardner to resign from the commission.
"Secretary Gardner's association with this partisan commission risks tarnishing his long legacy of fighting for the New Hampshire Primary and promoting voter participation, and it would be in keeping with his distinguished record to immediately relinquish any role with this commission," the senators wrote in a statement on Thursday.
The Breitbart commentary by Kobach, who serves as vice chair of the electoral commission, has put Gardner in an awkward position. Kobach wrote to claim there was proof of voter fraud in New Hampshire. He cited data showing that some 5,000 people who had registered to vote on Election Day and identified themselves with out-of-state licenses had still failed to obtain New Hampshire driver's licenses by the end of August of this year.
The problem with that argument is that New Hampshire allows people to vote in the state who plan to live there only for a relatively brief period ― like college students, doctors completing their residencies, members of the military temporarily stationed there. Those same short-termers do not meet the requirements to get a New Hampshire driver's license, which is available to people who intend to live in the state indefinitely.
Gardner, who has been New Hampshire's secretary of state since 1976 and is elected by state lawmakers, has refused to support Kobach's claims about fraud. But he also declines to resign from the commission.
"No, I'm not going to step down, and it's hypocritical to ask me to step down as a member of a federal commission," Gardner told WMUR. "Have they ever stepped down from a Senate committee or a committee that they serve on because they disagreed with someone on the committee?"
Gardner is set to host the commission's second public meeting in Manchester, New Hampshire, this coming Tuesday.
All five Democrats serving on the commission have faced criticism. Voting rights advocates argue their presence legitimizes an effort to stir up false fears about voter fraud, which multiple studies and investigations have shown it is not a widespread problem in the U.S.
Former Vermont Gov. Howard Dean, who once served as chair of the Democratic National Committee, tweeted that New Hampshire should be stripped of its first-in-the-nation primary unless Gardner steps down.
A spokesman for the Democratic National Committee did not immediately return a request for comment.
Aside from his work on the commission, Gardner has also faced criticism for supporting a Republican-backed state bill to tighten the proof of identity that voters have to present when they register in New Hampshire. The bill was passed after President Donald Trump claimed without evidence that thousands were bused into New Hampshire to vote illegally in November. Gardner has said he has no evidence that was true or that widespread voter fraud occurred, but the legislation was necessary to shore up confidence in New Hampshire's elections.
REAL LIFE. REAL NEWS. REAL VOICES.
Help us tell more of the stories that matter from voices that too often remain unheard.
BEFORE YOU GO
PHOTO GALLERY
U.S. State Capitol Buildings