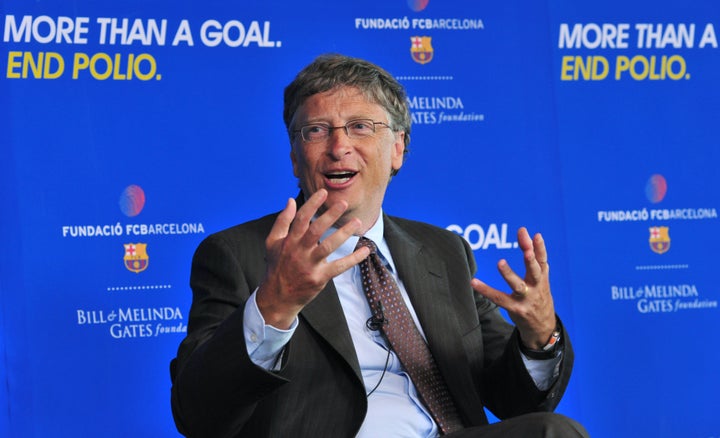 WASHINGTON (Reuters) - A report by Microsoft founder Bill Gates to Group of 20 ministers on Friday proposes raising new funding for poorer countries by taxing financial transactions, tobacco, and shipping and aviation fuels, according to details of a G20 report obtained by Reuters.
The Gates Foundation was tasked by current G20 chair, France, to look at how the governments of its member countries could raise new money for aid to developing nations, including plugging an estimated $80-100 billion funding gap to help the poor adapt to climate change.
With traditional Western donors in Europe and the United States under pressure to cut their budgets, developing nations are looking at news ways to raise resources to develop their growing economies.
Gates' point, according to a draft technical note on the report, is that if African countries can maintain current average growth rates, their economies will double in size by early next decade and gross domestic product per capital will rise by more than 50 percent.
While countries in Africa are looking increasingly toward China and India for support, there is also pressure on Western donors to keep their commitments to aid impoverished nations.
World Bank President Robert Zoellick this week warned that the European crisis was already affecting developing economies through declining demand. He said budgets of poor countries have not yet fully recovered from the double shock of the 2008 global financial crisis and a food price crisis.
He said more than 40 percent of developing nations now have government deficits in excess of 4 percent of GDP.
South African Finance Minister Pravin Gordhan said there was rising concern among policymakers in developing economies about the escalating crisis in Europe and how it could impact their economies.
He said poorer countries were "innocent bystanders that had to suffer quite significantly because of the crisis that we had nothing to do with".
"Not only is the traditional aid envelope being impact upon by the current developments, but the private financing part is also potentially impacted negatively," Gordhan said.
THORNY FINANCIAL TRANSACTION TAX
The Gates report supports the thorny issue of a financial transaction tax as a way of raising "substantial resources" for developing countries. It suggests even a small tax of 10 basis points on equities and 2 basis points on bonds would raise about $48 billion among G20 member states, or $9 billion if only adopted by larger European countries.
Countries such as Canada, Britain, the United States, Australia and China oppose the tax because it puts more burden on banks, while France, Germany and Austria support it.
"Our position hasn't changed - we're still opposed," said Mary Ann Dewey-Plante, spokeswoman for Canada's Finance Minister Jim Flaherty referring to the financial transaction tax. She said testimony in August by Flaherty called such a tax "punitive and counter-productive" because it reduced banks' lending ability during weak economic growth.
U.S.-based business groups on Friday voiced their concern at growing calls for a financial transaction tax, saying they had written to U.S. Treasury Secretary Timothy Geithner to reiterate their opposition.
"A transaction tax will cycle through the entire U.S. economy, harming both investors, and businesses," the group of trade associations said. "A number of studies have shown that a FTT will impede the efficiency of markets, impair depth and liquidity, raise costs to issuers, investors, and pensioners, and distort capital flows by discriminating against asset classes," they said.
The groups included the U.S. Chamber of Commerce, the National Association of Manufacturers and the National Federation of Independent Business.
Gates' report will also propose a "compelling case" for all governments to tax tobacco heavily to reduce consumption, and generate revenue to meet health costs. It could raise about $170 billion a year in G20 countries.
While some countries already tax tobacco heavily, the average excise tax in G20 countries is 48 percent, and poorer countries tend to be much lower, the report will say.
Gates also supports World Bank and International Monetary Fund proposals to introduce taxes on shipping and aviation fuels, even though these are politically hard to agree on and technically complicated to design, the note said.
IMF and World Bank studies show a carbon-based bunker fuel tax, for example, could raise $30 billion annually by 2020.
A meeting in South Africa in November will tackle the next round of climate change talks. Disputes between rich and poor on sharing curbs in greenhouse gases have slowed agreement on a new global climate agreement.
(Editing by Chizu Nomiyama)
Calling all HuffPost superfans!
Sign up for membership to become a founding member and help shape HuffPost's next chapter