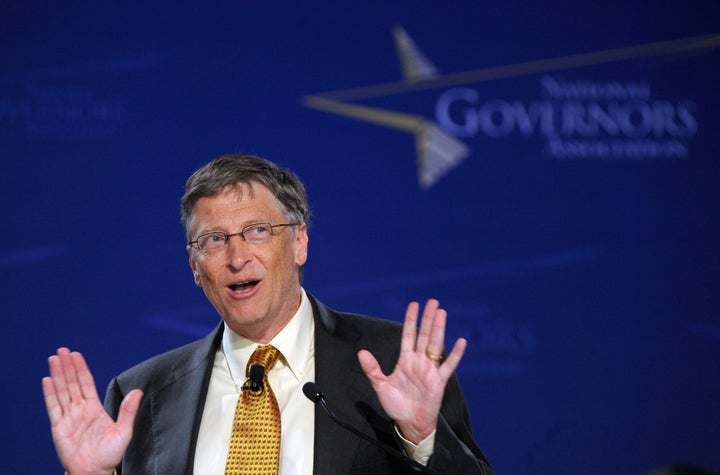 Many people love the seemingly infinite amount of space Gmail provides.
Bill Gates, at least initially, didn't see the need.
In his new book In The Plex, Steven Levy details Bill Gates' reaction to Gmail six months after the service first launched.
Levy recalls telling Gates how even just a few months after he started using email, Levy had already "consumed more than half of Gmail's 2-gigabyte free storage space."
Gates "looked stunned, as if this offended him" when he heard this, Levy writes of their conversation.
"How could you need more than a gig?" the Microsoft co-founder asked, according to Levy. "What've you got in there? Movies? Power-Point presentations?"
Gates proceeded to pepper Levy with questions. "How many messages are there?" he asked, Levy recalls. "Seriously, I'm trying to understand whether it's the number of messages or the size of messages." Levy writes, "After doing the math in his head, he came to the conclusion that Google was doing something wrong."
Gates, at that point, had already given Gmail a whirl.
"Oh sure, I play with everything," he apparently said after being asked if he had experimented with Google's email service. "I play with A-Mail, B-Mail, C-Mail, I play with all of them."
The episode draws what Levy believes to be a clear distinction between Google and Microsoft. Gates got his beginning writing code for systems where storage space was always an issue. Google's mentality however, was born in an age of ever-increasing space where more is often better, especially in terms of email storage.
Gmail still offers the some of the largest storage space available for free, but competitors like Yahoo! have added gigabytes of space to their email storage in order to compete, in some cases even making email data storage unlimited.
The father of Microsoft has occasionally criticized Google in the past, notably in the search market. Gates also scrutinized Google's role in China, according to a January 2010 New York Times post, shortly after it was discovered that Chinese officials had been spying on human-rights activists' Gmail accounts.
"They've done nothing and gotten a lot of credit for it," Gates told the Times.
Support HuffPost
The Stakes Have Never Been Higher
Related
Popular in the Community