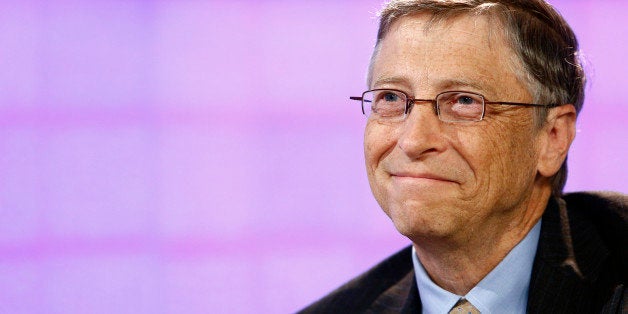 It would be reasonable to think that co-founding the world's largest software company was Bill Gates' greatest accomplishment. But this billionaire mogul says that his most fulfilling moment has nothing to do with technology.
But the husband and wife duo said that their most "fulfilling" contribution to the world has been the Giving Pledge, an initiative that encourages the richest people across the globe to pledge half their wealth to charity.

"It's the most fulfilling thing we've ever done," Gates told interviewer Chris Anderson, according to the TED blog. "You can't take it with you. If it's not good for your kids, let's get together and brainstorm what can be done. Part of the reason I'm so optimistic is I think philanthropy is going to grow and work on things government is just not good at shining a light on."
Though its members have made benevolent pledges and share their reasons for joining in moving statements on the site, critics have taken issue with the initiative.
But, the Gateses see the Giving Pledge as an invaluable philanthropic tool.
They view it as an opportunity for major philanthropists to exchange ideas on how to give in the best way possible, and to inspire more affluent people to share their wealth.
While the Gateses said the Giving Pledge has been a monumental success for them, they also shared some of the other accomplishments of which they are particularly proud.
Melinda Gates talked about her work in promoting family planning in Africa where using condoms is often looked down upon. Bill Gates highlighted how the number of childhood deaths has dropped significantly -- an issue their foundation spends a considerable amount of resources on.
When Gates was born, he said, about 20 million kids under age 5 died every year. Today, that number is down to 6 million.
The pair was also candid about the failures from which they have learned critical lessons.
Bill Gates said they were initially "naive" about a drug to treat leishmaniasis -- a disease spread by a certain type of sand fly. The drug needed to be administered by a daily injection for 10 days and there was difficultly in disseminating it. Ultimately, the couple "wasted" five years and $60 million for something that had a "modest benefit."
But as for what will truly help change the world for the better, Gates has a pretty simple solution.

"If you take from the most wealthy and give it to the least wealthy," he said "that's good."

Calling all HuffPost superfans!
Sign up for membership to become a founding member and help shape HuffPost's next chapter