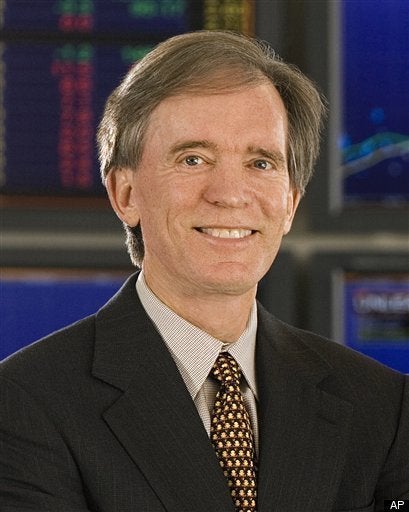 The head of the world's biggest bond fund, bemoaning the slow economic recovery, reignited debate Tuesday by publicly supporting a massive new refinance program currently roiling the mortgage bond market by describing it as a form of fiscal stimulus that wouldn't add to the deficit.
Bill Gross, who runs Pacific Investment Management Co.'s $239 billion Total Return Fund, said that policymakers "should quickly re-engineer" a plan that would refinance all non-delinquent mortgages backed by the federal government. The rate on a 30-year fixed-rate mortgage averaged a record-low 4.44 percent in the week ending Aug. 12, according to taxpayer-owned mortgage giant Freddie Mac.
Taxpayers guarantee the mortgages of 37 million households, or two-thirds of all homeowners with a mortgage, according to a July 29 note by David Greenlaw, Morgan Stanley's chief U.S. fixed-income economist. That includes government agencies like the Federal Housing Administration as well as twin behemoths Fannie Mae and Freddie Mac. Greenlaw estimates about 18.5 million taxpayer-backed mortgages are at rates higher than 5.75 percent interest.
By refinancing those mortgages at current, lower rates, Greenlaw believes those homeowners would save $46 billion a year. Gross said the refi scheme would spur some $50-60 billion a year in new consumer spending and raise home prices between 5-10 percent. Forecasters, including Fannie Mae, say home prices are set to decline the rest of the year and into 2011. Former Federal Reserve Chairman Alan Greenspan said this month that a so-called double-dip recession is possible "if home prices go down."
In theory, the proposal would immediately help those homeowners, as they'd save on their monthly mortgage payment, and it could help the broader economy because homeowners could take the savings and spend it, spurring growth. And because homeowners -- particularly those who owe more on their mortgage than their house is worth -- would have more affordable payments, less of them would fall behind and face foreclosure, stabilizing the housing market and leading to an uptick in prices.
"It's the last real big thing that an administration can do that's caught between a Republican and Democratic orthodoxy and the inability to legislate -- certainly in front of the election, and maybe even afterwards as we have more evenly balanced constituents in Congress," Gross told the Huffington Post during a brief interview in between sessions at the administration's Conference on the Future of Housing Finance, held at the Treasury Department in Washington. "It's the one thing they can do that doesn't increase the deficit and that doesn't require legislation."
"[W]e are not recommending any change to the qualification for new mortgages -- only refis," Greenlaw wrote in his note. "Thus, there is no subsidy involved, and credit quality actually improves somewhat due to the lower payment burden. This implies fewer foreclosures going forward and less credit risk for the guarantor of the mortgage (i.e., the U.S. government)."
Government officials have dismissed the idea.
Gross said that putting the idea into practice -- Morgan Stanley's Greenlaw called it "Slam Dunk Stimulus" in his note -- would "balance the scales" between "Main Street" and "Wall Street."
"I just don't think the administration recognizes the problem this economy is in and what's required," Gross said. "Certainly the Fed recognizes the problem. I mean, [the administration] knows they can't put forth another stimulus package, so what can they do? This, to me, is something they can do.
"It's a question of Wall Street and Main Street -- which side do you favor? I'd say that Wall Street has been favored enough over the past year and a half, so let's give Main Street a chance," Gross continued. "The administration needs to get back on Main Street and off of Wall Street, and I think this is one big step that they can do."
But it's more than just a Wall Street versus Main Street issue. Investors in mortgage-backed securities -- like pension funds, unions and retail investors -- would be hurt by the program. And over the long term, so could homeowners.
Mortgage refinancings involve paying off an old mortgage and taking on a new one with better terms, like a lower rate. Investors who own bonds backed by home loans with 7 percent interest, for example, would essentially lose out on that extra income. Also, wiping out those higher-rate mortgages that back bonds that are trading above par -- meaning their current price is above face value -- would rob investors of that additional gain.
Banks that own those securities would also lose out on that income, as would asset managers and other large investors in mortgage-backed bonds, like the Chinese government, Gross said. Fannie and Freddie, which have tens of billions of dollars in mortgage holdings in their portfolio, would also suffer from that loss of income. PIMCO, too, Gross said.
"At PIMCO, we'd be affected by $3 or $4 billion in terms of a refunding loss," Gross said. "But I'm here as a public advocate, not as a private [investor]. When I go back to Newport I'll be back to managing that portfolio." PIMCO is based in Newport Beach, Calif.
Homeowners could end up losing too, said Joshua Rosner, managing director at independent research consultancy Graham Fisher & Co.
"As a result of another prepayment-shock and the inability to model future prepayment shocks, investors would become even more unwilling to invest in [mortgage-backed securities] going forward, or would begin to demand higher yields going forward," Rosner wrote on the popular finance and economics-focused blog, The Big Picture. The prepayments -- refinancings lead to old mortgages being paid off -- would cost investors "more than half a trillion [dollars] in lost interest income," he wrote.
A loss of investors in mortgage-backed securities would lead to higher rates of return, or yield, in order to lure them back. Higher yields on mortgage bonds would lead to higher interest rates for borrowers.
In other words, the gain from the Fannie and Freddie-backed refi scheme could be wiped out by the higher yields investors could demand.
Rosner also said that the move "could precipitate a systemic risk issue." Since banks and Fannie and Freddie would have to hedge their positions to these new record-low rates, they'd likely do it simultaneously. (Rates will undoubtedly rise from their record lows, leading banks to pay more to get money to fund loans while fixed-rate mortgages pay them a steady rate.) That push could cause enormous damage to the financial system, Rosner wrote.
Thomas A. Lawler, a former top official at Fannie Mae now a consultant on housing and mortgage matters, said that homeowners' potential savings were overestimated.
There are substantial upfront costs associated with refinancing a mortgage, Lawler wrote on another popular finance and economics-focused blog, Calculated Risk.
While Gross said the costs could be rolled into the mortgage, Lawler wrote that the costs were so high that they could negate the savings many homeowners had hoped for.
For example, Freddie Mac already discloses that fees add an additional 0.7 percent interest to the mortgage. Lawler estimated that the costs associated with refinancing -- underwriting fees, taxes, insurance and others -- could add an additional 1 percent to the rate.
So if the average mortgage fetches about a 4.5 percent interest rate, that additional percentage point brings it pretty close to the median on outstanding 30-year fixed-rate mortgages, which Morgan Stanley estimates to be 5.75 percent.
Lawler also raises concerns over implementation -- particularly considering the many difficulties the Obama administration has run into with its other foreclosure-prevention initiatives -- and the fact that the administration already has a refinance program for essentially the same borrowers that Gross wants to help.
The Home Affordable Refinance Program, otherwise known as HARP, aims to do the same thing -- take homeowners with taxpayer-backed mortgages and refinance them into lower rates. Through May, about 350,700 homeowners have benefitted from the program, according to the latest data from Fannie and Freddie's regulator, the Federal Housing Finance Agency.
Morgan Stanley said as many as 18.5 million homeowners could benefit from a new program. HARP was launched in April 2009.
But to Gross, the benefits of the program outweigh the potential costs, which he termed "marginal arguments."
"The American economy is approaching a cul-de-sac of stimulus -- both monetarily and fiscally," Gross told the crowd at the Treasury Department, "which will slow to a snail's pace, incapable of providing sufficient job growth going forward.
"Unemployment rates will approach and remain at double digits unless positive fiscal stimulus is provided in the next six months."
*************************
Related
Popular in the Community