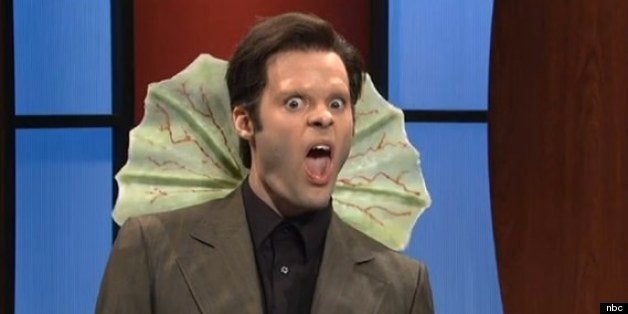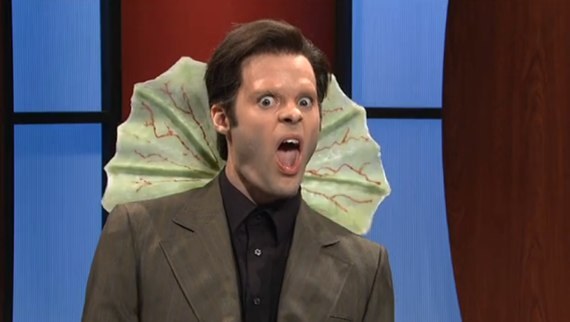 When I woke up this morning to the news that Bill Hader was leaving "Saturday Night Live" after this weekend's season finale, my initial reaction was something along the lines of, "Well, I guess that was expected." His contract was up -- Andy Samberg, who joined "SNL" as a featured player the same year as Hader in 2005, had already departed at the end of last season -- and more and more Hollywood projects have been beckoning. (I recently saw an early cut of the upcoming "The To Do List," directed by Hader's wife, Maggie Carey, which features a substantial role for Hader.) So, no, it wasn't a surprise. But over the course of the day, I'm slowly starting to realize that I've been taking Bill Hader for granted.
Bill Hader is the perfect "SNL" cast member. And the fact that I've always known this, yet still feel like I have taken him for granted is a big part of why he is the perfect cast member. Hader's first show, October 1, 2005, introduced him on "Weekend Update" as basically "the impressionist," while Samberg played the goofy foil who got the laughs.
Samberg was the one who was put front and center as "the funny one," while Hader slowly but surely grinded his way up the ladder. While Samberg was doing his part in YouTube's rise to power with "Lazy Sunday," Hader was just starting to gain some attention with his uncanny Al Pacino impression (an impression that even stood out in a world where any bozo who can say "hoo-ah" has an Al Pacino impression).
But it wasn't really until later in Hader's first season that he really started to make himself noticed with what would become a recurring sketch about Vincent Price hosting televised holiday-themed specials. The next season, Hader's second, he would add another recurring staple: Vinny Vedecci.
While Samberg continued to make the headlines with his Digital Shorts and Kristen Wiig became the front-and-center star, Hader, along with Jason Sudeikis, became the backbone. And though Sudeikis could play the wise-cracking everyman with more ease, Hader could just do anything.
The reason that Hader is the perfect "SNL" cast member is that you never saw him completely take over the show like, say, Kristen Wiig. You never heard him publicly sulk like Jason Sudeikis has in the past. Hader showed up every week and gave his all no matter if his role in the show was large or small. His most prominent year was probably the 2010-2011 season -- a season in which Kristen Wiig took a step back to spend time on "Bridemaids," leaving Hader as the dominant force. And, as opposed to Wiig's more eccentric and manic characters, the nature of Hader's characters left a little more room for other cast members to shine. (Vinny Vedecci and Greg the Alien don't work as well on their own.)
Stefon debuted with little fanfare in a pretty much forgotten sketch that originally aired on November 1, 2008, with Hader and Ben Affleck playing brothers pitching a pornographic movie idea. (And yes, Affleck will be the host for Hader's final show.) It wasn't until 2010 that Stefon became a staple on "Weekend Update," finally giving Hader the Sunday morning headlines that he deserved. Sure, Stefon was overused (appearing a whopping 16 times), but if anyone deserved to have a character be overexposed, it was Hader. He sure had earned it.
Look, even as someone who has grown a bit tired of Stefon, it would be inconceivable to imagine this Saturday's show without him. Perhaps Affleck can even once again play Stefon's brother in some capacity, bringing the character full circle and giving it the closure that it deserves. (For the record, I would bet good money that we also see Herb Welch return one last time this weekend, too.)
We'll notice the true meaning of Hader's departure next season -- a season that will look drastically different than what we will see this Saturday. (Jason Sudeikis, Fred Armisen and Nasim Pedrad's names have all been mentioned as possible departures; Seth Meyers has already announced that he will leave the show this fall; Kenan Thompson has remained mum, but has been on the show since 2003.) But no one in recent history did the little things better than Hader. No one could breathe life into a dead-on arrival sketch quite like Hader -- even if it was just by breaking character. (Hader has a special knack for breaking character and remaining charming while doing so, not an easy task.)
All important cast members have inevitably left "SNL" in the past. And the show has, of course, always survived. But very, very few were has ever as good as Hader is -- he really is the total package. He is Phil Hartman-level good. Though, he leaves the show in good hands: Taran Killam, Cecily Strong and Kate McKinnon have already shown that they can lead the show's next generation, while Jay Pharoah, Bobby Moynihan, Vanessa Bayer, Aidy Bryant and Tim Robinson provide an extremely strong foundation.
It's fitting that Hader is departing with as little fanfare as he came. There haven't been weeks of a Hader-themed goodbye tour of his greatest hits. He hasn't been waffling in the press as Sudeikis was doing a year ago. As Hader told Dave Itzkoff of The New York Times, "My joke was, we'll start singing 'Ruby Tuesday' and just say bye to Kristen again. I can just do a little wave at goodnights, and that signifies it."
Hopefully we, as the audience, will get more than that. Because it would be a shame to send off one of the greatest cast members in the history of "SNL" without some sort of emotional acknowledgement. Then again, because it's Bill Hader, maybe just a wave during goodnights would be fitting.
Mike Ryan is senior writer for Huffington Post Entertainment. You can contact him directly on Twitter.
REAL LIFE. REAL NEWS. REAL VOICES.
Help us tell more of the stories that matter from voices that too often remain unheard.