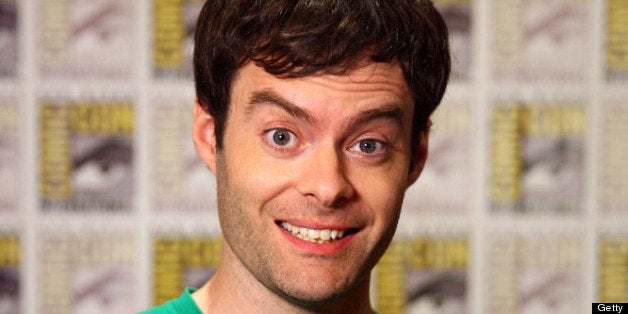 There's a section of this interview I conducted with Bill Hader here at San Diego Comic-Con that I debated heavily over including or not. I chose to include it, but I need to set up what happened.
Back in May, Hader announced that he was leaving "Saturday Night Live" after eight seasons. The day of the announcement, I wrote an essay on Hader's legacy at "SNL." As it turns out (and as I found out here), Hader read that piece. I'm only including this because, in that particular part of the conversation, Hader reveals just how down he was the day of that announcement, which gives insight on what it's like to leave a show like "SNL" -- a show that Hader still clearly loves.
Hader is at Comic-Con to promote his involvement in the animated film "Cloudy With a Chance of Meatballs 2." It's an interesting time for Hader. Obviously "SNL" is behind him and something like an animated sequel is familiar work. But he also has "The Skeleton Twins" coming up, which he co-stars in with Kristen Wiig. What's remarkable about that familiar pairing, however, is that "The Skeleton Twins" is a drama. Ahead, Hader reflects on his time on "SNL," some of his personal favorite sketches and gives us a glimpse of what we might see from him in the future.
The last time we spoke was for the first "Cloudy with a Chance of Meatballs." We talked about the largest McDonald's in the world in Oklahoma.
Oh! I do remember this. In Vinita, Okla. Wait, are you Mike Ryan?
Yes.
The day it came out that I was leaving "SNL," I came in to "SNL" on Tuesday, and it was a little like, "Hey, everybody." Everyone knew, but it was still, "Oh, it was in The New York Times this morning." And so, I was a little like -- it's not bad, it was just kind of that I, personally, was feeling a little weird. And it was nice: Rob Klein, one of the writers, showed me that nice thing you wrote about me. That was such a nice -- because you never know. And to be honest, I have such weird tunnel vision because I don't really read stuff.
I have heard you say many times that you don't read about yourself on the Internet.
I don't. I just found out what Spotify was, like, yesterday. I don't know anything, you know what I mean? And so, I'm always out of the loop on those things. I used to really catch up on stuff and then, you know, you just start reading bad things -- and you kind of go, "Oh, this is affecting me in a weird way; I don't want to read this." But I guess the nice thing about me is I'm harder on myself more than anybody can be on me. But, reading that kind of made me go, "Aw, man, this guy actually really paid attention."
I remember interviewing Will Forte shortly after he left "SNL." He said that it didn't hit him that he was gone until the next season started.
Yeah, that's what everyone tells me. Amy Poehler told me that. She said, "That's when it really hits you is when that first show comes back and you're not there." So I guess I haven't fully gone through it, you know?
I like to think it was during the Justin Bieber show that you decided to leave.
It was. It was.
Was it really?
Yeah, yeah. It was. We did the Justin Bieber pitch meeting on Monday. Everyone left and I just stayed in Lorne's office -- we did it and then I asked Lorne if I could talk to him. I ended up talking to him that writing night. That's was when I came in and told him. But I think Lorne kind of knew I wanted to move. Because it was really about me moving to L.A., about me moving to California.
The Justin Bieber show was kind of miserable. The entire cast had miserable looks on their faces. So it didn't have anything to do with that particular show being off?
No, it wasn't so much that. It's funny. I got all this stuff; people said I slammed Justin Bieber on Howard Stern. I never felt like I really did. I was just kind of saying he has a big entourage.
I thought you were kind, actually.
Well, he has a big entourage and that was just -- that's all I said, he has a big entourage. But it's more of -- being honest -- by that point in the season, you're so worn down. And I feel that January to March time always kind of turns into a weird blur, where you're just like, "What?" I was looking at the pictures and I was like, "Christoph Waltz hosted?" I was in the fucking show! I was so out of it.
That's the opposite of the Bieber episode. That show was amazing.
Yeah, but I'm so out of it, you know? And he's great. And then you're, "Oh, yeah, he was fuckin' awesome." You're just so in a fog. That's why my last episode, people asked, "Oh, was it emotional?" And it was emotional doing that last Stefon thing when Seth got up. I got a little emotional doing that. But, I'm in the car afterwards, and it was just like any episode. I thought,"Was that thing funny? Did that work?
I'm sad I'll never see Anthony Peter Coleman again.
Oh! Yeah, yeah. The puppet guy.
I was disappointed that didn't become a recurring sketch.
Yeah, we're like, "Well, how would you bring him back? He's in another puppet class?" I liked that we did that and it worked so well that it was like, "Don't touch it," you know? Lorne's never gonna ask you to do anything, but he'd be like, "That was funny." And then it's kind of like, if you ever want to do that again, you probably could. But we were like, "Oh, it works." But, Anthony Coleman was fun and it worked so well that it was like, we just couldn't -- how do you bring it back, you know?
What kind of career are you looking for now, post-SNL? Do you look at someone like Forte who is now in an Alexander Payne movie?
"Nebraska," yeah. Yeah, it's really cool.
Do you see yourself doing something like that, or do you just want to do comedy?
No, no. Well, I just did this movie with Kristin Wiig called "The Skeleton Twins." That's a straight drama. We play estranged twins and I end up moving in with her and her husband, played by Luke Wilson. But it's a drama, and the Duplass Brothers produced it and this great guy, Craig Johnson, directed it. And that was great, you know? I'd like to do more stuff like that, and mix it up a little bit.
So with drama now, is that what you want? Because everyone thinks of you as "Bill Hader, funny guy." Are you trying to get rid of that a little bit?
No, it's not a conscious thing to get rid of it; it's just to do what's interesting. "Skeleton Twins" with Kristen has some really tough scenes in it, and it's a really hard. My wife read it and said, "Jesus, this is really -- wow, this awesome that you're gonna do this." And so I was like, "Yeah, I want to do that."
But as far as post-SNL career, whatever kind of comes my way that looks interesting, I'll do it, you know? But I do always like those guys who kind of swerved and just kind of went to whatever -- I'm a fan of a lot of things, and so, you try to do those things ... you kind of start wide and then you kind of see people do that in their careers. They kind of just get down to "I'm good at this." You know what I mean? And they will pay me a lot of money to do this. You know, you see people kind of go that way. I'm hoping that I can kind of keep it wide, you know?
Is that part of the reason you left "SNL," too? Were you feeling like that was happening?
No, no. If anything, with "SNL," it was every week. That's what was so nice about my last season was that I got to do Anthony Coleman and that that was a character I did in my last season. That made me really happy that I got to do that even in my last season -- I had good writers and people able to do new moves.
"SNL" will look a lot different next season.
Yeah. But they're really good people. Taran's great. You know who's great? Tim Robinson is really fucking funny -- I know because I've seen him on Wednesday at the table read.
Why doesn't he get more stuff on?
Well, you're gonna see. Because the same the thing happened to me. I didn't get as much laughs as Tim does at the reads -- but Lorne does that on purpose. He holds you back. He kind of figures out how do you connect to that live audience. Not you, none of that. That live audience, which, that is the audience. We want to make them laugh. So, that was the thing. And so it's like this Venn diagram of here's what I find funny and here's what that live audience finds funny and that's what works on "SNL". And you try to find that thing. And that took me four seasons to really figure that out -- to where Lorne was like, "Yeah! That worked."
What was the first sketch you felt that way?
"Vinny Vedecci" with Julia Louis-Dreyfus. And that one, when I did it, it had jokes in it where everyone laughed. And I remember when I came into the writers' room, everyone applauded -- because everyone kind of was like, "He needed that." And so I was kind of, "That's sweet." But Tim, he will have that. And he'll have great shit -- "Z Shirt" was great. He wrote that "New Balance" thing. He wrote a thing for Zach Galifianakis that is, for me, the only time in my life where I've ever fallen out of my seat laughing at a table read. It was a thing Tim Robinson wrote for Zach Galifianakis where he played a lawyer. And I don't want to ruin it...
Oh, it didn't air?
No. It had to do with a lawyer and it had to do with a briefcase. And it was the hardest I've ever laughed in my life. At that table read. Of everybody who's been at a table read, I fell on the floor and said, "I'm going to throw up."
Mike Ryan is senior writer for Huffington Post Entertainment. You can contact him directly on Twitter.
Before You Go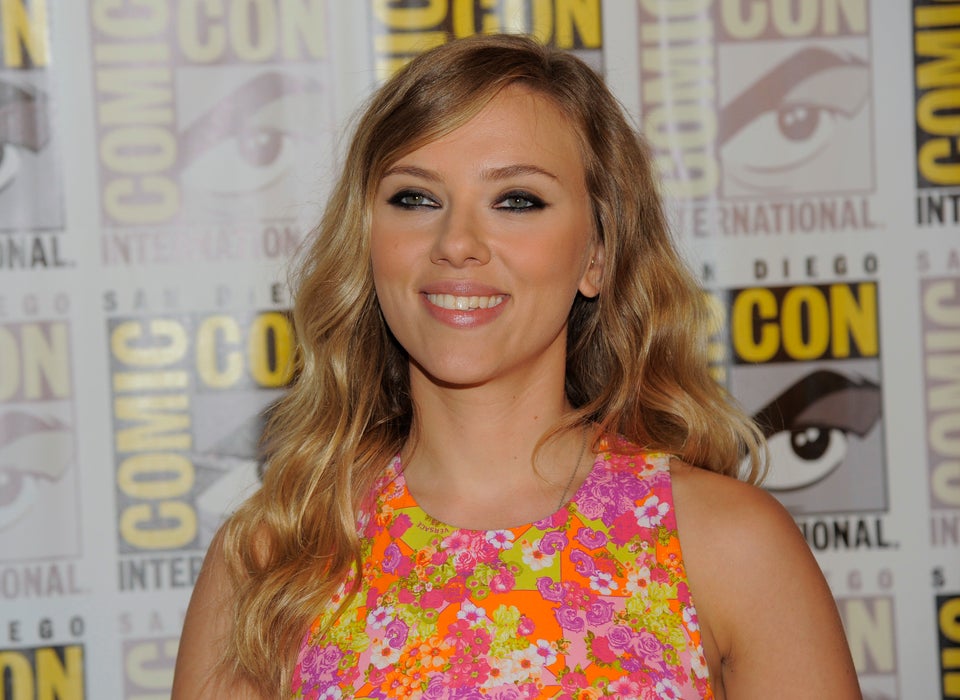 Comic-Con 2013
Popular in the Community