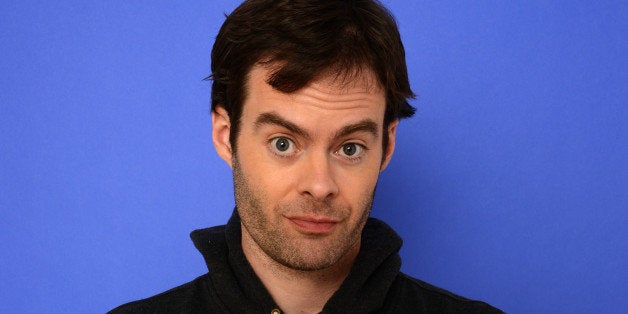 Bill Hader's stories have everything: Angry Arnold Schwarzenegger, "Titanic" jokes that get you fired, and that thing where the bad guy from "Karate Kid" passive aggressively drinks your milkshake.
The conversation started with Hader's childhood in Tulsa, Oklahoma, wove through his days as a lowly production assistant in Los Angeles, and ended with the story of his triumphant (and quite awkward) Bill Murray encounter during his "SNL" heyday.
Read 11 of the best things Hader had to say, including a few things you probably didn't know about him:
1. One of his early comedy influences was Gary Busey.
Growing up in the '80s, Hader had all the usual obsessions of a young comedy nerd at that time: Monty Python, Mel Brooks, Woody Allen and "Spinal Tap," to name a few. "I remember seeing 'Spinal Tap' at a young age and being like, that's how you perform comedy. Fuck 'Three's Company,' that's how you perform comedy," he joked.
But, it turns out, Hader was also inspired by an awesomely bad sketch comedy show on Tulsa Public Access that he referred to as "Mazeppa Pompazoidi," but was officially called "The Uncanny Film Festival and Camp Meeting," featuring a young Gary Busey.
"It was unbelievably funny. They're clearly all, just like, baked. They're so stoned," Hader said, adding that he showed clips of the show to Matt Stone and Trey Parker and they loved it. Hader misses the days of that surreal, zero-budget sketch comedy akin to 1974's "The Groove Tube." He and Fred Armisen once toyed with the idea of disguising themselves, going on Public Access and "just having the shittiest sketch show, just to have that format back."
2. His dad wanted to be a stand-up comedian.
Hader may have inherited his love of comedy from his father, who tried his hand at stand-up for a while in their hometown of Tulsa and Houston, Texas. He even tried out for "The Gong Show." Hader never saw his dad's act ("And I never want to"), but he has a pretty good idea of what it was like:
"[My dad] did stand-up in the early '80s, so I'm assuming he had a blazer on, with the sleeves pushed up, and stood in front of a brick wall talking about the differences between men and women."
3. He was fired from his college job at a movie theater for spoiling the end of "Titanic" for a group of rude sorority girls.
Hader worked at a movie theater while he was attending Scottsdale Community College, in Arizona (fun fact: David Spade also went there). In addition to once selling a box of Raisinets to a visibly nervous Michael Bay at the first test screening for "Armageddon," he has an even better story about how he ultimately lost the job.
"I had really long hair at the time, and a beard. I looked like Charles Manson but I had to wear a cummerbund and a bow tie and stand there taking tickets," Hader said. "One night a group of sorority girls came in and were blocking the doors. I asked them to move ... They were being really rude to me. So, as I tore the tickets I said, 'By the way the boat sinks at the end, Leo dies ... It's great, you think he's sleeping, but he's frozen! Oh and the old lady throws the jewelry in the ocean. Enjoy the movie.' My always-stoned boss had to come over and go, 'Did you just tell them the end of Titanic? I have to fire you.'"
4.He was once royally messed with by Martin Kove.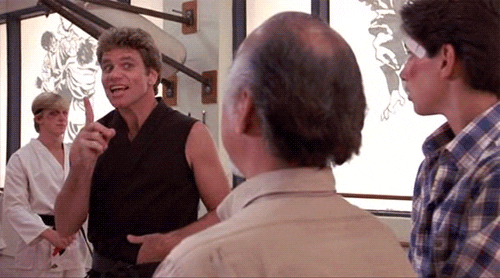 By the late '90s, Hader had started working as a production assistant on low-budget movies, including a cringeworthy number he described as "if 'Home Alone' were about two dogs instead of a kid." Ouch.
Around that time, one of Hader's PA gigs offered him the pleasure of driving Martin Kove (aka the bad guy from "Karate Kid") around LA. As you might have heard Hader explain on "WTF with Marc Maron," Kove used to get Hader lost with his backseat driving, often resulting in Hader being chewed out by his boss. One time, Kove seemed to feel bad for Hader and asked him if he wanted a milkshake and a cookie, then told him to pull over at a McDonald's so he could go in and buy it for him. Hader, touched by the offer, was understandably floored when Kove came out of the restaurant drinking the milkshake and eating the cookie, only to get in the back of his Camry and say, "Okay, let's go."
5. He was Arnold Schwarzenegger's personal assistant on the set of "Collateral Damage."
"He was an interesting dude," Hader said, with a laugh, before describing how temperamental Schwarzenegger was on set in a jungle in Mexico. Apparently, Arnold was late all the time because he insisted on playing chess with this acting teacher (not an acting "coach," an on-set "teacher," Hader clarified) and once, again, Hader would be the one who got the verbal abuse for it. To speed up the game, Hader came into Arnold's trailer and slipped a note to the acting teacher that just said "Lose." It worked, until one day Arnold asked to see the note, looked at it and said, "We play another game."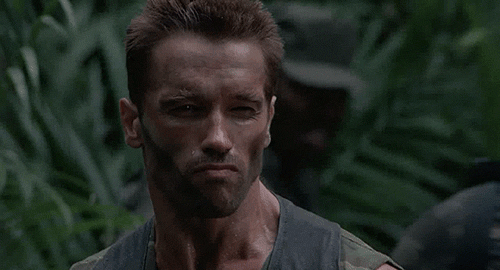 6. He once drunkenly dissed Corey Feldman to his face.
Hader also worked behind-the-scenes on the first season of Vh1's "The Surreal Life," featuring Cory Feldman. As you might remember, the show's producers managed to get Feldman to agree to get married for the season finale.
"He was so freaked out," Hader said. "He came up to me at the wrap party and said, 'You work in post [production], right?' And I said yeah, so he goes, 'I'll give you $2,000 if you give me every episode so that my lawyers can review it.' I was a little drunk, so I just said, 'Corey, you don't have $2,000.' Never in a million years, watching ''The Lost Boys' as a kid, did I ever think I'd be in that situation."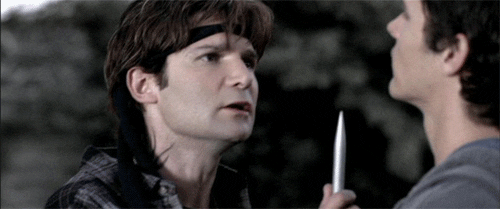 7. He never thought he'd be a comedian.
"I moved out to LA to be a filmmaker or director. I didn't even think about doing comedy or even acting. I wanted to be like Paul Thomas Anderson or Wes Anderson, but I wasn't going to a lot of comedy," Hader said.
Working his day job as a PA and doing post-production work, Hader suddenly realized that he'd been in Los Angeles for six years and hadn't really done anything creative. "I might as well be back in Tulsa," Hader remembers thinking.
But that all changed the night he went to see his friend and future "Drunk History" creator Derek Waters perform in a sketch show at Second City LA. "I thought, 'I gotta get in on that,'" Hader said. "Seeing other people do it, I felt like I had no excuse."
So, Hader enrolled in a class and started focusing on sketch comedy, later forming the group Animals From The Future that would get him noticed and picked for an "SNL" audition. He likens his experience to that of Matt and Trey in regards to "South Park." They were into making musicals and films like "Orgazmo" before they made the "South Park" Christmas short, but that's what propelled them to success.
"I took Second City out of desperation, and that's what ended up working out," Hader said. "It shows that you should be doing a lot of different stuff, taking whatever opportunities are there, to see what works."
8. It took FOUR years for him to have fun performing on "SNL."
"The first two years, I wasn't able to sleep on Friday nights. If you saw me on the show then, I hadn't slept in about 48 hours," Hader said. "When it's 'SNL,' the whole world is seeing it. People on the street are like, 'Hey dude, you're not making it!' It's awful."
Although it's no secret that starring on "SNL" is physically and emotionally taxing, Hader admitted that he "found his voice by failing," and that it took him four years to become comfortable performing the show. "My fourth season was when I started to have fun, before then I was so rigid. [Later] I would see that in newer cast members. I'd take them aside and say, 'Have fun! Don't do what I did.'"
Interestingly enough, Hader's loosening up coincided with comedian John Mulaney joining the show's writing staff.
"Everything started to really gel for me because he made me laugh," Hader said. "We made each other laugh ... That's where Stefon comes from."
By now you've probably heard the story of Stefon's origin, which is a mix between a ridiculous club invite received by Mulaney and a barista at a Lower East side coffee shop that Hader used to frequent. As it turns out, "SNL" cast member Kate McKinnon is friends with the "Real" Stefon, and he definitely knows he's been parodied. Hader said that he went in to the shop a few weeks ago while he was in the neighborhood and, the minute he walked in, someone said, "He doesn't work here anymore! Sorry."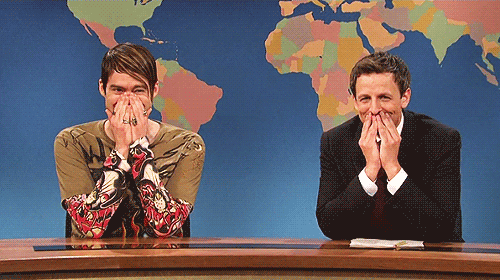 9. He kinda, sorta hated performing for the "SNL" studio audience.
No matter what cast or season, people will criticize "SNL" for not being funny enough, but many of them have probably never considered how the live audience at each broadcast can impact the success of a sketch.
"It's way different; it's interesting," Hader said of the in-studio audience vs. the at-home viewership. "How can I say this ... Well, I'm not on the show anymore so I can say whatever I want. [Laughs] I always tell my friends, it'd be like if you were standing at the gate of an airport and you just turned around and said, 'I'm gonna put a show! For all of you!' They're not [necessarily] comedy fans. They're mostly tourists. And, teenagers aren't allowed in except for the first, last and Christmas shows [and] those are the episodes people go nuts for."
Now, consider that dress rehearsal audiences' reactions are the main barometer for deciding whether sketches get cut. We'll never see the sketch Hader and Mulaney wrote about Casey Kasem's (RIP) son "Jacey Casem," which had both writers "crying laughing," but to which the "SNL" audience gave, "A resounding NO." We also missed out on another Hader/Mulaney baby, a parody of the "Sh*t My Dad Says" TV show called, "My Roommate Is A F*cking Horse." (When Hader described the premise of both sketches to the interview audience, everyone laughed.)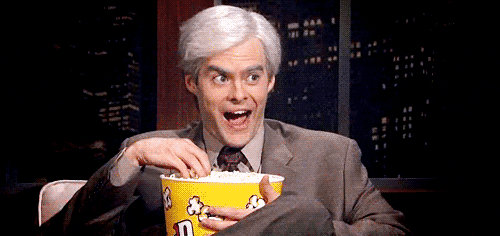 10. He thinks the movie "Eyes Wide Shut" is hilarious.
Because it's "a movie about how Tom Cruise can't get laid."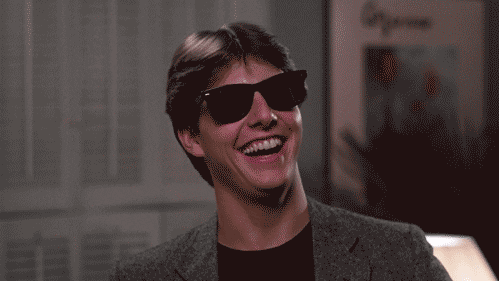 In fact, a lot of Hader's favorite comedies are serious, dark or dramatic. In Sacks' "Poking A Dead Frog," Hader offers his list of "200 Essential Movies Every Comedy Writer Would See," and (spoiler alert) they're definitely not all comedies.
Hader, who stars in the upcoming dramedy "The Skeleton Twins" with Kristen Wiig, named Hal Ashby's "The Last Detail" as one of his (and Judd Apatow's) favorite movies of all time. He also identifies with both sides of fame and fandom in Martin Scorcese's eerie 1982 film "The King Of Comedy." (Hader thinks it's funny, but his wife was too disturbed by Robert DeNiro's character to dig it.) Similarly, he loves Wes Anderson's "Bottle Rocket" for its subdued and sometimes dark humor, especially Owen Wilson's character, Dignan, who reminds of him of his friend Eric from back home in Tulsa. (Hader said Eric was also the inspiration for the scene in "Hot Rod" in which Hader's character has a piece of metal stuck in his eye because Eric did the same thing once while he was on acid.)
11. Even he was extremely nervous when the first time he met Bill Murray.
When Hader got the call from veteran "SNL" writer Jim Downey to come over to The Half King in New York City's Chelsea neighborhood, because he "wanted him to meet somebody," Hader was shocked to see Bill Murray sitting in the back of the bar.
"I shit my pants," Hader laughed. "I didn't say anything. I immediately texted Jason Sudeikis and he [showed up immediately]."
Hader did speak up eventually, but what he said wasn't exactly smooth.
"[Murray] was talking about how he got Strother Martin to host 'SNL,' and I asked, 'Did he have chops?' [Laughs] I had never said the word 'chops' before. I just wanted to sound cool in front of Bill Murray."
Before You Go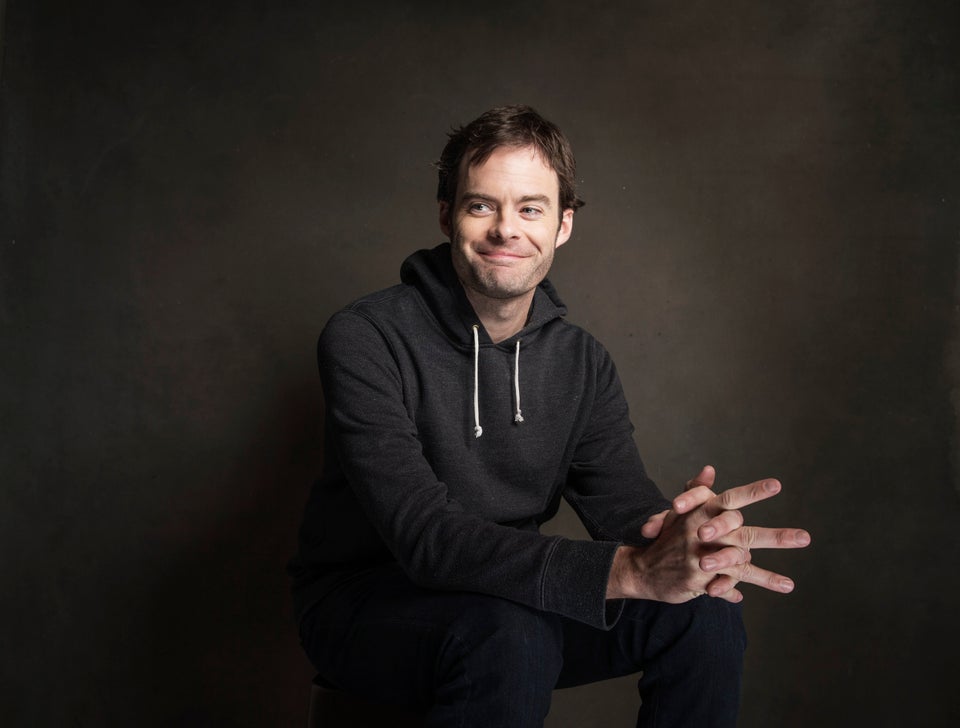 Bill Hader
Popular in the Community