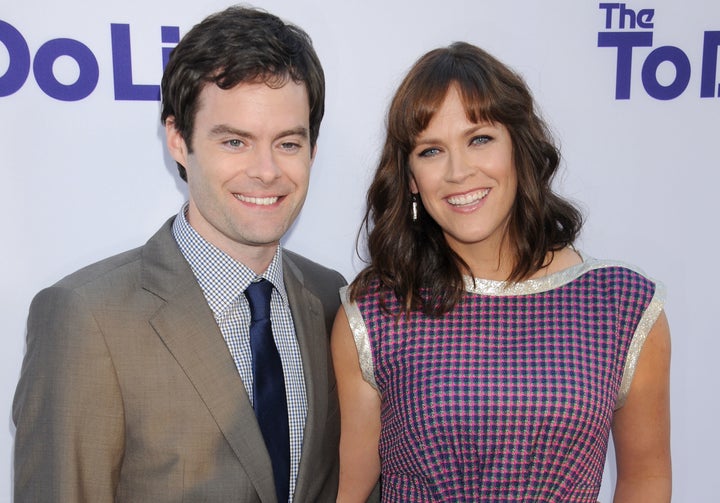 Bill Hader knows the funny, gross and just plain weird sides of parenthood all too well.
The actor and his wife, Maggie Carey, have three daughters, 7-year-old Hannah, 4-year-old Harper and 2-year-old Hayley.
In honor of his birthday Wednesday, here are nine quotes and anecdotes about fatherhood from the famous funny dad.
On baby bodily functions
"When she poops herself that's the funniest thing because she just gets like a total blank look on her face and fazes out. It's the loudest noise."
On his daughter being a 'potty-mouthed princess'
"She walks around like a princess ... And she will walk in, and I go, 'Oh, hello, Hannah, how are you?' And she's like, 'I'm going to make my breakfast.' And then she walked into our pantry and saw we had no cereal, and I just hear her go 'f**k!'"
On sleep deprivation
On taking care of a baby
"Today she hit her head for the first time, and when babies hit their heads, they have their pause moment where they kind of look at you. And my wife is really good because she's like, 'Ohh, yay, it's OK.' But she hit her head and I'm like, 'NOOOO!' That's the worst for a kid, when they hit their head and they see their dad going, 'Noooo!' And she's like 'Wahhh!' My wife [said], 'Give her to me, just give her to me!' And I'm like, 'No! This is the worst thing ever!'"
On his daughter's appropriate reaction to the tooth fairy
"My daughter Hannah, my 7-year-old, lost her first tooth, and the tooth fairy came. And then the next day we were taking a video, 'Hey, Hannah, the tooth fairy came, oh, my gosh," and our 4-year-old ― I panned down to her, 'Hey, Harper, the tooth fairy came!' And she goes, 'Someone was in our house?' And I go, 'The tooth fairy was in our house,' and she's like, 'Someone was in my room? While I was sleeping? And you guys are cool with this?'"
On having three daughters
"I grew up with my two sisters and my mom, so it's my lot in life to be surrounded by women. I'll say, 'I'm doing this!' And, to me, masculinity is like, 'I am watching TCM right now!' They're like, 'No, we're watching "Peppa Pig."' And I go, 'All right, "Peppa Pig" it is.'"
On his wife's birth plan
"My wife — she wasn't righteous about it or anything — wanted to try natural, she wanted no epidural, and the other people … got really offended. My wife was like, 'We're going to try and tough it out,' and this guy was like, 'What? You're saying my wife's not tough?' Huh? Who wants a tough wife? What are you talking about, man? He was like, 'Come on! Wrestle right now.'"
On parenting while he's away
"We make dates to read stories over Skype. We get two copies of books and I bring one and read to them. FaceTime's a big thing. My daughter was having a problem at school recently and I was FaceTiming with her. You'd rather just be there, though. Any actor has to deal with this stuff. I don't want to name names, but I was talking to someone at the Golden Globes and he was like, 'Get a TV show. That's what I'm trying to do, man, get a TV show just to stay in town.'"
On his co-parenting advice