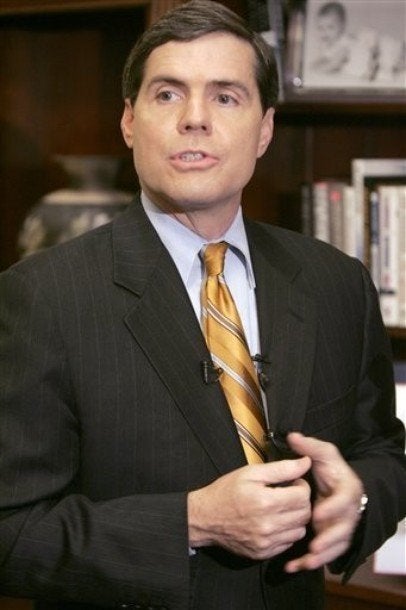 EDITOR'S NOTE: The story below includes references to polling conducted by the firm Research 2000. The reliability and accuracy of Research 2000's polling has since been called into serious question by a report published in June 2010 by a group of statistical analysts.
Conservative Democrat Blanche Lincoln (D-Ark.), whose obstinacy during the health care reform process was so frustrating to the progressive community, is officially getting a primary challenge.
On Monday morning, Arkansas lieutenant governor, Bill Halter, announced that he would launch a campaign to dislodge Lincoln from her Senate seat. He cited a need to focus on middle class issues, take on Wall Street, and fight back against special interests. Halter, who will call Lincoln personally today and send papers to the state capitol on Tuesday, broke the news of his candidacy through an online video at his site www.BillHalter.com.
I am Lt. Gov. Bill Halter and I grew-up in this house on Scenic Hill in North Little Rock. I am running for the United States Senate because Washington is no longer working for this neighborhood or for families across Arkansas.


Washington is broken. Bailing out Wall Street, with no strings attached while leaving middle class Arkansas taxpayers with the bill. Protecting insurance company profits instead of patients and lowering health costs. Gridlock, bickering and partisan games while unemployment is at a 25-year high. Enough's enough. It is past time to put more Arkansas values in Washington.

[snip]

As lieutenant governor, we fought for an increase in the minimum wage, and when the legislature moved to increase their pay in these tough economic times, I gave my increase to charity. The toughest fight was to establish the scholarship lottery. Most believed it couldn't be done. But I took a principled stand that Arkansas voters should decide this issue for themselves. Our team gathered more than 135,000 signatures and put this issue on the ballot and Arkansans approved the scholarship lottery by almost two to one. And we made sure that the lottery commission is subject to tough ethics rules to prevent corruption. This year alone over 20,000 Arkansas family pay for college without raising taxes.

My wife Shanti and I are blessed with two wonderful daughters. Nothing is more important to us than protecting their future and the future of every Arkansas child. Right now Washington is not working for Arkansas families, but it ought to. If you want your government dedicated to helping middle class families rather than protecting special interests, then join my campaign. I am Bill Halter and I approve this message.
The race is likely to become a proxy battle for the larger debate within the Democratic Party between progressives who believe sticking to core values is the best way to win office and the self-styled pragmatists who argue that they must adopt more conservative positions when running in traditionally more conservative states.
The firm Research 2000 did a poll on this prospective primary battle back in December. And the numbers showed a fairly tough landscape for a primary challenger. Forty-two percent of respondents said they would back Lincoln in a Democratic primary. Twenty-six percent said they'd back Halter. Thirty-two percent were undecided.
UPDATE: A host of progressive groups -- including Progressive Change Campaign Committee, Moveon.org, Democracy for America and Daily Kos -- are launching a fundraising drive on Halter's behalf. The goal has been set for $500,000 to be raised in one week.
This is just day one of what will be an intense two-month effort leading to the mid-May primary. Expect a full rollout on his policy proposals, as well as the engagement of many our movement's biggest hitters.

But Arkansas is a small state, where retail politics is critical. Halter is a master of retail, and the more the netroots contributes, the more time he can spend talking to voters and local media. Lincoln will be lavishly funded by her corporate benefactors. It's up to us to counter that nefarious money, and empower Halter to speak for the little guy, not the the Harold Fords of the world.
Popular in the Community