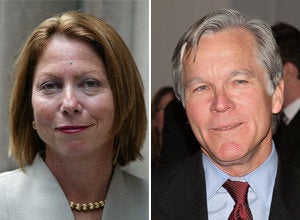 Bill Keller will step down as executive editor of the New York Times, the paper announced on Thursday. He will be replaced by Times managing editor Jill Abramson.
Dean Baquet, the Times' Washington bureau chief, will replace Abramson as managing editor. The appointments are effective September 6.
Abramson becomes the first woman to run the paper in its 160-year history. She has been the Times' managing editor since 2003. In an interview with the paper, she said she considered becoming editor to be like "ascending to Valhalla," and added, "in my house growing up, The Times substituted for religion."
Keller is resigning to become a full-time writer, the Times said. He has been an Op-Ed columnist for the paper before, and recently started a weekly column in the New York Times Magazine. He told the paper that he is working out details of a new column, which will run in the Times' revamped "Sunday Review" section.
In a statement, Keller said it has been a "privilege to work alongside the world's finest journalists during these exhilarating years of tumult and transformation," and that he "wanted to move on when the newsroom felt strong in its journalism and secure in its future."
His decision is an unexpectedly early one. The Times has a policy of mandatory retirement at 65 for its top editors; Keller is only 62. He ascended to the top job after the Jayson Blair and WMD scandals forced his predecessor, Howell Raines, to step down. Keller steered the Times through some of its most turbulent years. Putting aside the general crisis which has afflicted all newspapers in the past decade, just some of the things the Times grappled with during Keller's term include battles with the Bush administration over national security issues, its reporting on Iraq (which the paper was forced to apologize for), the Judy Miller scandal and the paper's brief, tumultuous relationship with WikiLeaks.
Abramson was formerly the Times' Washington bureau chief, where she battled Raines' attempts to curb her influence, as well as a reporter and editor for the Wall Street Journal. At 57, she will have at least eight years to put her stamp on the paper. She takes the helm of the Times at a moment when it is facing continual circulation and revenue decline and has pulled the trigger on an as-yet unproven online paywall strategy, the success or failure of which will be key to its future. Abramson played an integral role in setting up the paywall, even taking a six-month leave in 2010 to focus on the paper's digital strategy.
She is also, most likely, the only editor in Times history to have been both hit by a truck and gotten a tattoo of a New York subway token.
As the new top deputy at the Times, Baquet now becomes the clear favorite to succeed Abramson. He was a longtime Times veteran before leaving the paper in 2000 to become an editor at the Los Angeles Times. He returned in 2006 and became the Washington chief. If he does eventually become executive editor, he would be the first black leader in the paper's history.
Publisher Arthur Sulzberger, Jr.—who passed Keller over for the top job in 2003, picking Raines instead—said in a statement the decision had been Keller's alone, and that he was feeling "mixed emotions" about it. Keller, he said, came to him a few weeks ago and told him of his intentions.
"He's been an excellent partner," Sulzberger said. "And we've grown together. If that's where his heart is and his head is, then you have to embrace that."
Below, read the memo Sulzberger sent out announcing the changes:
Dear Colleagues,
I am writing to give all of you—news and business colleagues alike—some news about a leadership transition in the newsroom of The Times. Later this year, Bill Keller will step down as executive editor of our paper. His successor will be Jill Abramson, our managing editor and Bill's deputy during the eight years in which he ran our global news operations. Jill has asked Dean Baquet, our Washington bureau chief, to serve as her managing editor and he has accepted. All of this will be effective after Labor Day.

Any change like this is both exciting and bittersweet. On the one hand, we look forward to the new leadership and all the potential these two extraordinarily talented journalists offer us. And on the other, we recognize that with Bill's departure from his role, we are losing someone who did an absolutely outstanding job in leading our newsroom through some very difficult circumstances. We all know that Bill is leaving to his successors a newsroom as strong as it has ever been, and one that has shown tremendous flexibility as it expands and moves further down the path to its multiplatform future. That is the gift he is bequeathing to Jill and Dean and, through them, to all of us.

The decision to make this move was Bill's, and it will shock no one who knows him to learn that he will return to writing the column and the magazine pieces that he was so terrific at before he took on the role of executive editor.

Jill is perfectly prepared to step into her new role. She brings with her a highly focused and determined journalistic and management style, one that has served us well. Her decision to name Dean as her deputy gives us a well rounded and extraordinarily talented leadership team, one that I believe will take us to even greater levels of journalistic accomplishment.

Please join us in the newsroom at 11:00 this morning when we will have a bit more to add on this exciting day at The Times.

Arthur

Calling all HuffPost superfans!
Sign up for membership to become a founding member and help shape HuffPost's next chapter