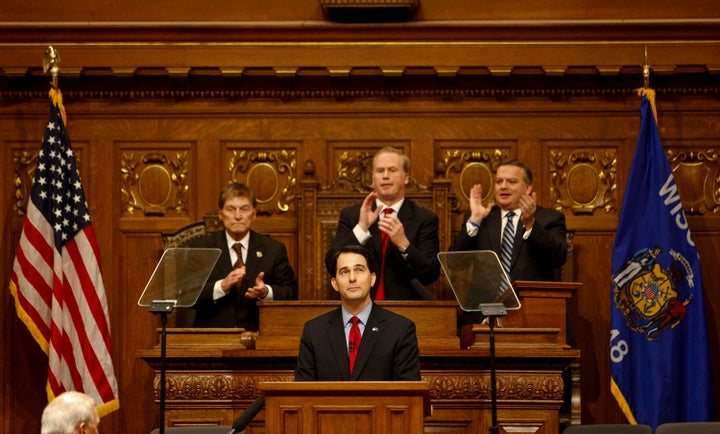 Wisconsin Assembly leader Bill Kramer said he's been carrying a concealed weapon during floor sessions, the AP reports.
Kramer, a Republican from Waukesha, said Friday the intense atmosphere of the Wisconsin Capitol made him feel he needed a weapon on the floor.
"Have you been in the Capitol lately?" Kramer said. "The saying is you don't need a gun until you need it. I hope I go to my grave having never fired at anything but a paper target."
Protests have rocked the capitol since February 2011, when Governor Scott Walker's controversial collective bargaining legislation was introduced. The growing protests led Wisconsin Rep. Paul Ryan (R) to compare them to the uprising in Egypt in February 2011, saying that it was "like Cairo has moved to Madison these days."
The protests have continued since then, with groups taking part in daily lunch-hour sing-alongs in the Capitol rotunda and interrupting committee meetings. One protester even dumped a beer on Rep. Robin Vos (R-Burlington) in September.
In January, Walker's State of the State speech was continuously interrupted by hecklers. Kramer said that throughout the ongoing protests he's received several insults and threatening emails, but insisted he would only draw his weapon if he felt he was in "imminent danger."
Kramer told the AP he obtained a permit under Wisconsin's concealed carry law, which went into effect in November. That law allows people who obtain a permit and go through training to carry concealed weapons in the state capitol as long as no sign is posted saying weapons are not permitted.
Kramer said he owns Glock 26, a subcompact semi-automatic, that he has taken onto the floor at times. The Republican also admitted he's not the only lawmaker carrying a weapon to work.
Calling all HuffPost superfans!
Sign up for membership to become a founding member and help shape HuffPost's next chapter
BEFORE YOU GO