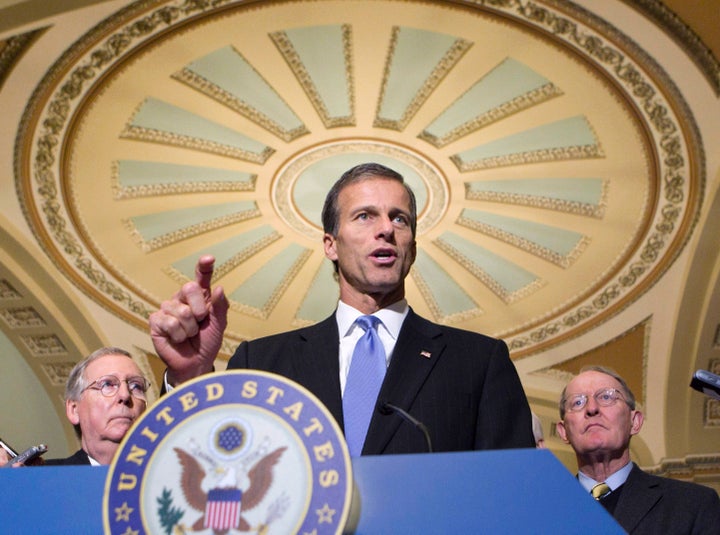 It's Monday, and are people any happier with the current state of the GOP field? I mean, Jon Huntsman is going to join up this week! How does that grab everybody? Well, mainly people are still waiting for someone new to jump into the race and be the 2012 version of Fred Thompson. So far, attention has centered on people like Rick Perry, or another player to be named later.
So here's some high-grade speculation to start your week: what about the players who were named earlier who opted out and may change their minds, fingers crossed? Well, that's where The Weekly Standard's Bill Kristol comes in, according to The Hill's Bob Cusack:
Bill Kristol said Monday that Sen. John Thune (R-S.D.) is reconsidering his decision not to run for president in 2012.

Kristol, the editor of The Weekly Standard and a major player in the GOP, said Thune is "rethinking a bit" about launching a White House bid.

Pressed on the matter by C-SPAN host Steve Scully on the network's "Washington Journal" program, Kristol responded, "That's what I've been told."
Oh, yeah, John Thune. I remember that guy: he was sort of the handsome, Midwestern alternative to Tim Pawlenty, who hasn't even caught on as the handsome, Midwestern alternative to Mitch Daniels, let alone the handsome, Midwestern alternative to Mitt Romney. (None of these people should be confused with Rick Perry, who is the handsome "anti-Romney.")
No one knows anything about the source of these shadowy rumors that Kristol claims to have heard, and, as with all Kristol predictions, we remind you: your mileage will vary, some restrictions apply, void where prohibited. Thune's spokesman tells The Hill that the senator "remains focused" on Senate stuff. And Thune's wife, Kimberly, has previously expressed distaste for mounting a campaign, partly because she read "Game Change", a book about people telling shadowy rumors to reporters.
[Would you like to follow me on Twitter? Because why not? Also, please send tips to tv@huffingtonpost.com -- learn more about our media monitoring project here.]

Popular in the Community