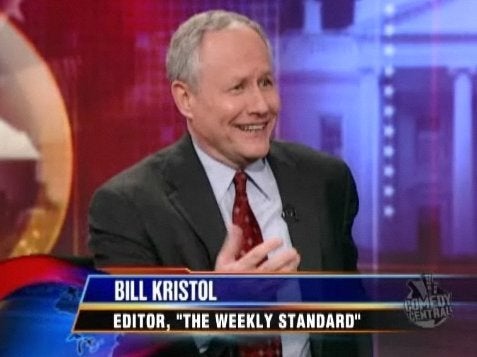 Bill Kristol was on "A Daily Show"* last night, and he declared that George Bush will be "a happy ex-president." When asked why, he provided a list of reasons that can best be summed up with exact quotes:
"the war in Iraq is going to end up being vindicated"
"the economy's been pretty good"
"Alito and Roberts are excellent"
Responding to Kristol's claims that Iraq will be democratic and free, Stewart said, "I understand why you feel like you have to say that a lot to yourself, because if I had suggested going in there ten years ago and it turned out this way, I'd feel [expletive] too."
Other highlights include Kristol and Stewart sparring on Anbar and Kristol's admission that "I try to be [human] once every few months."
*"The Daily Show" should resume tonight with the end of the writers' strike, bringing an end to Stewart's writer-free "A Daily Show."
Related
Popular in the Community