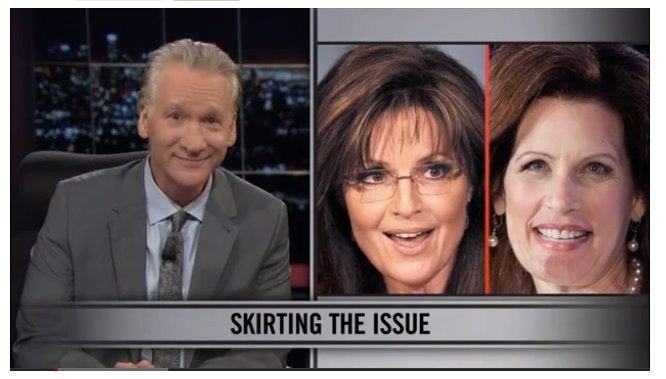 One thing is abundantly clear: Bill Maher is not afraid of offending you.
Michele Bachmann and Sarah Palin are an interesting force in American politics. They are the Republicans progressives love to not take seriously at all. They are also the ones that "people who know" say you shouldn't underestimate. But more importantly, perhaps, they afford conservatives the unique opportunity to call liberals sexist.
Case in point: Bill Maher has been called out -- by both the left and the right -- for referring to Sarah Palin with a sexist epithet during one of his comedy shows. That incident has been used by conservative commentators as evidence that liberals real beef with both Palin and Bachmann has to do with their being women, not terrible candidates.
But in true Maher fashion, the "Real Time" host responded to the critiques by taking those sexist claims and raising them an "inbred weirdo" and a shot at Jesus and the entire Christian faith. Because you can't fight fire without gasoline, obviously.
So what do you think? Does Maher have a point here?
Calling all HuffPost superfans!
Sign up for membership to become a founding member and help shape HuffPost's next chapter