And in the mind of Bill Maher, he made it all happen.
Speaking to The New York Times by phone Tuesday night, Maher made the claim that his decision to book Yiannopoulos on "Real Time" served as the catalyst for the events of the past 48 hours ― events many believed were already long overdue.
"What I think people saw was an emotionally needy Ann Coulter wannabe, trying to make a buck off of the left's propensity for outrage," Maher told the NYT. "And by the end of the weekend, by dinnertime Monday, he's dropped as a speaker at CPAC. Then he's dropped by Breitbart, and his book deal falls through. As I say, sunlight is the best disinfectant. You're welcome."
Unfortunately, Maher's comments to The Times betray the fact that the hair-raising interview was both friendly and uncritical of Yiannopoulos' long history of bigoted and incendiary language.
Not only did Maher's segment help normalize Yiannopoulos to viewers who might never have heard of him, but it gave the former Breitbart editor a national platform on which to claim that transgender people suffer from a "psychiatric disorder." Yiannopoulos also stated that he "makes no apologies for protecting women and children from men who are confused about their sexual identity" when it comes to the issue of transgender bathroom access.
In short, Maher provided a far-right troll who has a long history of vehemently racist, xenophobic and misogynistic ideologies a platform to spew transphobia completely unchecked.
When Maher invited Yiannopoulus to join the panel discussion during the show's "Overtime" segment, panelists Larry Wilmore, Malcolm Nance and Jack Kingston confronted Yiannopoulos and the dangerous views he'd affirmed earlier in the show. Maher also appeared more confrontational towards Yiannopoulos throughout the part of his show that doesn't actually air on television.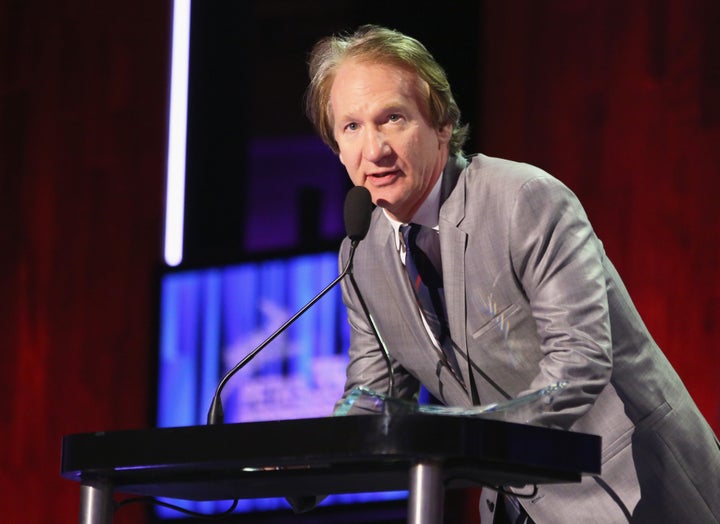 And now, what seems to be missing from Maher's analysis of the fallout is the widespread damage done by Yiannopoulos' interview on his program ― before Larry Wilmore gratifyingly told Yiannopouos to "f**k off ― especially when it comes to public perceptions of trans people.
All across the country, transgender people are fighting for the basic human right of existing in public space ― of being able to use public bathrooms that correspond with their gender identity.
Now, on March 28, SCOTUS is set to hear the case of 17-year-old Gavin Grimm who is fighting for the right to use the boy's restroom at his Virginia public school. The ruling of this case will have profound implications for the transgender community on a national level.
"Real Time" reaches an incredibly mainstream audience ― many of which probably have never met a transgender person before and have now heard a gay man spewing transphobic, fake ideas that were then validated by Maher himself.
So no, Bill Maher, we don't have very much to thank you for.
This post has been updated to include additional information about Yiannopoulos's exchange with Maher and "Real Time" panelists during the show's web-only "Overtime" segment.