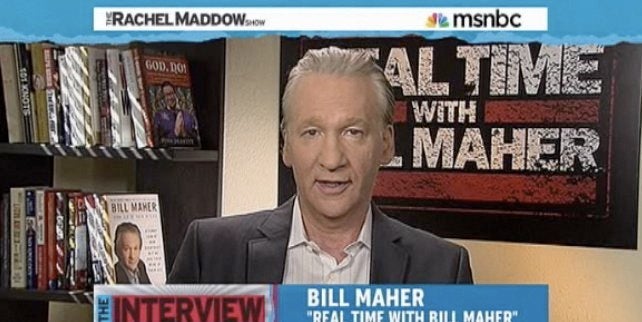 Bill Maher pointed out what he believed were the stark differences between Occupy Wall Street protesters and Tea Partiers on "The Rachel Maddow Show" Tuesday night. Maddow and Maher discussed Occupy Wall Street's "Millionaires March" visiting Rupert Murdoch's home, the gaining traction of the demonstration, and attempted to recall the origins of the Tea Party.
Maddow asked Maher if he believed Occupy Wall Street's message resonated with people who did not participate in the protests. "Absolutely," Maher responded. "This is a great thing...so what if their message is a little vague. I like if they're a little vague."
Maddow turned the conversation to the "sense of dangerousness" among the Occupy Wall Street protesters. Maddow examined the Republican response to the protesters on her show Monday night, and ran clips of statements made by Reps. Paul Ryan and Eric Cantor. Maddow revisited this topic with Maher and said, "I was thinking about that as we see Eric Cantor and these other Republican Congressmen denouncing the Occupy Wall Street people as, you know, an angry mob and somehow dangerous to the country. I wonder if a sense of dangerousness is what gives them power."
"Well, yeah, I think so," Maher responded. He said that he was reminded of a scene in the Martin Scorcese film "Gangs Of New York" in which a brick is thrown through a rich person's window. "If a brick came through Rupert Murdoch's apartment, yes, I have a feeling Fox News would be a lot more gentle on the Wall Street people." Maher also said he thinks Occupy Wall Street is "the opposite" of the Tea Party movement because the latter was steered into mainstream Republican politics.
Maher then described his analysis of the evolution of the Republican party voters and compared it to a strain of viruses. "Every time it comes back, it comes back a little stronger and more dangerous," he said.
WATCH