Comedian Bill Maher dropped a racial slur in a joke Friday on "Real Time," and people erupted on social media.
While discussing the state of Nebraska, his guest, Sen. Ben Sasse (R-Neb.), told Maher, "We'd love to have you work in the fields with us."
Apparently confused by the invitation, Maher joked "Work in the fields? Senator, I'm a house n****r!"
Sasse looked uncomfortable, and the audience reacted with a mix of claps and groans. Then Maher, a critic of political correctness, followed up his remark by pointing out the sarcasm. "No, it's a joke," he said.
The "Real Time" audience seemed to quickly forgive the host with a round of applause. Waving off the reaction with his hand, Maher replied, "Thank you."
People on Twitter, however, weren't so forgiving.
His fans reminded Maher that the word is completely off-limits to him and any person who isn't black ― even if the comedian rejects PC policing.
Sasse later revealed on Twitter that he wished he'd held Maher to account over the comment at the time, and admitted that "cringing last night wasn't good enough."
Maher hasn't responded to the outrage yet, and, if he does, it probably won't be an apology.
The comedian, whose career hinges off his no-holds-barred sarcasm, believes that PC culture has become a dangerous vehicle in today's politics and has warned Democrats to "ease up on the identity politics." He's even blamed PC culture for President Donald Trump's win.
But if people are wondering if it's OK for Maher to casually drop the slur as a joke, we'll let the Twitter outrage answer that question.
This article has been updated to include Sasse's reaction to Maher's comment and background on the comedian's previous controversies.
Before You Go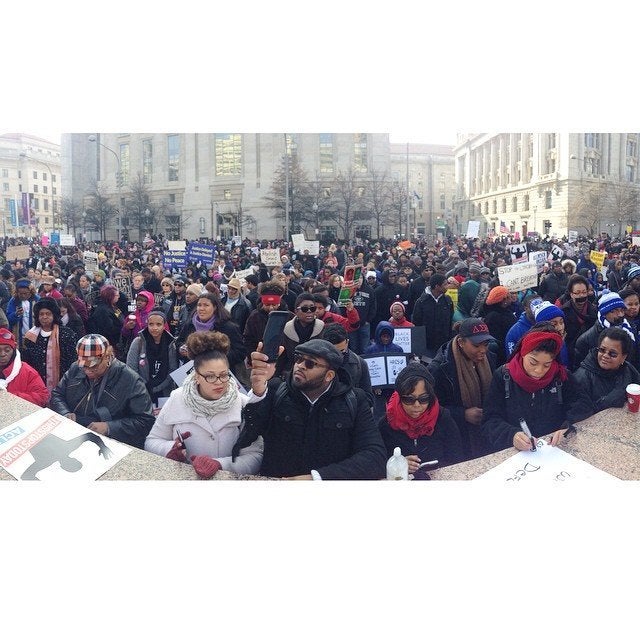 Powerful Black Lives Matter March In Washington
Popular in the Community