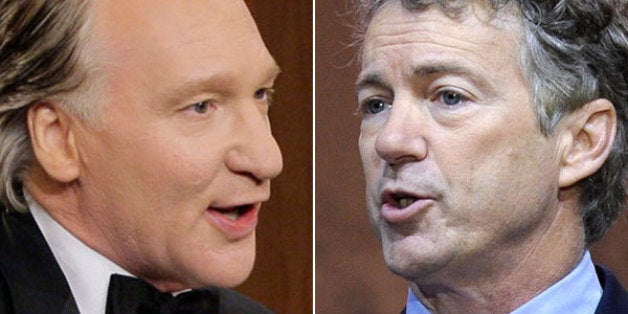 One week after taking home his second consecutive CPAC straw poll victory, Sen. Rand Paul (R-Ky.) got some credit from Bill Maher.
The reason why? Paul didn't call for action in the Russia-Crimea crisis.
"Like his father, he is for not for having an American empire," Maher said, referring to former GOP presidential candidate and Rep. Ron Paul (R-Texas). "That's the thing I love about the Pauls."
While Paul has yet to make any decision on the 2016 presidential race, a bill advanced to the Kentucky state Senate this week that would give the senator some flexibility. Currently, Kentucky state law prohibits a candidate from running for multiple offices at the state level. This legislation would clarify that Paul could run for both Senate and president at the federal level.
HuffPost Pollster's latest compilation of 19 publicly available polls shows that were Paul to square off with Clinton in 2016, the former Democratic senator, secretary of state and first lady would have the edge. March 15th's readings show Clinton holding an 11-point edge, with 100 percent confidence at this early juncture.
BEFORE YOU GO
PHOTO GALLERY
Which Women Might Run In 2016?