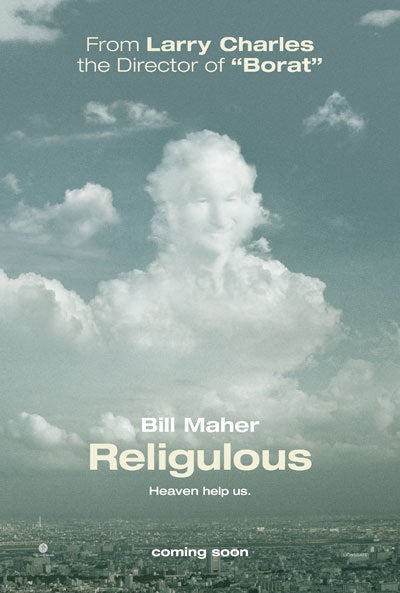 Bill Maher has a new film "Religulous," a documentary slated for release October 3 and Huffington Post has an exclusive clip.
The documentary bills itself as an "uproarious nonfiction film about the greatest fiction ever told." It's directed by one of the guys who brought you Borat, Larry Charles, who was also the executive producer of "Curb Your Enthusiasm." You can probably guess that it's going to involve man-on-the-street interviews with unsuspecting believers and a mic-wielding Maher and "gotcha" interviews with religious fanatics who get tangled up in a web of their own contradictions.
Here's an exclusive clip from the movie:
Also, here's the extended trailer (the trailer music includes a clip from "Crazy" by Gnarls Barkley):
In a statement about the film, Maher explained his rationale for making it:
It has been my pleasure over the last decade and a half to make organized religion one of my favorite targets. I often explained to people, "I don't need to make fun of religion, it makes fun of itself." And, then I go ahead and make fun of it too, just for laughs.

With religious fanatics like George Bush and Osama bin Laden now taking over the world, it seemed to me in recent years that this issue -- this cause of debunking the man behind the curtain -- needed to have a larger, more insistent and focused forum than late night television. I wanted to make a documentary, and I wanted it to be funny. In fact, since there is nothing more ridiculous than the ancient mythological stories that live on as today's religions, this movie would try to be a real knee slapper. Unless, of course, you're religious, then you might not like it.
As part of the film, Maher has also created a website, Disbeliefnet, as a parody of Beliefnet, the popular spiritual website.

Popular in the Community