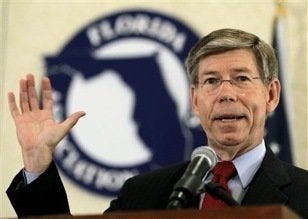 Florida State Attorney General Bill McCollum is being questioned on why he hired George Rekers -- an anti-gay activist who co-founded the conservative Family Research Council -- to testify at a gay adoption case in the Sunshine State in 2008.
The kicker: Rekers was caught red-handed taking a 10-day European vacation with a male escort he ordered on Rentboy.com back in May. At the time, both Rekers and McCollum faced intense criticism and scrutiny over the matter.
Now, the scandal has resurfaced at a time that could not be worse for McCollum, who is vying to capture Florida's Republican gubernatorial nomination in the state's August 24 primary election.
Local Florida radio station WMNF reports on what McCollum had to say when he was asked about Rekers at the Tiger Bay Club meeting earlier this week:
St. Petersburg's first openly gay City Council Member Steve Kornell asked McCollum why he spent so much of the state's money hiring an expert to present questionable evidence on the supposed dangers of gay adoption.

"He was the only available witness that had the credentials, willing to testify, and willing to produce the evidence. What we needed to have done was to put the records in the evidence. He's not a scientist, like somebody who does experiments or issues his own opinions. He's simply a scholar. He was producing the written reports, and the records, and the studies that had been done, and introducing them into evidence."
After controversy first erupted over the Rentaboy scandal, the male escort who accompanied Rekers on the trip to Europe signaled that the anti-gay activist is in fact, gay.
Popular in the Community