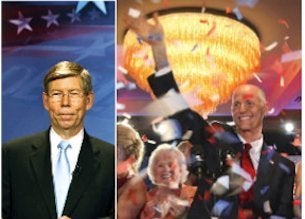 Defeated Florida Republican gubernatorial hopeful Bill McCollum is declining to support former rival and newly-minted GOP nominee Rick Scott as he heads into his general election campaign.
The St. Petersburg Times reports that McCollum, currently the Attorney General of Florida, signaled on Thursday that he offered his congratulations to Scott over the phone following Tuesday's election, but remains very skeptical of the self-funding contender's integrity.
"I still have serious questions," explained McCollum. "About issues of his character, his integrity, his honesty -- things that go back to Columbia/HCA," hitting on controversy surrounding Scott's pre-political profession.
Before he jumped into politics, Scott, a millionaire, was the head of Hospital Corporation of America -- a company that was slapped with a $1.7 billion fine after being hit with "14 felony charges stemming from a massive federal fraud investigation."
Leading up to Tuesday's primary, the Republican Party of Florida, standing firmly behind McCollum's candidacy, was reportedly concerned about the prospect of Scott swiping the state's GOP nomination after making a late jump into the race. At issue for members of the establishment, according to the Times, was the fact that the former health care industry exec possessed no allegiance to the state party or its operatives who were tirelessly working to defeat him.
Over the course of the primary, Scott repeatedly took aim at McCollum with relentless, negative attacks. The super-wealthly candidate blasted the state AG as the "Tonya Harding of Florida politics" and put out one campaign ad that even earned a rare rebuke from Mississippi Gov. Haley Barbour, Chairman of the Republican Governors Association.
The internal turmoil pervading the Florida GOP reached a tipping point just hours before polls closed and votes were set to be tallied in the state's election earlier this week. The RPOF signaled it would cancel plans to hold a unity rally one day following the crowning of the party's newly-minted nominee.
Scott said he would raise money for the GOP ticket in the general election, and his staff will help direct campaign efforts at party headquarters in Tallahassee.

But McCollum isn't willing to rinse his distaste so quickly.

The last time he lost a bruising campaign -- the 2004 U.S. Senate Republican primary against Mel Martinez -- it took McCollum two weeks before he tepidly endorsed his opponent. And it came only after Martinez apologized.
Scott weighed in on the apparent post-primary friction between himself and his primary opponent during an appearance on CNN's "John King USA" earlier this week.
"Well, I haven't talked to -- to Mr. McCollum, but I've talked to a lot of party leaders," said the gubernatorial hopeful. "And the party is coming together. And everything will -- everything will work out."
Scott added, "You know, the -- the party is embracing me because I have lived the American dream and I believe in that for all Floridians."
Scott has declined to put a limit on the amount of his personal fortune he's willing to spend on his general election fight against Democrat Alex Sink. So, the state party, which has come under intense scrutiny this year over its reportedly scandalous spending habits as well as the arrest of former state party Chairman Jim Greer on charges of fraud, felony grand theft, and money laundering, shouldn't have to worry about the financing of the Republican hopeful's campaign.
(Scott burned nearly $40 million on his primary electoral pursuit.)
Popular in the Community