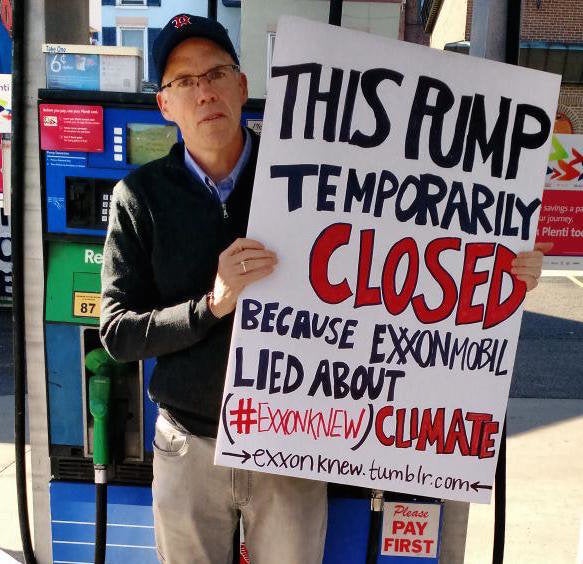 McKibben, an environmental writer and activist, was trying to draw attention to the fact that ExxonMobil's scientists knew for years that burning fossil fuels was causing the planet to warm, but chose to deny it. Recent stories in InsideClimate and the Los Angeles Times have called attention to what the company knew about climate change and when they knew it.
This is not just one more set of sad stories about our climate. In the 28 years I've been following the story of global warming, this is the single most outrageous set of new revelations that journalists have uncovered. Given its unique credibility—again, it was the biggest corporation on earth—ExxonMobil could have changed history for the better. Had it sounded the alarm—had it merely said 'our internal research shows the world's scientists are right'—it would have saved a quarter century of wheel-spinning. We might actually have done something as a world before the Arctic melted, before the coral reefs were bleached, before the cycles of drought and flood set fully in.
McKibben said he hoped his "small gesture" of undertaking the protest "might be enough to move a few people to do so" as well.
One could easily dismiss McKibben's act of civil disobedience, but he has a strong record of provoking others to action. His group 350.org has led the national effort against the Keystone XL pipeline, including major White House protests in 2013 and 2014 during which hundreds of people were arrested, and the growing campus divestment movement.
"Recent reporting has shown Exxon to be the willing and cold-blooded perpetrators of one of the worst corporate crimes in U.S history," 350.org spokesman Karthik Ganapathy told The Huffington Post in an email. "We should be paying more attention to it, collectively."
Exxon spokesman Alan Jeffers said the company rejects McKibben's "inaccurate allegations that we suppressed climate science," and pointed to a company statement on the news stories.
"The media reports he is citing are inaccurate distortions of ExxonMobil's more than 30-year history of climate research that was conducted publicly and in conjunction with the Department of Energy, academics and the UN International Panel on Climate Change," Jeffers said.
This piece has been updated to include a statement from Exxon.
Popular in the Community