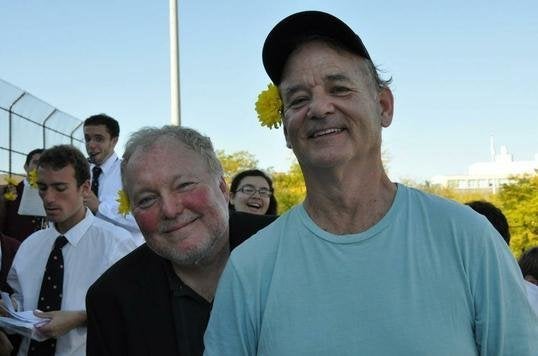 Murray was attending the game relatively anonymously with his friend, SNL writer and Harvard alumnus James M. Downey. However, when Harvard's band started playing the Ghostbusters theme song in the third quarter, Murray decided to approach them.
"This guy in pink pants walked up and said, 'Hey, play that song again,'" said Harvard University Band Manager Rachel L. Hawkins '12. Hawkins said that the band had no idea Murray was at the game and that "Ghostbusters" is just part of their usual set list. "He kind of appeared out of nowhere. It was very serendipitous."

Once Murray returned to his seat to watch the last quarter of the game, the trombone section pointed itself in his direction and played the theme song for him one more time. At the end of the game, Murray reappeared and treated the band to a special performance. "We were playing our fight songs, and he came over and started mock-conducting us," Hawkins said.
Check out video of Murray conducting the Cornell band below! Pretty funny stuff. (h/t IvyGate)
Related
Popular in the Community