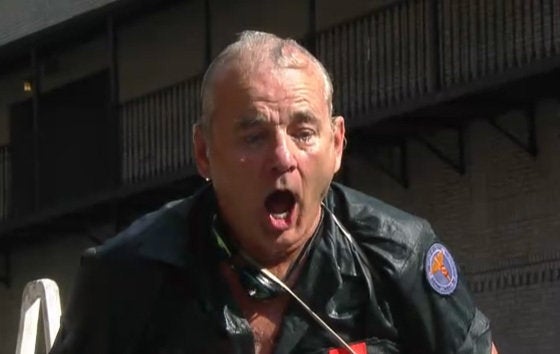 UPDATE II: The source later told The Huffington Post that Murray in fact came to the karaoke room with only one woman, though The Chive reported that he was with multiple women.
UPDATE: The Huffington Post contacted the source, and he said that the party actually took place a few years ago, but he just recently shared the story. He didn't comment further, wishing to respect Murray's privacy.
___
PREVIOUSLY:
Bill Murray sings karaoke in 'Lost In Translation.' And with random strangers in New York City karaoke bars.
The famously eccentric and mysterious comedy legend has been known to drop in on random parties, and he made another recent surprise guest appearance in the karaoke room of a few hard-partying kids.
A Murray fan told The Chive that he was at a New York karaoke bar called Karaoke One 7 when Murray walked in with a few women. They introduced themselves and half heartedly invited him to their room.
Then the unthinkable happened.
"About 15 minutes later we get a knock on the door... IT'S BILL F@#KING MURRAY!" Impollonia writes. "We were all shocked of course but at that point we were already pretty trashed so the party just kept going. He was super nice and they all fit right in."
And it wasn't just a cameo.
"The high point was when Bill and I sang a duet of an Elvis song called, "Marie's the Name." Random I know, but so was the night. We were all drinking and dancing and screaming our asses off."
To top it off, Murray stayed the whole night.
For a plethora of pictures of the incredible event, including shots of a joyous, singing Murray, click over to The Chive.
Popular in the Community