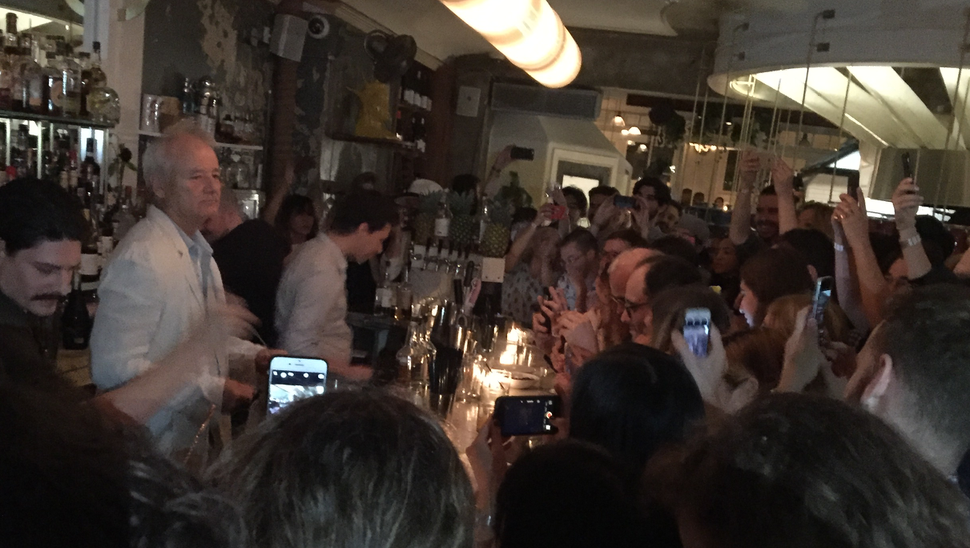 When, exactly, did Bill Murray become Bill Murray? Not the actor, but the meme. 
Was it in 2003, with the release of "Lost in Translation," the story of the lonely, sad movie star Bob Harris, who many have come to see as Murray's fictional duplicate? Perhaps it happened somewhere along Murray's long path with Wes Anderson, for whom he has played characters including Steve Zissou in "The Life Aquatic," Raleigh St. Clair in "The Royal Tenenbaums," and Herman Blume in "Rushmore." But ask most people, and they're more likely to point to a real-life anecdote than a fictional movie. Maybe that time Murray popped up in a restaurant in Florida to sing some karaoke, or wore PBR pants at a golf tournament, or crashed a bachelor party, or found his way into a couple's engagement photos.
These are the sort of stories that have inspired entire websites dedicated to cataloguing the actor's real-life run-ins, and which have created the image of a man that scoffs at the rules by which so many celebrities play. Details such as the fact that Murray doesn't have an agent, manager or publicist (he does have a lawyer) have turned him into a symbol of something among people younger than 40, although a symbol of just what isn't quite clear. Bill Murray, the 2016 bite-sized internet version of Bill Murray, is less an actor than the personification of a meme ― a somber man who could pop up in your local bookstore, or at your child's birthday party, or inside your house, only to lead the people around you to exclaim, "Oh, that is so perfectly Bill."
Which is what made the announcement last week that Murray had agreed to tend bar for two nights in the Brooklyn neighborhood of Greenpoint such an easily digestible story: The spontaneous Bill Murray would be serving you, dear reader, the tequila shot of your dreams! Less noticed was the fact that this wasn't actually a spontaneous Bill Murray pop-up story in the traditional sense of the term, but rather, a use of his image for his family's personal gain. The restaurant, 21 Greenpoint, is co-owned and operated by one of Murray's sons, Homer, meaning if not Bill Murray himself, at least someone understood the commotion that Murray's attendance would stir up, and the subsequent free publicity that would come with it.
And a commotion it did stir. News of Murray's zany upcoming adventure in northern Brooklyn was written up by the likes of Time Out, the New York Daily News, Entertainment Weekly, Vulture, Esquire, CBS News, TIME and the A.V. Club. At the scene, the second night of Murray's bartending that I attended, a TV truck from the local New York City station WPIX was parked outside. What had at one point appeared to be a first-come, first-serve event was instead transformed into an exclusive guest-list only affair, although the list was so long and the fans so determined that hundreds of people had surrounded the business by a little after 7 p.m. ET on Saturday. Even those lucky enough to be on the list were forced into a line of considerable length. Someone brought binoculars to catch a peak of Murray from outside the bar. Someone else pulled up in a replica Ecto-1 for good measure. You get the idea: It was a scene.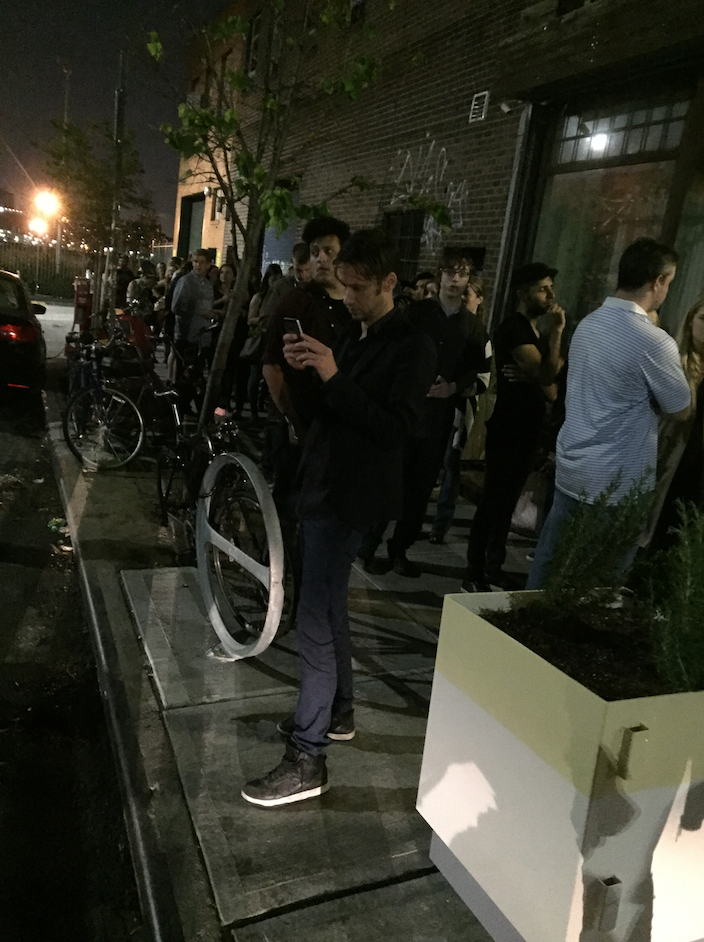 Inside the bar, there was tangible excitement in the air before Murray showed up, a sense that of all the places in the world to take a photo that Saturday night, 21 Greenpoint was the location that would garner you the most likes. But it also felt sad to peer outside at the the devoted Bill Murray fans who had no chance of meeting the star, knowing the people inside were the sort of people who always seem to get inside: The journalists and beautiful people whose names come together to comprise so many of the lists in New York City. Why should they, rather than the devotees, be able to have their scheduled moment of Bill Murray spontaneity? 
When Murray eventually arrived, there was not so much a raucous applause throughout the bar as a restrained murmur that read as an attempt to remain cool. Murray, dressed in blue jeans and a thin white jacket, quietly walked behind the bar. He looked, if not a little morose, then like just who he was: a bartender on the second night of a brutal two-night shift. 
Reports from the first night of Murray's shift painted the portrait of a proud father taking shots with the patrons and giving speeches about his son. The then-65-year-old man (he turned 66 on Wednesday) who entered the bar on the second night, however, just looked kind of hungover. There was no big speech. No shot of liquor to raucous cheers. Instead, there seemed to be somewhat of a sense of obligation. Murray didn't appear to be drinking on Saturday, at least not much. He just went about his business, and his business was serving drinks. Is this a character? Or is this who Bill Murray really is? Either way, to say Bill Murray bartended would be something of an exaggeration. More specifically, he quietly served liquor in plastic shot glasses while dozens of people futilely attempted to resist the urge to snap photos for the purpose of exclaiming, "I was there when Bill Murray bartended." But watching the actor try to ignore the ever-present flashes in front of him, it was hard not to feel just the slightest bit bad for him. Is this what life is like everywhere Bill Murray goes? Does he ever get used to anonymous faces frantically attempting to capture his real-life moments for the sole purpose of distributing them on the internet? Does Murray even know what the internet has made of him?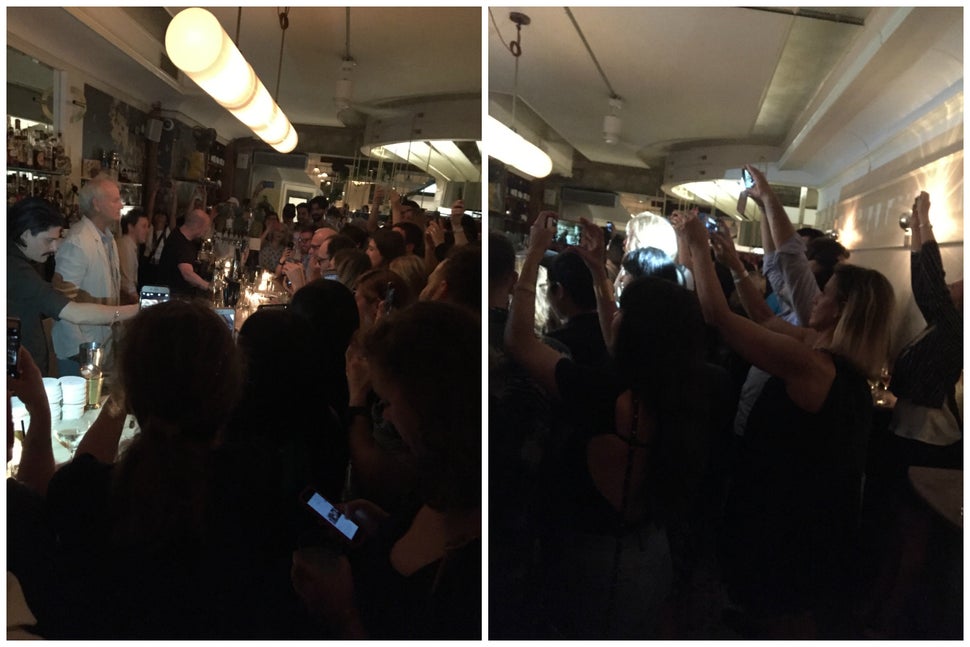 There's an alternate world in which people put away their phones on Saturday night and let Bill Murray regale them with tales of the early days on "Saturday Night Live." But instead, we live in this world, a world in which Bill Murray the bartender has to ask the adult man he is serving to stop taking photos of him at semi-automatic speed with not one but two iPhones. Instead, we live in a world in which the tall man in a suit with slicked-back hair begs Murray to join him in a shot not because of the pure enjoyment he would feel in that moment, but because of the pleasure he would take in talking about it later (Murray declined). Instead, we live in a world in which the only thing that could be described as a Bill Murray speech that night was his request that people rotate out of the front of the bar so everyone gets their turn with him. 
Everyone wanted their own personalized Bill Murray story, and it made the atmosphere inside 21 Greenpoint slightly uncomfortable after a while. That's not his fault, but it wasn't necessarily the crowd's, either. The physical barrier between him and everyone else inherently turned the patrons into gawkers, left to stand in something comparable to awe of Murray's mere presence. There are some uncomfortable oddities to having Bill Murray as your bartender. Can you get annoyed if you haven't been served for 30 minutes? Can you wave your hand to make sure you get a drink? How many photos is too many photos? How much do you tip? Then there are the more existential questions that pop up while you wait for your shot of liquor to the dome: Why is it fun to watch Bill Murray bartend? Is this really better than just re-watching "Moonrise Kingdom"? Is it fair to take a human, a living, breathing human being, and transform him into a thing? Can Bill Murray the bartender even live up to the expectations set of him by people he doesn't know? One thing is for sure: Bill Murray must love his son to go through with this two straight nights. 
Why does the internet love Bill Murray? Is it because of the way he looks when he sits alone with a glass of whiskey? Is it because of the quiet sadness in his eyes? Is it because it feels like he could always be around the corner? Or is it because it feels, for some strange reason, like he is not one of them, but one of us? There is no one reason, perhaps, but the fact still stands that the internet loves him. It has taken a man and created a meme, someone with which we share something, whatever that thing is, and even if he doesn't know it himself. When, exactly, did Bill Murray become Bill Murray? Not the actor, but the meme. Not the joke-maker, but the joke. He became it the first time you saw him as a representation of something, rather than someone. As an idea, rather than a man.
Calling all HuffPost superfans!
Sign up for membership to become a founding member and help shape HuffPost's next chapter
BEFORE YOU GO
PHOTO GALLERY
Bill Murray On 'SNL'