As far as good omens go, this one's got to be pretty high up there.
Ashley Donald and Erik Rogers were taking their engagement photos around downtown Charleston, S.C. in April when they got a surprise drop-in from the man, the myth, the legend himself: Bill Murray. Clearly, their marriage is destined for greatness.
We were walking around downtown Charleston, taking in the romance of the city and enjoying the scenery. I found this staircase and asked the couple to go get comfortable. Now when I do these shoots, sometimes I get tourists whistling or making funny faces or simply congratulating the couple. When I set up Ashley and Erik, I saw this look of surprise on their faces as they looked over my shoulder. I asked them to look at the camera, but they just looked stunned and with his eyes, Erik motioned that I better look behind me. As I turned around to potentially ask the person distracting them to give us a moment, I see Bill Murray with his shirt up, belly out and patting it -- his attempt to make the couple laugh. I joined the couple in the shock and surprise of the moment. At that point, I invited him to join the couple for a quick shot and he did. So genuine and nice of him to make the couple's day!
Just last month, Murray crashed a bachelor party in Charleston and imparted some words of relationship wisdom upon the young gentlemen.
"If you have someone that you think is The One, don't just sort of think in your ordinary mind, 'Okay, let's pick a date. Let's plan this and make a party and get married,'" he said. "Take that person and travel around the world. Buy a plane ticket for the two of you to travel all around the world, and go to places that are hard to go to and hard to get out of. And if when you come back to JFK, when you land in JFK, and you're still in love with that person, get married at the airport."
Note to self: Book a trip to Charleston ASAP.
Related
Before You Go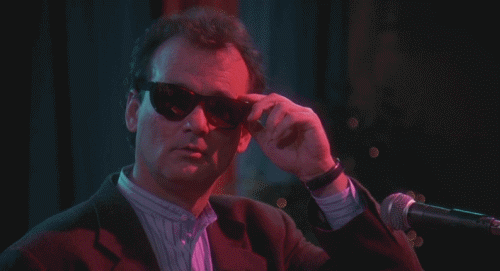 Bill Murray GIFs