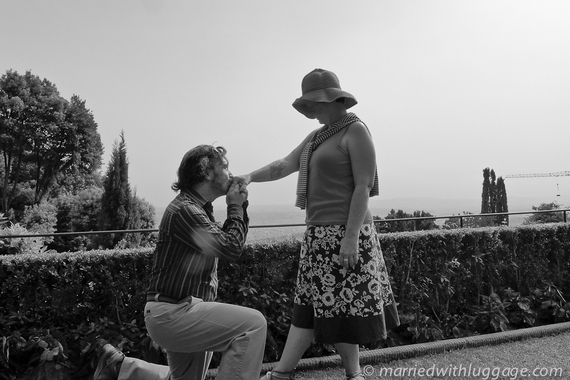 Bill Murray recently surprised the groom at a bachelor party at a restaurant in Charleston, South Carolina. His advice to the young men at the table?
If you have someone that you think is The One, don't just sort of think in your ordinary mind, 'Okay, let's pick a date. Let's plan this and make a party and get married.
Take that person and travel around the world. Buy a plane ticket for the two of you to travel all around the world, and go to places that are hard to go to and hard to get out of. And if when you come back to JFK, when you land in JFK, and you're still in love with that person, get married at the airport.
Bill is right, at least when it comes to building an adventurous partnership. There is something about being together, facing the unknown and discovering the world as a team that will make or break a relationship. And once you know you have a partnership like that, you'll want to be together forever.
My husband Warren and I didn't always have that strong bond, and I don't know that we could have gotten ourselves out of an unlocked room back then, much less a remote part of the world. In fact, we were pretty close to calling it quits on our marriage very early on.
We were just too independent, too focused on our individual goals and unwilling to be vulnerable with each other and go all in. A part of ourselves was always kept back from the relationship.
As most couples on the verge of divorce do, we had a wake-up call. But instead of going our separate ways, we decided to put our relationship as a first priority in our life and let everything else fall below. This one decision -- which sounds deceptively easy -- transformed our lives and gave us a crash course in trust and vulnerability.
We sold our beautiful suburban house in Massachusetts and moved into a smaller townhouse in Seattle. We changed jobs so we'd have less time away from each other. We paid off our debt. We created a strong network of positive friends.
Without the commitment to each other above all else, and without the steps we took to rid ourselves of everything unnecessary and negative in our lives, we would have never been in a place to say "yes" to our biggest dream of traveling the world when tragedy struck a little too close to home. Life is short, and tomorrow is not a guarantee.
What resulted is a life and relationship we never could have imagined. Those early steps toward saving our marriage set the foundation for a partnership that has taken us around the world, seen us give up all our worldly possessions, find success in new careers as authors and even buy a house in a small white-washed village in Spain. We wrote about our grandest adventures and biggest insights in Married with Luggage: What We Learned About Love by Traveling the World.
The day we got married, none of these ideas were even on our radar, much less our wish list. But because we put our relationship first and did the daily work of creating the life we wanted instead of adjusting to the one we had, life opened up in much bigger way.
Creating a Lifelong Partnership
I'll agree with Bill that working together to get to and from places that hard is what it takes to build a lifelong partnership. But you don't have to travel the world to build those muscles. You simply each have to decide that your relationship is more important than your individual selves and put your dreams on your calendar. Make your love active, an everyday commitment and a choice you renew every morning.
A lot of work goes into making your wedding day beautiful. But focusing the same kind of effort and attention on your relationshiop every day after your wedding will result in the kind of partnership that can achieve the biggest goals and weather the worst storms.
Even for a thrice-divorced guy like Bill Murray.