WASHINGTON -- Sen. Bill Nelson (D-Fla.) signed on as a co-sponsor of the Employment Non-Discrimination Act on Monday night, meaning the legislation is just three votes away from being able to clear the 60-vote threshold in the Senate.
There are now just two Democratic senators -- Joe Manchin (D-W.Va.) and Mark Pryor (D-Ark.) -- who are not co-sponsors of the legislation, which would bar workplace discrimination on the basis of sexual orientation and gender identity. It is already illegal to discriminate on the basis of race, color, sex, nationality, religion, age or disability. Manchin's spokesperson said the senator is still reviewing the legislation, and Pryor's office didn't immediately return a request for comment. Sens. Susan Collins (R-Maine) and Mark Kirk (R-Ill.) are the only Republicans who have signed on as co-sponsors.
"I am pleased to have Senator Nelson's support on this bill. Momentum is building to end LGBT discrimination in the workplace," said Sen. Jeff Merkley (D-Ore.), the bill's sponsor. "This is an issue of fundamental fairness."
There are now 56 ENDA co-sponsors in the Senate, and when Sen.-elect Cory Booker (D-N.J.) is sworn in on Thursday, that number will likely rise to 57.
In an interview with The Huffington Post on Tuesday, Booker said he was "passionate" about making sure LGBT individuals receive equal treatment, but he wanted to look over the legislation more closely when he takes office.
"It obviously looks like something I would support, but I made a commitment to be diligent," he said, adding, "There might be parts of it that I want to go further. Who knows. ... I want to get into the details and make sure that I'm doing what people elected me to do, which is to really focus on every aspect of legislation before I make any comment on it. I'm not a senator yet."
Nelson's co-sponsorship comes just one day after Senate Majority Leader Harry Reid (D-Nev.) announced that he would be bringing ENDA up for a vote by Thanksgiving. The bill could come to the floor as early as next week.
"Bill Nelson joins a growing list of supporters dedicated to enacting common-sense legislation that protects workers from unjust discrimination in the workplace," the Human Rights Campaign said in a statement. "We welcome his support and firmly believe that it's indicative of the positive momentum this bill has as it heads to the Senate floor. We remain optimistic that the votes will be there when it matters."
LGBT advocates are hoping to earn the support of more Republican senators. Although Sens. Orrin Hatch (R-Utah) and Lisa Murkowski (R-Alaska) have not signed on as ENDA co-sponsors, they voted for the bill in committee in July. Some believe Sens. Kelly Ayotte (R-N.H.), Jeff Flake (R-Ariz.), Dean Heller (R-Nev.), John McCain (R-Ariz.), Rob Portman (R-Ohio) and Pat Toomey (R-Pa.) could possibly be convinced to support the legislation as well.
Ayotte, Portman and Toomey all said on Tuesday that they're still looking at the bill.
"We had Merkley in our office last week, so we're taking a look at the parts, scope of it. We'll see where we go from there," Heller said.
McCain is also undecided and told The Huffington Post he was worried that the bill contained "reverse discrimination."
"Whether it imposes quotas, whether it has reverse discrimination, whether it has the kinds of provisions that really preserve equal rights for all citizens or, like for example busing," he said when asked about his concerns. "Busing was done in the name of equality. Busing was a failure. Quotas were a failure. A lot of people thought they were solutions. They weren't. They bred problems."
Flake voted for a version of ENDA in 2007 that did not have protections for transgender individuals. The current legislation, however, prohibits discrimination on the basis of gender identity.
"I'm a no if it's not the [2007] House version," Flake said.
The bill has been reintroduced in several Congresses and has gotten some hearings, but it hasn't had a vote on the House or Senate floor since November 2007, when it passed the House 235-184. Rep. Jared Polis (D-Colo.) reintroduced ENDA in the House this year, but it's unlikely to be considered in the Republican-controlled chamber anytime soon.
UPDATE: 7:03 p.m. -- Pryor's office told the Arkansas Times on Tuesday evening that the senator will also be voting for ENDA. That leaves Manchin as the remaining Democratic holdout.
Portman, whose son is gay, also told the Cincinnati Enquirer that he was "inclined to support" the legislation.
This article has been corrected to reflect that Cory Booker will be sworn in as senator on Thursday, not Friday, and updated with comments from Booker and several senators.
Jared Gilmour, Michael McAuliff and Farah Mohamed contributed reporting.
Before You Go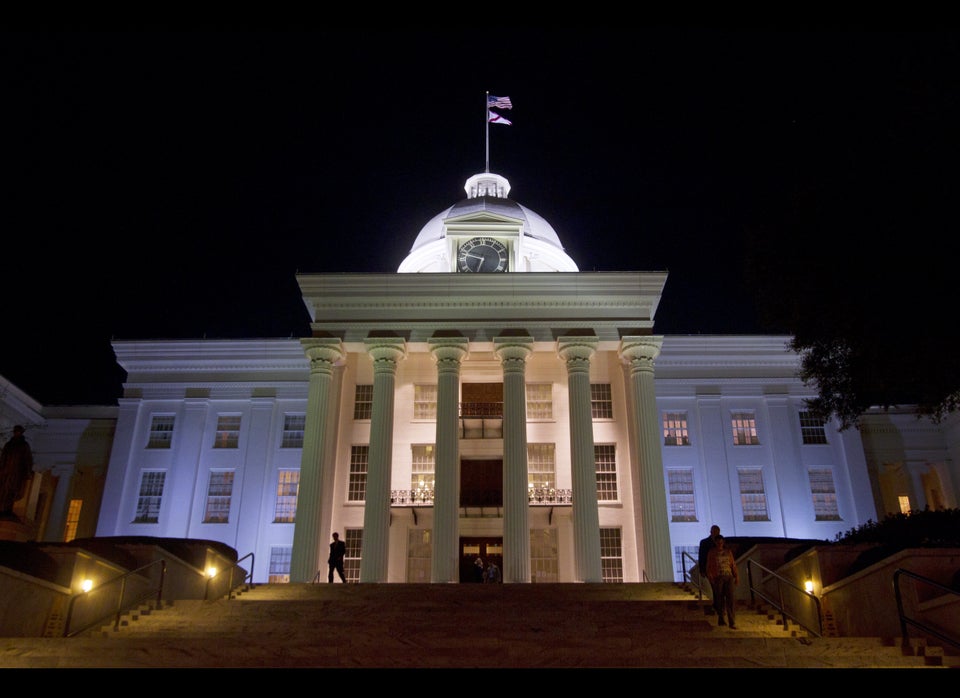 U.S. State Capitol Buildings
Popular in the Community