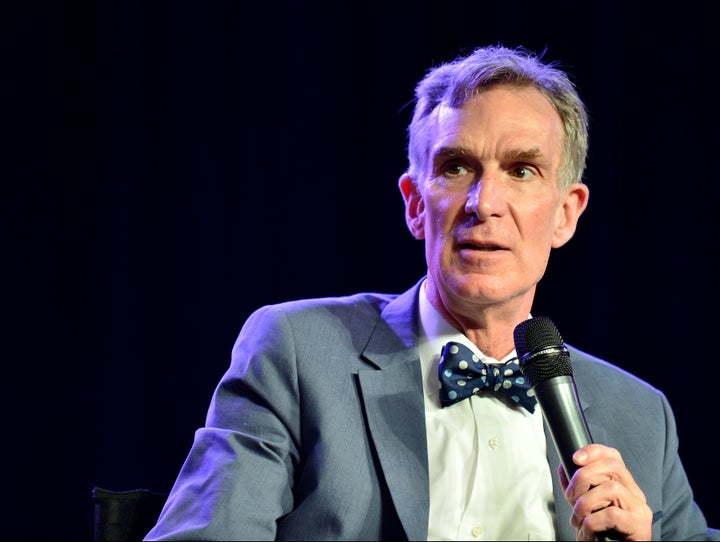 Like many public figures, /twitter.com/billnye?lang=en"}}">Bill Nye "/www.youtube.com/watch?v=NnYgpihsONI"}}">The Science Guy" took a moment on Wednesday ― the 75th anniversary of the Pearl Harbor attacks ― to honor those who have served in the armed forces.
What many don't realize, however, is that Dec. 7, 1941, is an important date in the Nye family's history.
"It was the day my dad went missing, the day that lives in infamy," Nye wrote on Twitter. His tweet features a picture of a 75-year-old copy of the Washington Evening Star newspaper that Nye said his grandmother had saved. 
But on Dec. 7, Ned Nye's world was turned upside down. Along with Pearl Harbor and many other Pacific targets, the Japanese bombed Wake Island. For two weeks, he and others fought back, managing to shoot down numerous enemy bombers, Nye explained in the TED-Ed. But on Christmas Eve, Ned and the others were captured.
Ned would spend nearly four years in a Japanese prisoner-of-war camp ― "longer than anyone else from the United States," Nye said.
Eventually, Ned made it out of prison and returned to the U.S. 
"He left the bad memories of the camp behind, but his love for sundials stuck with him," Nye wrote of his father in Popular Mechanics. 
And that fascination eventually rubbed off on his son. In 2003, Nye helped design sundials for NASA's Mars Exploration Rover project. Nye joked in the TED-Ed video that he's developed SOD: "sundial obsessive disorder."
Calling all HuffPost superfans!
Sign up for membership to become a founding member and help shape HuffPost's next chapter
BEFORE YOU GO